The valuation of International Business Machines (NYSE:IBM) has declined recently. The share price has shown weakness following the release of disappointing first quarter results. The hardware segment's performance was partly responsible for the disappointing results.
Recently, Oracle (NASDAQ:ORCL) reported disappointing results, which was partly attributable to weakness in the hardware segment. IBM should also report weakness in this segment when it reports second quarter earnings. The street has been lowering its expectations for the quarter. The disappointing results from Accenture (NYSE:ACN) suggested IBM may also report a weak quarter.
In this paper, my forecast for IBM's second quarter results will be covered. Also included are the valuations and some potential scenarios for the share price.
I maintain my previous assessment of IBM; I'm long-term bullish on the prospects of the company, but short term there are some bumps in road.
Revenue in the second quarter is expected to decline in the mid single digits, relative to the prior year.
Second Quarter May Disappoint
Forecasting financial performance is an excellent way of assessing the company's performance in the quarter relative to your expectations. It is also a key part of valuation. IBM, based on my forecast, should report declining revenue and operating income. That acts as a headwind to multiple expansion. Consequently, the return expectations are lower than they would be otherwise.
For the second quarter of 2013, I am expecting IBM to report revenue in the $23.64B to $24.11B range, which is 1 to 3 percent higher than first quarter revenue. Operating income should be in the $4.26B to $4.58B range. Net income, before a $1B charge related to workforce rebalancing, should be in the $3.55B to $3.86B range. After the rebalancing, net income should be in the $2.55B to $3.86B range.
The revenue forecasts suggest a year-over-year decline in the mid single digits. The hardware segment's performance should be a drag on consolidated revenue. Oracle reported a double-digit decline in hardware revenue in the most recent quarter. Thus, IBM could report a revenue decline above 10%.
Also, Accenture reported weakness in business spending. The weakness, in my opinion, is likely not limited to Accenture; IBM could also report weakness of business spending in some of its operating segments. Consequently, I maintain my view: Investors should limit exposure to the share price of IBM. When IBM reports second quarter earnings, the results could be disappointing. There is not much, if any, evidence suggesting IBM will report a strong quarter.
Valuations
Valuation is a critical component of equity analysis. I use the multiplier model valuations to value common equity shares. The model is employed in a variety of ways; there are comparisons to the five-year average valuations. Also, there are comparisons to the S&P 500 valuations. Lastly, there are the time series valuations. The combination gives a clearer picture of the relative valuation of the common equity shares.
| | | | |
| --- | --- | --- | --- |
| | IBM | S&P 500 | IBM 5Y Avg |
| Price/Earnings | 13.2 | 16.9 | 12.5 |
| Price/Book | 11.1 | 2.4 | 9.2 |
| Price/Sales | 2.1 | 1.5 | 1.8 |
| Price/Cash Flow | 11.3 | 10.1 | 10.8 |
| Dividend Yield % | 1.8 | 2.2 | 1.8 |
That said, relative to the five-year averages, IBM is a bit overvalued. Compared to the S&P 500, IBM is fairly valued. Relative to its recent trading history, IBM is a bit undervalued. IBM is fairly valued.
Readers are reminded that the forecasted financial performance of IBM should act as a headwind to multiple expansion. That being what it is, I would wait for a substantial decline in the share price before accumulating shares.
Potential Share Price Scenarios
Analysts typically forecast fundamentals, but it is also important to forecast the share price. Doing this allows the investor to decide what could be a good entry point and exit point. The share price of $215 will be used to find potentially good bargain prices.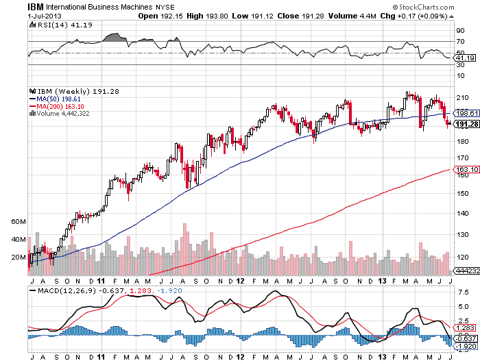 The share price has been trading in a range between about $185 and $215. The share price could stay in this range. At $185, investors would be getting less than a 15% discount off of the high price of about $215.
In an adverse scenario, and I believe a more likely scenario, the share price declines to the $150.50 to $172 zone. This is the zone that I would consider purchasing shares. That would be about a 20% to 30% discount off of the high price. At that level, the reward/risk ratio becomes more favorable.
In conclusion, shares of IBM face some headwinds from financial performance. Also, the stock is fairly valued. A decline to the $150.50 to $172 zone would be a potential entry zone.
Disclosure: I have no positions in any stocks mentioned, and no plans to initiate any positions within the next 72 hours. I wrote this article myself, and it expresses my own opinions. I am not receiving compensation for it (other than from Seeking Alpha). I have no business relationship with any company whose stock is mentioned in this article.