The gold plunge has been severe, and the psychological and technical damage that has been done is likely to last for quite awhile. Investors who have tried to buy the "falling knife" over the past few months in gold or in mining stocks have mostly been burned with large losses and plenty of frustration. Just take a look at the chart below which shows the decline in gold mining stocks. At this point, I see very little chance for a broad or sustainable comeback, but there is one strategy to consider later this year.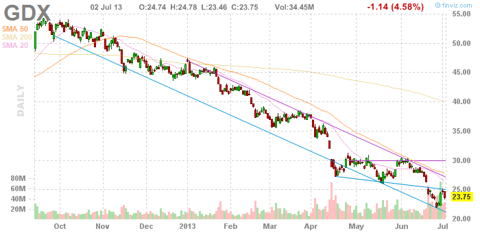 Click to enlarge
Since we are now in July, the end of the year is not so far away and tax loss selling is coming even sooner. Investors often dump stocks in the last quarter of the year, and October is just about 4 months away. Since gold stocks have been one of the worst performers this year, we should expect the potential for even more pressure on this sector in the coming months. In the period between now and then, there seems to be little that could materially boost gold or the badly beaten-down mining stocks. In fact, for the miners, there is likely to be plenty of bad news, disappointing earnings reports and negative guidance going forward. Certain mining companies also appear poised for credit downgrades.
Some of this news is starting to come out now and concerns are growing since many gold miners cannot operate profitably with gold prices at about $1,200 per ounce. A potential lack of profits could also be exacerbated by debt, which is a factor that investors are likely to focus on as earnings reports come out. As one recent post on Seeking Alpha points out, credit agencies could downgrade some companies if gold prices remain at current levels or go lower. It states:
Sunday, June 30, 2:41 AM ET
A record quarterly drop of 23% in gold prices in Q2 to $1,223.80 has exposed miners' massive debts, which have increased to a high of $21B at 55 top gold and silver producers from under $2B in the past 10 years. Gold has now become cheaper to buy than to extract for many firms. If prices stay below $1,300 for over two quarters, S&P reckons downgrades could be on the cards. Barrick Gold (NYSE:ABX) is particularly exposed with debts of $14.8B.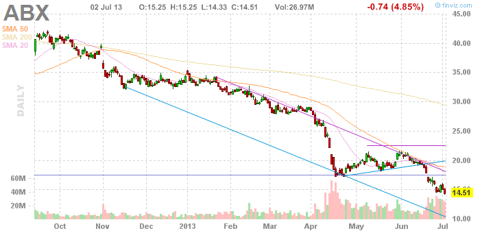 Click to enlarge
Even Goldcorp, Inc. (NYSE:GG) which has a strong balance sheet with just over $2 billion in cash and around $2.45 billion in debt, has not been able to escape the carnage: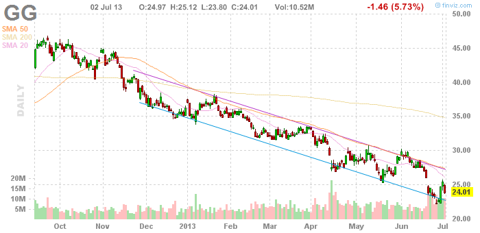 Click to enlarge
It's easy to see how a seriously negative downward spiral could keep gold mining stocks headed down for quite a while: Gold plunges to levels that make many miners unprofitable, debt levels that seemed reasonable when gold was much higher and rising suddenly seems dangerous; credit agencies could then downgrade companies in this sector which can raise borrowing costs and even further impact earnings, etc. Furthermore, tax loss selling is not too far off, and that could cause these stocks to experience even more downward pressure. Basically, there are too many headwinds for the mining stocks coming over the next few months, and the selling pressure for this sector might reach a peak with tax loss selling.
This is why I would only consider buying into this sector in November and December when tax loss selling could be pushing these stocks to new lows. Buying stocks at times of maximum selling pressure can be very rewarding. This strategy often pays off when investors buy beaten down stocks that are heavily shorted and being sold for tax loss purposes, only to see these stocks rebound sharply as January rolls around. With gold stocks down sharply and with more downside possible, this sector should be avoided for now, but I would consider these stocks as a potential trade towards the end of this year.
Data is sourced from Yahoo Finance. No guarantees or representations are made. Hawkinvest is not a registered investment advisor and does not provide specific investment advice. The information is for informational purposes only. You should always consult a financial advisor.
Disclosure: I have no positions in any stocks mentioned, and no plans to initiate any positions within the next 72 hours. I wrote this article myself, and it expresses my own opinions. I am not receiving compensation for it (other than from Seeking Alpha). I have no business relationship with any company whose stock is mentioned in this article.