Researching Forward Industries is more than a little frustrating because its ticker symbol (NASDAQ:FORD) is often confused by the search engines with the automobile manufacturer Ford Motor Co (NYSE:F).
With the recession biting, you have probably read about the sales of cell phones and consumer electronics slowing:
The faltering economy produced dismal mobile-phone sales at the end of last year, leading to heightened competition among phone makers, according to a few recent analyst reports. Mobile-phone sales reached 314.7 million units in the fourth quarter, down 4.6 percent from the same quarter a year earlier, Gartner said on Monday.
In the first half (2008), mobile handset shipments were around 14 percent year to year. In the second half, the third quarter slowed to 8 percent, before falling to a negative 10 percent rate for the final quarter of the year - due in part to the slowing economy. "Sheer fear sapped the confidence of consumers, enterprises and corporate users across the board," said Jake Saunders, Asia-Pacific Vice-President of ABI Research.
Unfortunately for Forward Industries, this means people buy fewer carrying cases and covers for their cell phones as well. You see Forward Industries are manufacturers of carrying cases and covers for cell phones and their sales have fallen off a cliff.
But now the recession is easing, the new Apple (NASDAQ:AAPL) iPhone has been released (I love mine), and the new Palm (PALM) Pre is on the market - maybe, just maybe, Forward Industries will see their sales start increasing again.
I am sure Motorola (MOT), Samsung (OTC:SSNLF) and Nokia (NYSE:NOK) are not going to sit idle and will be doing their best to boost sales as well.
Reading between the lines, I guess Forward Industries were to dependent on one customer and have found their margins squeezed during the recession - but what is a sales team for if not to find more customers?
So I am going to assume they can get themselves back into a profitable position - or at least a break even position where they are not burning cash.
Cash - that is what I wanted to tell you about.
Forward Industries has $2.39 is cash per share, very little debt, and I was able to pick up their shares for $1.58. That means I got a 33% discount on the $2.39 cash backing their shares had at March 31st.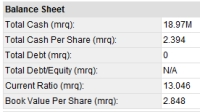 Ok, they may have burnt a little cash since then, but I am betting I still got a nice discount - with the cell phone carry case business thrown in for free.
And how much could the shares be worth if they managed to fix their core business? Well in 2006 investors were prepared to pay over $20 a share: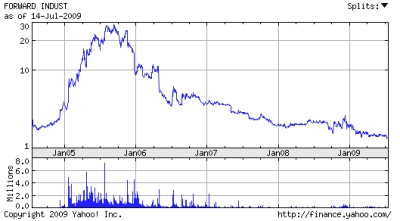 Finally a quick sanity check - do any professional fund managers hold the stock. A quick look at the major shareholders revealed Calpers (California - Public Employees Retirement System) and Bridgeway Funds Inc. - Ultra Small Company Fund both held shares.
So I thought I would try my luck, take the 33% cash discount and buy some of these shares.

Disclosure: Long Forward Industries