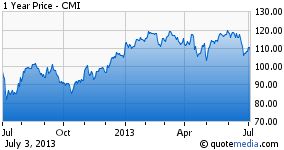 Cummins Inc. (NYSE:CMI) reports earnings on July 30 - and, following the disappointing report last quarter, the stock is still a sell at current levels.
Highlights:
Cummins Inc. is a global leader in the Industrial Goods/Diversified Machinery segment. CMI through its diverse network channel consisting of over 600 distribution locations, 6,500 dealer locations and approximately 44,000 employees, distributes and services engines in over 190 countries and territories worldwide.
The stock closed Tuesday's trading session at $110.20. In the past year, the stock has hit a 52-week low of $82.20 and 52-week high of $122.54. Technical indicators for the stock are neutral. CMI has a market cap around $20.6 billion.
Growth and Balance Sheet:
Cummins Inc. reported a sharper-than-expected drop in first-quarter earnings citing weak demand for its turbines and engines in most of its markets, especially the mining and oil and gas industries. First-quarter net profit fell to $282 million or $1.49 a share, from $455 million, or $2.38 a share, a year earlier. Sales dropped 12 percent to $3.9 billion.
More disappointing - sales in the United States and Canada, which accounted for half of Cummins's revenue during the quarter, fell 15 percent, primarily as a result of lower demand from makers of commercial trucks as well as continued weakness from oil and gas markets. Cummins's Engine segment experienced the most significant decline in demand during the quarter with an 18% fall in unit volumes. Shipments of high horsepower engines ebbed 24% due to weakness in mining, oil and gas and power generation markets.
Cummins expects 2013 revenues to be flat to down 5%. The company also expects EBIT margin between 13% and 14% for the year.
Valuation:
CMI's trailing price-to-earnings stands at 13.81, below the industry average of 16.73. The stock is currently trading near its intrinsic value of $109.67, suggesting the price is fairly valued. CMI's current Price/Sales of 1.21 is above the industry average of 0.88. The company paid a $2.00 dividend resulting in a 1.90% yield.
Cummins had cash and cash equivalents of $1.5 billion as of Mar. 31, 2013, up from $1.4 billion at the end of 2012. Long-term debt increased to $790 million as of Mar. 31, 2013, translating into a long-term debt-to-capitalization ratio of 10.6%, from $759 million or 10.3% at the end of 2012.
Our recommendation for next 6 months: We reiterate our sell rating on the stock. The company has demonstrated neutral technical signs, valuation is attractive relative to its peers but the company reported results below expectations for first quarter.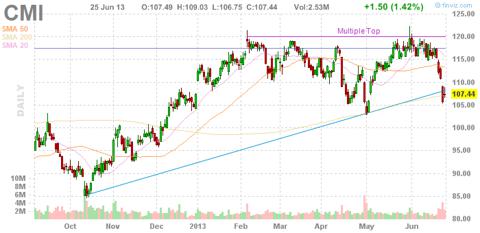 Click to enlarge
(Click to enlarge)
CMI stock is up slightly for the year, but has been volatile. In fact, the beta of 1.85 implies higher volatility of the stock with respect to the S&P 500.
The multiple top above $122 should provide enough resistance to comfortably go short with a strong risk/reward ratio ahead of CMI's July 30 earnings report.
For stock trading we suggest:
Sell Stock at 110.20 with a stop/loss above the multiple top at $125 (or purchase a $125 call against the position).
For options trading, we suggest:
Sell the July 2013 call with a strike of 115.00 priced at $2.00 per contract
Net Credit to start: $2.00
Disclosure: I have no positions in any stocks mentioned, and no plans to initiate any positions within the next 72 hours. I wrote this article myself, and it expresses my own opinions. I am not receiving compensation for it. I have no business relationship with any company whose stock is mentioned in this article.