My initial thesis - that the discount to cash at Ambase (OTCPK:ABCP) would narrow when the 12/31/12 financials were recognized - did not play out and is no longer applicable.
However, given the change in events and the dramatically lower stock price, I believe Ambase currently offers a very intriguing reward-to-risk profile.
After the close on 6/21/13, Ambase filed an 8-K providing minimal detail on a real estate joint venture deal it had entered. Ambase contributed to escrow $56MM cash for an interest in a development project at 105-111 W 57th St. in Manhattan. The development partners are JDS Development and Property Markets Group.
I'm not sure why they announced this with so few details available. My guess is that once they deposited funds into escrow, their attorneys advocated making the release. The agreement should be filed in the next few weeks. I'm operating under the assumption that they're getting economics that are roughly in line with their equity contribution of around 28-32%. Management's 40% equity stake underlies my confidence that they're not recklessly destroying value.
They are partnering with proven operators. JDS has done several tower deals in Manhattan and is currently doing a project on 1st Avenue between 35th and 36th with Baupost as financial partner. JDS purchased the vacant property at 105-107 W 57th from Starwood Capital, which retained an interest in the project and is expected to provide bridge lending to the project. Starwood had purchased that lot for $52MM in 2006. JDS purchased the Steinway building for $46MM in 2013 and purchased the land underneath the property in a separate transaction with undisclosed terms. My estimate is that $175MM - $200MM have been invested in the two properties and construction costs for the 900 75 floor residential tower are expected to be around $600MM.
They are building at an attractive location. 57th Street between Sixth and Seventh Avenues is two blocks removed from Central Park. Above 225', unobstructed views of the park are available. This property should have roughly 38 floors to offer with unobstructed views. On the same block, Extell Development is constructing One57, a condo/hotel/retail development at an estimated cost of $1.5B, which has become notable for several high priced deals including one penthouse unit reportedly under contract for $90MM. There is substantial demand for foreign buyers for prime Manhattan real estate partially because it offers the ability to put large sums of cash out of reach of home governments with relatively little paperwork. The first four stories of Steinway Hall are a protected Landmark and will be preserved. It is expected that the higher floors will be removed and the new tower will rise above the protected landmark with a larger footprint, yielding greater height and more attractive floorplates.
No growth opportunity previously existed. Management wasn't going to return the cash. They made that clear by paying out $2 last fall as opposed to $3. They indicated that they were looking to deploy capital into real estate or an operating business. I felt the real risk was that they'd take on operating responsibilities, and I believe that an overlooked positive about this deal is that they are effectively non-operating partners. The projected returns for the project have not been made public, but I believe that 20%+ IRRS are possible. If the partnership only earns 15% IRR over 5 years, they should double their investment contributing an additional $1.31/share in value. Notably, the developers can begin selling units and taking deposits well before completion, which can de-risk the project.
The stock price has fallen precipitously. On Monday 6/24 470K shares or only 1.8% of the 25.8MM shares in float were traded, while the stock price fell -16% in response to the announcement of the real estate deal. This is not a rush to the exits, but rather a small majority of - misguided and uninformed, in my opinion - shareholders selling with disregard to price. For a tiny stock like this, they are getting to set the price in the short term. Note that only 2MM or 7.8% of the 25.8MM freely-floating shares voted to liquidate at the annual meeting on 6/6/13.
Investing in ABCP today requires a different thesis and a longer time horizon. My null hypothesis was to sell and take the significant loss and move on to better opportunities. The variant thesis is this: purchasing ABCP at $0.90 and a market cap of $39M gives you ownership of 5 assets:
$25MM in cash post-investment
$2MM office building at book value (fair value is likely 1.5 - 2x carrying value)
($15MM) net tax liability, which I think, is being marked very conservatively
$34MM potential cash value from tax litigation relating to prior years
$56MM partnership interest on a project on West 57th between Sixth and Seventh Avenues that I think could conservatively be worth twice as much in five years.
Marking the tax litigation value at 50%, you get $29MM excluding the partnership interest, which means the current market cap values that interest at $10MM or 18% of the cash contributed. I expect that when they publish an 8-K with the details of the agreement there may be some recovery in the stock.
Given the longer timeline and project-related risks, I think the position size needs to be re-examined, but I find the position more interesting now than before as there is a greater discount and a growth component, which previously did not exist. Because the market is only valuing $56MM investment at $10MM (assuming all other assets are fully reflected in the stock price), the worst (and highly improbable) case is that they lose their entire $56MM investment, this would represent only an additional ($10MM) or ($0.23) per share loss. If they double their $56MM investment over the next 5 years, that would add an additional $102MM or $2.38 per share above the current price. The reward-to-risk profile is highly asymmetric with an upside of 164% and a downside of -26% and very attractive.
The following are links to articles, which give greater detail on the developers, the land purchases, the initial building plans and the amended building plans to reflect the purchase of Steinway Hall:
Below is a Google Earth map showing the superb location of the properties as well as the One57 development down the street. Note that the proposed building would be approximately 105' (9 stories) lower than that of One57.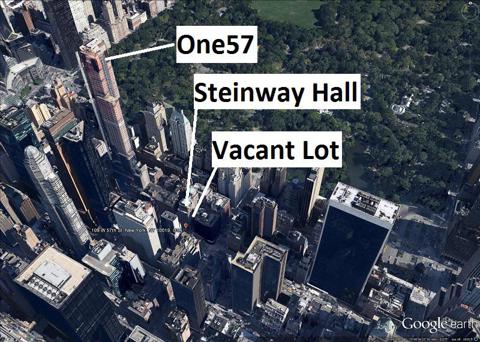 Disclosure: I am long OTCPK:ABCP. I wrote this article myself, and it expresses my own opinions. I am not receiving compensation for it. I have no business relationship with any company whose stock is mentioned in this article.