By Bryan McCormick
Pulte Homes reports after the close today and will be a test of just how well -- or if -- a recovery is underway in new housing.
There are a substantial number of bets against PHM shares, with a short base of eigh days to cover and more than 18 percent of the trading float short. That is bordering on the extreme.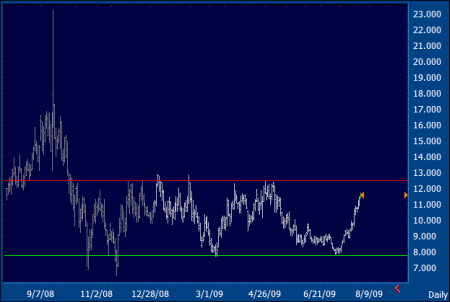 As we have seen a few times during this earnings season, a large short base can be a warning of problems as much as it can, on an unexpected positive surprise, be an opportunity for a squeeze play.

The chart may look quite boring, but there is something here that is important. The red horizontal line at the $12.50 area has been very tough resistance. The green horizontal line at the $7.75 area has been important support, except at the market lows. That is an incredibly wide range on a percentage basis, and is also a very large horizontal base that is nearly 10 months old.
Long bases - -those that take many months to form -- often yield very positive price reactions if they break out to the upside. We can think of that basing process as one that gets resolved with new information. And once resolved, in either direction, traders will then push prices aggressively.

On a positive surprise we could see a breakout above that resistance level, fueled by the large short-base that will be forced to cover. The risk is quite substantial though as on worse than expected news, we could see a move back toward support over time.
Rather than helping us decide a target beforehand, the base provides a frame of reference to work with after the news is out. A break above resistance would very likely be bullish, just as a failure to break out would likely be bearish.
(Chart data provided by Thomson Reuters)