Apple (NASDAQ:AAPL) was one of the most hated trades in the first half of 2013, down a whopping 25.49% against the 12.63% gain the S&P 500 produced. So far, the second half of 2013 is shaping up in Apple's favor with it being up 5.53% while the S&P 500 is only up 0.48%. Now the question is will it last? Some catalysts for the second half include a possible refresh of the iPad mini and potentially a cheaper phone, which will be introduced into China. And with approximately 80 million China Mobile (NYSE:CHL) customers who can afford the iPhone with its current price target left untapped, this can provide an awesome pop for Apple if it can get that deal going with China Mobile. With that in mind I want to evaluate on a fundamental, financial and technical basis if it's worth buying more of the stock right now.
Fundamentals
Apple currently trades at a trailing 12-month P/E ratio of 9.99, which is priced inexpensively, but I mainly like to purchase a stock based on where the company is going in the future as opposed to what it has done in the past. On that note, the 1-year forward-looking P/E ratio of 9.59 is currently inexpensively priced for the future in terms of the right here, right now. Next year's estimated earnings are $43.62/share and using that value I'd consider the stock cheap until at least $654.30. The PEG ratio (0.48), which measures the ratio of the price you're currently paying for the trailing 12-month earnings on the stock while dividing it by the earnings growth of the company for a specified amount of time (I like looking at a 5-year horizon), tells me that Apple is inexpensively priced based on a 5-year EPS growth rate of 20.88%.
Financials
On a financial basis the things I look for are the dividend payouts, return on assets, equity and investment. Apple boasts a dividend of 2.92% with a payout ratio of 18.8% while sporting return on assets, equity and investment values of 21.7%, 32.2% and 34.9% respectively; which are all very awesome values. If maybe you feel the market will retract a little more and would like a safety play then maybe the 2.92% yield of this company is good enough for you to take shelter in for the time being.
Technicals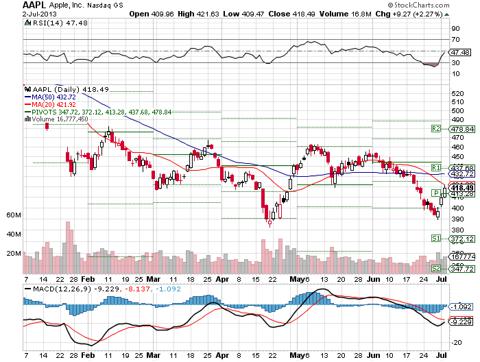 Looking first at the relative strength index chart [RSI] at the top, I see the stock at around a middle ground value of $47.48, but with an upward projection; this tells me that there may be a little bit of upside to the stock. To confirm that, I will look at the moving average convergence-divergence (MACD) chart next and see that the black line is below the red line and that the divergence bars are decreasing in height to the upside, indicating there may be a bit of upside coming. As for the stock price itself ($418.49), I'm looking for the 20-day moving average to act as resistance. If the stock can rip through the 20-day moving average, I can see it going to $437.68, but if it can't, I see it going down to $372.12 for a risk/reward of -11.08% to 4.59%.
Recent News
At Apple's World Wide Developers Conference the company introduced new MacBook Air models, which have a longer lasting battery life and are powered by Intel's (NASDAQ:INTC) new Haswell chips. A new Mac Pro was also introduced at the Conference along with iTunes Radio and an iOS7 operating system. iTunes Radio will add a significant amount of revenue at a cost of $25/year for each user.
Large volumes of parts for a cheaper iPhone are being shipped for production.
The iWatch is looking more and more like a "nice to have" kind of toy these days. I think it will be useless in all actuality unless you can make phone calls off of it; it kind of reminds me of Knight Rider back when Michael used to call up KITT to the rescue using his watch.
The iPhone 5 will begin to be sold as Sprint's (NYSE:S) Virgin Mobile prepaid brand, which will bring in more consumers to the Apple ecosystem and that means more revenues.
Raymond James upped its rating on Apple from Buy to Strong Buy by taking the contrarian view of current sentiment being horrible.
Conclusion
I know there are tons of critics on Apple right now, but the truth of the matter is that this is an excellent company on the whole that knows how to make great products and keep its customers. On a fundamental basis Apple is inexpensively priced for the short- and long-term future providing for a great valuation with an excellent estimated growth rate for the coming year (10.38%) and for the next five years (20.88%). Financially I dare you to find a company in better standing than this one, the returns on equity, assets, and investments are phenomenal while providing lots of room for dividend growth with the current low payout ratio. Although technically I calculate a high risk/reward ratio I believe that with upward trajectories of the RSI and MACD charts the stock will actually blow through the 20-day moving average as you can see it has happened during other moments in time on that same chart. With the homework I've done I feel very comfortable in making a purchase here for my portfolio. I hold onto Apple for an investment as opposed to a short-term trading vehicle, in all honesty, I believe it got way ahead of itself last year and should actually be trading in the mid $500s right now.
Disclosure: I am long AAPL. I wrote this article myself, and it expresses my own opinions. I am not receiving compensation for it (other than from Seeking Alpha). I have no business relationship with any company whose stock is mentioned in this article.
Disclaimer: These are only my personal opinions and you should do your own homework. Only you are responsible for what you trade and happy investing!