Healthcare stalwart Baxter International (NYSE:BAX) is up 30.3% over the past 52 weeks, beating the market by 11%. Even after this impressive run, at current prices in the $70 area the stock has a favorable risk/reward profile, when compared with the S&P 500 index (NYSEARCA:SPY).
BAX is included in my Synthetic Dividend Growth Portfolio. In the process of developing an opinion on each of the stocks involved, I conducted my usual review, and find that it is very well suited to the portfolio objective. This article presents my findings.
Overview
From the 10-K:
Baxter International Inc., through its subsidiaries, develops, manufactures and markets products that save and sustain the lives of people with hemophilia, immune disorders, infectious diseases, kidney disease, trauma, and other chronic and acute medical conditions. As a global, diversified healthcare company, Baxter applies a unique combination of expertise in medical devices, pharmaceuticals and biotechnology to create products that advance patient care worldwide. These products are used by hospitals, kidney dialysis centers, nursing homes, rehabilitation centers, doctors' offices, clinical and medical research laboratories, and by patients at home under physician supervision. Baxter manufactures products in 27 countries and sells them in more than 100 countries.

The company's operations are comprised of the BioScience and Medical Products segments.
Valuation
Using 3 years of actual earnings, company guidance of $4.65 for 2013, and my own estimate of $5.07 for 2014, I project E5 (5-year average EPS) at $4.17 by year-end 2014. Applying a multiple of 20, typical for high quality, I arrive at a target price of $83, as of that date. To illustrate the thought process, here's a 10-year chart of the company's share price vs. E5 X 20: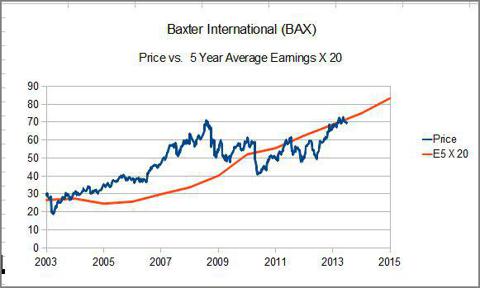 Just looking at the chart, the stock is a buy any time it gets much below the red line at 20. Occasionally the multiple gets down as low as 15. Prior to the financial crisis, multiples frequently were above 30.
Colleague Recall
As shown on the chart, in April 2010, shares declined precipitously in connection with an FDA order that was announced on 5/3/2010, requiring the company to recall and destroy all Colleague Infusion Pumps. In a press release the same date, the company said it expected to take a charge of $400 to $600 million in connection with the recall.
Shares have recovered nicely from that low point as the company has placed the matter behind it.
Risk/Reward
In spite of the nasty drop on the Colleague recall, BAX maintains a beta of 0.60; it is substantially less volatile than the S&P 500 index.
By my methods, the S&P is fairly valued, so that annualized returns going forward can be expected to be in the 7% area; 2% inflation, 2% real growth, 1% buybacks and 2% dividends.
If Baxter reaches the target price discussed above, capital appreciation will be 12.7% annualized, to which one can add the dividend, currently yielding 2.8%. A nice combination, above-average expected returns with below-average volatility.
Dividends
BAX has increased its dividend for 7 consecutive years, most recently by 8.9%, from 45 cents to 49 cents quarterly. The payout ratio is 47%, based on TTM earnings, and 42% based on 2013 guidance.
After examining trends for R&D, capex and acquisitions, I conclude that the company will be able to raise dividends in coming years, because it is investing in profitable growth.
In connection with the planned acquisition of Gambro, Baxter stated that it intends to maintain its dividend payout ratio at approximately 40% and expects to increase adjusted EPS 8-10% per year over the 5 years encompassed by its long-range financial plan.
Buybacks
Share counts have been declining steadily, at a rate of 2.7% annualized over the past 5 years. There is $1.4 billion outstanding on the most recent authorization.
Because shares have generally been undervalued over the past several years, this activity has enhanced shareholder value. In the past, the company has overpaid for its shares. As an example, in 2008 it was buying them at an average price of $60, well above fair value.
I would argue that by holding these shares if and when they trade above fair value, an investor would expose himself to value destruction, as management is likely to repurchase shares at inflated prices. As a practical matter, the company expects reduced buybacks in 2013 due to the expense of the Gambro acquisition.
Research and Development
R&D is 8% of revenue, on a TTM basis, up from 6.2% in 2003. This is in the area of the 7% I consider optimal.
Gross Profit margins have increased from 44.5% to 51.5% over the same period. The thinking here is, that high and increasing gross profits are evidence that R&D is effective.
Capex
Investment in Property, Plant and Equipment currently stands at 40% of cash from operations, and has averaged 35% over the past 5 years. Comparing it to Depreciation, it currently stands at 169%, and has averaged 155% over the past 10 years.
Again, high and increasing Gross Profits are evidence that capex is proceeding at an appropriate level and is effectively targeted.
Acquisitions
On 12/4/2012 Baxter announced an agreement to acquire Gambro AB, a Swedish dialysis product company, for $4.0 billion. The acquisition is manageable in size, compared with Baxter's $37 billion market cap, and makes strategic sense, given the company's position in the dialysis treatment market.
The purchase price represents a multiple of 2.5 on 2011 sales, and is entirely consistent with BAX's 5-year average P/S of 2.5.
The transaction was expected to close during the first half of 2013.
The company's smaller acquisitions of Synovis in 2012, and Baxa in 2011, both meet the test of strategic fit and P/S consistent with Baxter's own 2.5 average multiple.
Conclusion
Buying Baxter at recent prices in the $70 area, investors have a reasonable expectation of receiving a growing stream of dividend payments and eventual share price appreciation.
Over the past 10 years, E5 has increased at 10% per year. The company's long-range financial plan calls for adjusted EPS to grow 8-10% over the coming 5 years, a goal that is realistic when compared with historical performance.
Share prices are substantially more variable than the company's earnings performance. A strategy based on monitoring E5 or any other stable valuation metric, and buying and selling accordingly, has an above-average chance of success. In the meantime, the dividend is secure.
Options
The shares are optionable, to include LEAPS. Implied volatility stands at 15.06%, with a 52-week high of 19.9%. Bid/Ask spreads are relatively narrow, and open interest is adequate at popular strikes and expirations.
My position:
Long BAX Jan 2015 50.0 calls, bid/ask 15.60/15.80
Short BAX Feb 2014 75.0 calls, bid/ask 2.05/2.12
The downside risk is limited and defined by the 55.0 strike, in the unlikely event of an incident similar to the Colleague recall, or a generalized market meltdown. The premium income from the sale of calls, annualized, is 4.6% of the share price. The 75.0 strike is consistent with my opinion on value and trajectory, as discussed above.
Disclosure: I am long BAX. I wrote this article myself, and it expresses my own opinions. I am not receiving compensation for it (other than from Seeking Alpha). I have no business relationship with any company whose stock is mentioned in this article.