Let's not sugar coat it, last week's BlackBerry (NASDAQ:BBRY) Q1 Fiscal 2014 earnings report painted a disappointing picture for BlackBerry. It didn't help matters when CEO Thorsten Heins basically repeated the same "competitive market" rhetoric that preceded the launching of BB10 devices a few months ago. The BBRY stock price dropped to below $10.00 due to the weak results posted by the company. So why am I making the case for BlackBerry opportunities when so many others have lost the faith? BlackBerry knows a thing or two about services and how to monetize them, BlackBerry has a loyal enterprise base that is looking for a way to make sense of the BYOD trend and it is focused on the things that matter most.
I first had to look back and analyze BlackBerry's cash position. Cash position is important for two reasons. One, it gives a snapshot of the immediate financial health of the company. Two, it sheds light on the company's ability to execute their plan. A company burning through cash quarter after quarter can't mount a comeback because they tend to spend the majority of their time putting out the fire. BlackBerry's cash balance has actually risen in the last two quarters. The balance sheet shows BlackBerry sitting at 3.1 billion dollars in cash. This is up from 2.9 billion from previous quarter. The rise in cash balance shows me that BlackBerry has successfully managed their working capital while ramping up the launch of multiple new products during a time its competitors have grown.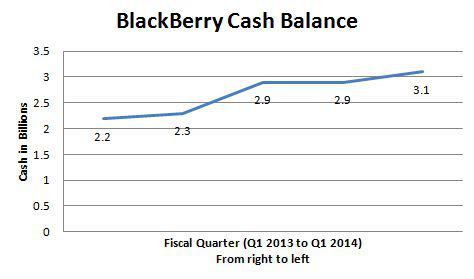 The stock price took a serious hit and plummeted over 4 points after the earnings report was made available. There is still significant room for the stock to bounce back and grow. BlackBerry needs to get some consistent positive reports coming in as I believe the stock bears have driven most of the risk out of the stock price. Viewing the recent stock trend, you can see there is serious opportunity even if it only manages to get up to previous $17 levels. Positive news like a couple of Fortune 500 corporations adopting BlackBerry devices or utilizing BES 10 as their device management platform would provide the necessary boost to the stock.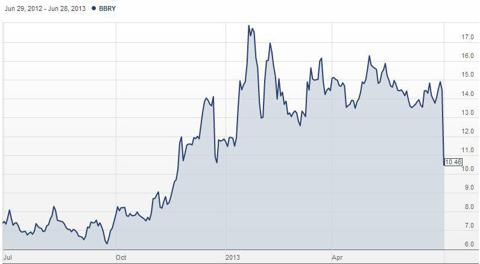 Services represent a significant opportunity for BlackBerry. As more businesses have switched to BYOD environments, the need to have costly BlackBerry Enterprise Servers diminished. There has been a decline in service revenue but with BlackBerry's recent push to get BES 10 into corporate environments as the mobile device management of choice, this decline can be reversed. Heins mentioned in the earnings call that his talks with their customers revealed the desire to have BlackBerry be an end-to-end solution so the hardware and device management services go hand in hand. Secure Work Spaces on Apple's (NASDAQ:AAPL) iOS and Google's (NASDAQ:GOOG) Android is BlackBerry's solution to the growing BYOD demand. Secure Work Spaces for BES 10 will allow IT Administrators to control such things as email, contacts, documents and other managed applications, keeping them secure and separated from personal applications and data. Most large enterprises are currently testing out BES 10. This represents a big opportunity to sell $99 per year licenses (CALs) to iOS and Android users who are not able to take advantage of the BYOD their employers offer. This works out to over $8 per month; this is more than the traditional BES ARPU. The sheer number of iOS and Android users who would like to use their personal devices in their corporate setting represents an untapped market to generate service revenue from and running BES 10 to manage devices allows IT Managers the opportunity to have a single solution. This is something they would appreciate. Rather than having multiple IT consoles to handle operations, BES 10 allows all devices -- BlackBerry, Android or iOS -- to be controlled from within one management console.
The importance of BES 10 in my case for BlackBerry cannot be understated. Selling $99 per year licenses to iOS and Android users represents the largest and quickest way for BlackBerry to not only firmly establish themselves as being a long-term safe bet but also prove that their security focus is still unrivaled. BlackBerry may be down but not out and the introduction of newer devices like the upcoming BB 7 device and the just released Q5 addresses the middle to lower end of the market BlackBerry needs to stay competitive and move the hardware volume it desires. Finally, the staged rollout of the well received Q10 and the pent up demand for the device should give a boost to the decline of smartphone shipments that the Q1 2014 quarter has shown. The Q10 has just made it to carriers in the U.S. and Q2 may surprise us if BlackBerry can get their marketing focused and supplies aren't restrained.
To pull this off BlackBerry's management team has to be laser focused. My expectation is that Q2 Fiscal 2014 will show BlackBerry focusing their marketing spending on the Qwerty devices Q10 and Q5. Playing to the current install base and delivering simple, effective marketing campaigns is imperative. The competition is not standing still and BlackBerry will have to spend far more to gain visibility. With over $3 billion in cash and investments, this is the quarter that BlackBerry has to consider every spare dollar to market the right products. If Q2 Fiscal 2014 ends and BlackBerry has had to burn through a couple of hundred million of cash without growing market share and no indication that consumer opinion has changed in regards to the BlackBerry brand, I will review my position that BlackBerry has opportunities to remain a standalone entity.
Disclosure: I have no positions in any stocks mentioned, and no plans to initiate any positions within the next 72 hours. I wrote this article myself, and it expresses my own opinions. I am not receiving compensation for it (other than from Seeking Alpha). I have no business relationship with any company whose stock is mentioned in this article.
Additional disclosure: This article was originally written a couple of days after BlackBerry's Q1 Fiscal 2014 earnings report. It has since been edited and revised to reflect current conditions.