Bank of America (NYSE:BAC) shares experienced a considerable drop after the company reported first quarter earnings and there is reason to believe that the bank could offer earnings and guidance that creates another selloff when second quarter earnings are reported. Since the last pullback, the shares have been trending higher, however, that could be setting up the stock for the next drop.
BofA is expected to report second quarter earnings on July 17, 2013, before the market opens. According to Earningswhispers.com, consensus estimates is for a profit of 25 cents per share. While investors seem to be turning positive on Bank of America due to the belief that the economy is improving and that housing is rebounding, some recent events might offset those perceived benefits.
One big issue to consider is that the recent rise in rates has been significant and that could really dampen housing demand going forward. Mortgage applications for refinancings and new purchases are already falling. The other big problem is that with the Ten-Year Treasury Bond rising from about 1.6% to 2.5% in just the past few weeks, some bond prices have declined significantly. While many analysts on CNBC have been talking about the devastation some bond investors will experience when they open their quarterly statements in a few days, much less has been said about the impact on the banks and insurance companies which tend to have significant bond exposure.
Let's not forget that BofA owns Merrill Lynch which could mean additional bond market exposure. One former FDIC official was warning about this downside risk for banks earlier this year and before the recent drop in bonds. A Wall Street Journal article states:
The risk of a rapid rise in interest rates presents the biggest threat to the financial system but regulators may be too distracted with the last crisis to adequately tackle new challenges, warned Sheila Bair, the former chairman of the Federal Deposit Insurance Corp.

Ms. Bair said she's worried more about interest-rate risk than any other issue. A significant and speedy rise in rates could produce big losses for individuals and institutions with large bond portfolios and raise borrowing costs across the country.
As the chart below shows, Bank of America shares have experienced a couple of sharp selloffs to the low $11 range since February and I believe that when the company next reports earnings and guidance, the stock could see a similar decline. The shares now trade right around the 50-day moving average which is $12.99. However, the 200-day moving average is $11.36 and that is where the stock might find support in a post-earnings selloff. If the bank offers more details on what the extent of bond losses might be on earnings going forward, this could be what sparks a pullback.
Investors seem to be sweeping this downside risk under the carpet for now, even though it is the former FDIC chief's primary concern for the banking industry. It's also important to realize that the bond selloff could get worse as a number of analysts see the Ten-Year Treasury Bond yield going to 3% in late 2013. For these reasons, investors should be cautious and perhaps even take some profits while BofA shares are still trading near the highs for this year. Investors looking to start a new position in Bank of America might want to hold off, as a better buying opportunity may be coming sooner, along with more clarity on the impact of the bond selloff.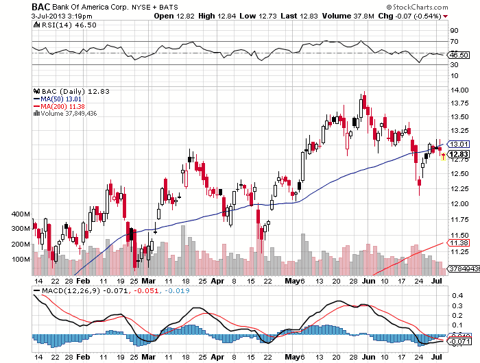 Here are some key points for BAC:
Current share price: $12.80
The 52-week range is $6.90 to $13.99
Earnings estimates for 2013: 96 cents per share
Earnings estimates for 2014: $1.31
Annual dividend: 4 cents per share which yields .3%
Data is sourced from Yahoo Finance. No guarantees or representations are made. Hawkinvest is not a registered investment advisor and does not provide specific investment advice. The information is for informational purposes only. You should always consult a financial advisor.
Disclosure: I have no positions in any stocks mentioned, and no plans to initiate any positions within the next 72 hours. I wrote this article myself, and it expresses my own opinions. I am not receiving compensation for it (other than from Seeking Alpha). I have no business relationship with any company whose stock is mentioned in this article.