Elevator pitch
Numerous factors have the potential to impact upon Boeing's share price this month - a potential "triple-top" formation at the all-time high, earnings release at the end of the month and extraordinary run this year that could be potentially ending. This article describes a strategy that both current shareholders as well as potential speculators could find valuable, with minimal risk, in order to take advantage of a move in the share price that appears to be imminent.
Company description - how does the company make its money?
The Boeing Company (NYSE:BA) is an aerospace and defense company that operates in a variety of areas including commercial airplanes, military aircraft, network/space/security systems, and global services and support. According to their web-site, these products and services include commercial and military aircraft, satellites, weapons, electronic and defense systems, launch systems, advanced information and communication systems, and performance-based logistics and training. Boeing is a Dow component with a current market capitalization of $77.72 billion, employing over 170,000 people across the United States and throughout 70 countries worldwide.
Thesis and catalyst
After a meteoric rise in the share price since breaking through the $80 resistance barrier at the beginning of March 2013, Boeing is currently priced at $102.44 per share as at the close of the markets on Friday, 28th June (representing an increase of over 25% during the past four months). Although the momentum of price movement has been robust, demonstrated by a strong move in the 30 week moving average, oscillator and DMI indicators of technical analysis (see Figure 1), there are a variety of factors which also suggest that the stock price could take a tumble (see Figure 2 and Figure 3):
An extreme reading in the Relative Strength Index, indicating an "overbought" situation
Fairly average trading volume in BA stock over the past four months following the "breakout" above resistance and "volume spike" at the beginning of the year
Potential formation of a "triple-top" as the stock price approaches the two all-time peaks of $107.83 and $107.15, which occurred on 25th July 2007 and 2nd October 2007, respectively
A sudden decrease in share price (followed by a reasonable recovery) over the past two weeks of trade, which has resulted in a flattening of the 30 day moving average.
Figure 1: Weekly chart for BA, highlighting 30 week moving average, 200 week moving average, oscillator and DMI indicators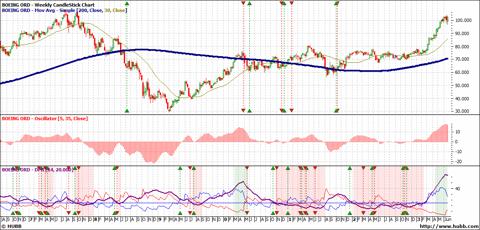 Figure 2: Weekly chart for BA, highlighting previous resistance, previous "double-top" formation, extreme RSI and declining recent volume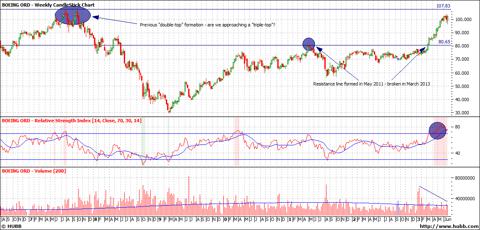 Figure 3: Daily chart for BA, highlighting recent share price decrease followed by reasonable recovery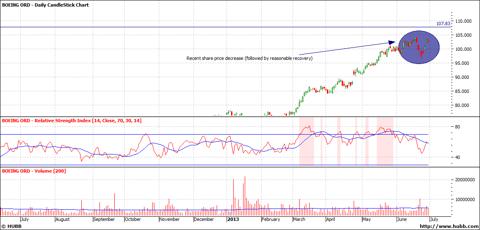 Even though the "balance" of theories tends to suggest more of a "bearish" prediction from a technical analysis point of view, an examination of the fundamentals for the reporting years of 2009 through to 2012 provides an interesting, yet contradictory, insight. Boeing's dividend per share (DPS) has increased at a reasonable pace over these reporting years (see Figure 4), but the earnings per share (EPS) reports do not entire correlate since the EPS increased dramatically in 2010 and remained relatively stable since. The current price/earnings (P/E) ratio looks very attractive compared to previous levels, as do impressive declines in the debt/assets ratio and debt/equity ratio over the past few reporting years. Boeing has reduced its research and development expense significantly over these reporting years (a 49.3% reduction from 2009 to 2012), whilst sales per share increased by 19.7% over the same time period. Overall, the fundamentals of Boeing appear reasonable and the company has been expanding appropriately by providing more employment (an 11% increase in number of employees from 2009 to 2012). The market is viewing Boeing in a positive light with respect to fundamental analysis, with the share price rising 3% on the day following the release of Q1 2013 earnings at the end of April. As such, further rises in the share price are quite plausible upon the release of Q2 2013 earnings later this month (24th July).
Figure 4: Fundamental analysis of BA

Amidst the current conflict between technical and fundamental analysis, current shareholders and potential speculators could implement a strategy that offers the possibility of decent rewards for relatively minimal risk, regardless of share price movement induced by the catalyst of earnings season.
The opportunity that exists is an options strategy called a "strangle", which involves the purchase of an "out of the money" put as well as an "out of the money" call. The reason for choosing a "strangle" rather than a "straddle" in this circumstance is due to a high implied volatility that currently exists for the options of the stock, which allows the "strangle" strategy to be 'cheaper' to implement, compared to the "straddle" strategy, since less capital outlay is required.
In this case, the suggested strategy involves the purchase of options that expire at the end of August (an August 2013 call with a $110 strike price and an August 2013 put with a $100 strike price). The worst case scenario, considering the closing ask price for these options, is a position that costs $88 for the call option plus $278 for the put option (plus brokerage fees) for a total maximum risk of $366. However, the "real risk" behind this trade would be the potential loss due to time decay of the options for the period of time that we're interested in maintaining this trade (until the day that earnings are released, 24 days from now - i.e.: 24th July at 10am Eastern Daylight Time). Utilizing Integrated Investor software, it is estimated that the "real risk" would be approximately $200 at the date of earnings if (and only if) the stock price is exactly $105 (see Figure 5).
Figure 5: Profit/loss graph for BA strangle options trade (1 Aug13 110 strike call and 1 Aug13 100 strike put)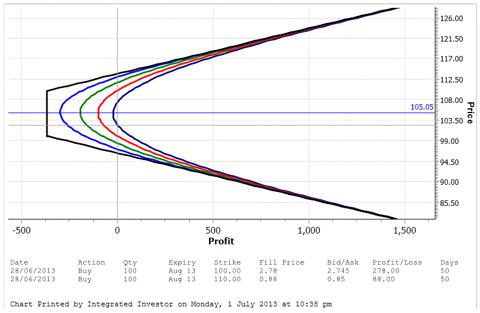 - Green line indicates the estimated profit/loss curve as at day of earnings (24th July; "real risk" approximately $200); dark blue curve indicates profit/loss curve as at today; black lines indicate profit/loss lines as at date of expiry (maximum risk = $366).
The magnitude of the opportunity depends upon how far the share price of Boeing moves. It is not unreasonable to expect that BA will either re-test the recent low around $95 per share or extend and exceed the all-time highs with enough magnitude to push past $110 per share or beyond, even in the short-term prior to the earnings release. Either of these possibilities presents a good probability of profit based upon the catalysts presented above. From a technical point of view, the share price could correct to test prior support/resistance lines of $90, $85 and $80, should the support offered by the recent low around $95 per share be broken.
This is a short-term opportunity that would be recommended to be held for a maximum of 3-4 weeks since the earnings release for the company occurs on 24th July 2013. Once a direction has been clearly determined (and the response to the earnings release and potential "triple top" formation is confirmed), further directional trading along with the trend would be possible via either long-term or short-term trading opportunities (with or without the use of options).
Valuation
The opportunity for investors offers the potential for profit, regardless of market direction, in a position holding of Boeing, since a variety of catalysts could impact the company's share price in the near future. The total maximum risk for such position (being a "strangle" option strategy) is $366 if you were to fall asleep completely and hibernate for the next month and a half. Managed appropriately, with this position closed out after the earnings release on 24th July should no price movement have occurred, the maximum expected "real risk" is approximately $200. A realistic share price target of $90 per share, should the share price breach the recent support level of approximately $95 per share and test the next support level, would result in the position offering a profit of approximately $700 (representing a 3.5:1 reward-risk ratio based upon the "real risk", or a 1.9:1 reward-risk ratio based upon the total maximum risk).
Variant view - what could go wrong with this thesis?
As stated previously, the absolute worst case scenario would be falling asleep until the expiry date of the options in late August. In that case, the total maximum risk would be $366, plus brokerage fees for opening the position. Managed appropriately, the expected "real risk" is approximately $200, and would only occur if Boeing shares were priced at exactly $105 per share after the earnings release - this risk exponentially decreases the further the stock price is away from $105 per share, with estimated break-even points at approximately $112 (upward move) and $98 per share (downward move).

Disclosure: I have no positions in any stocks mentioned, and no plans to initiate any positions within the next 72 hours. I wrote this article myself, and it expresses my own opinions. I am not receiving compensation for it (other than from Seeking Alpha). I have no business relationship with any company whose stock is mentioned in this article.
Disclaimer: Please refer to my profile for full details regarding my disclaimer regarding articles written for Seeking Alpha.