(Editors' Note: This article covers micro-cap stocks. Please be aware of the risks associated with these stocks.)
Centerra Gold (OTCPK:CAGDF) is a Canadian-based gold mining and exploration company engaged in the operation, exploration, development and acquisition of gold properties in Asia, the former Soviet Union and other emerging markets worldwide. The company's objective is to build shareholder value and to establish annual gold production of 1.5 million ounces by maximizing the potential of its current properties and leveraging the financial strength and experience to acquire new long-life, low-cost projects.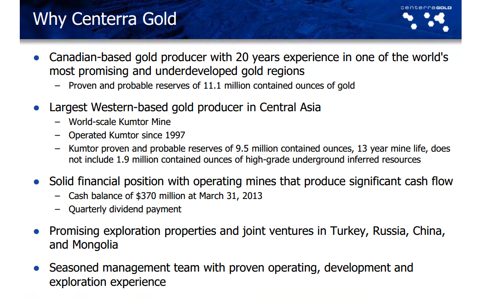 The stock is currently trading at an enterprise value of $539 million and its biggest mine, Kumtor, has a Net Present Value of $1.9 billion at an 8% discount rate using a gold price of $1,350 per ounce.
Kumtor mine
Centerra owns 100% of the Kumtor gold mine through its wholly owned subsidiary Kumtor Gold Company. Kumtor is located in the Kyrgyz Republic, about 350 kilometers southeast of the capital Bishkek and about 60 kilometers north of the border with the People's Republic of China. It is the largest gold mine operated in Central Asia by a Western-based company, having produced more than 8.6 million ounces of gold between 1997 and the end of 2012.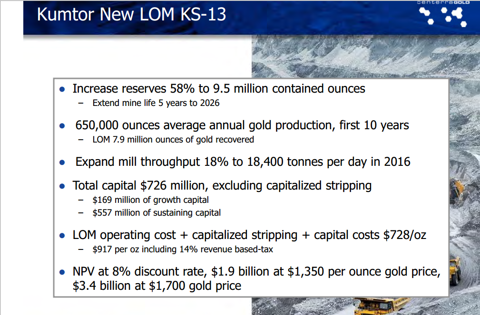 On November 7, 2012, Centerra Gold announced the results of its technical and financial study regarding expanding the Central open pit at the Kumtor mine in the Kyrgyz Republic. The new study shows a Net Present Value [NPV] of $1.9 billion at an 8% discount rate using a gold price of $1,350 per ounce and a NPV of $3.4 billion using a gold price of $1,700 per ounce.
Kumtor mine is expected to produce 550,000 - 600,000 ounces of gold in 2013 with total all-in cash costs of $1,056 - $1,153 per ounce.
Boroo Mine
Centerra Gold has a 100% equity interest in Boroo, the first significant foreign investment for industrial development in Mongolia since 1979. Located 110 kilometers west-northwest of Ulaanbaatar, the country's capital, Boroo began commercial production on March 1, 2004 and produced more than 245,000 ounces of gold (including gold produced during commissioning) in that year. In 2012, gold production was 71,838 ounces as mining ceased at the end of November 2010. The Boroo operation continues to mill lower grade stockpiled ore while the company waits for the final approvals for the Gatsuurt project.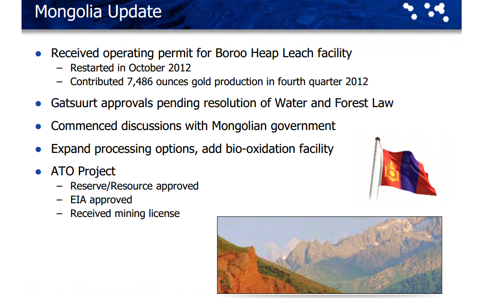 From March 2004 through to December 2012, the Boroo mine has produced approximately 1.5 million ounces of gold. Boroo mine is expected to produce 55,000 - 60,000 ounces of gold in 2013 with total all-in cash costs of $1,321 - $1,441 per ounce.
Insiders are buying
Richard Connor purchased 15,000 shares on June 27 and currently holds 15,000 shares or less than 0.1% of the company. Richard Connor serves as a director of the company.
Raphael Girard purchased 7,500 shares on May 31 - June 27 and currently holds 16,454 shares or less than 0.1% of the company. Raphael Girard serves as a director of the company.
Stephen Lang purchased 5,000 shares on June 26 and currently holds 77,000 shares or less than 0.1% of the company. Stephen Lang is Chairman of the Board.
Insider buying by calendar month
Here is a table of Centerra Gold's insider trading activity by calendar month.
| | | |
| --- | --- | --- |
| Month | Insider buying / shares | Insider selling / shares |
| June 2013 | 25,000 | 0 |
| May 2013 | 17,500 | 0 |
| April 2013 | 0 | 0 |
| March 2013 | 26,600 | 2,000 |
| February 2013 | 16,706 | 0 |
| January 2013 | 0 | 0 |
There have been 85,806 shares purchased and 2,000 shares sold by the insiders this year.
Financials
The company reported the first-quarter financial results on May 8 with the following highlights:
| | |
| --- | --- |
| Revenue | $192.3 million |
| Net income | $51.4 million |
| Cash | $369.9 million |
| Debt | $74.9 million |
| Gold production | 115,220 ounces |
| All-in cash cost | 1,552 per ounce |
| Proven & Probable gold reserves | 11.1 million ounces |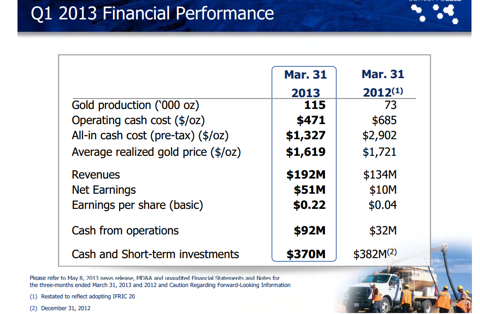 Outlook
The company's outlook for 2013 is as follows:
| | |
| --- | --- |
| Gold production | 605,000 - 660,000 ounces |
| Operating cash cost | $406 - $443 per ounce |
| All-in cost | $1,247 - $1,360 per ounce |
In 2013, approximately 55% of Kumtor's gold production is expected to occur in the fourth quarter, creating a potential variability to Kumtor's 2013 production guidance. Centerra estimates that the Kumtor mine will produce between 550,000 and 600,000 ounces in 2013.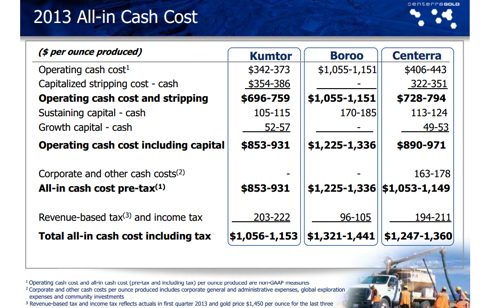 Competition
Significant and increasing competition exists for mineral acquisition opportunities throughout the world. As a result of this competition, some of which is with large, better established mining companies with substantial capabilities and greater financial and technical resources, Centerra Gold may be unable to acquire rights to exploit additional attractive mining properties on terms it considers acceptable. Accordingly, there can be no assurance that Centerra Gold will acquire any interest in additional operations that would yield mineral reserves or result in commercial mining operations. Centerra Gold's inability to acquire such interests could have an adverse impact on its future cash flows, earnings, results of operations and financial condition. Even if Centerra Gold does acquire such interests, the resulting business arrangements may not ultimately prove beneficial to its business.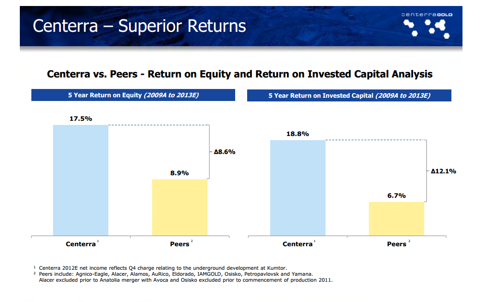 In the past, Centerra Gold's return on equity and return on invested capital have outpaced the peer group's performance. The peer group consists of Agnico-Eagle Mines (NYSE:AEM), Alacer Gold (OTCPK:ALIAF), Alamos Gold (NYSE:AGI), AuRico Gold (NYSE:AUQ), Eldorado Gold (NYSE:EGO), IAMGOLD (NYSE:IAG), Osisko Mining (OSKFF.PK), Petropavlovsk (OTC:PPLKF) and Yamana Gold (NYSE:AUY).
Other risks
On June 4, Centerra Gold confirmed that the company is in discussions with representatives of the government of the Kyrgyz Republic in connection with the previously reported State Commission report and Kyrgyz Republic Parliamentary decree (resolution) that recommended negotiations with Centerra to revise the project agreements signed in 2009 that govern the Kumtor project.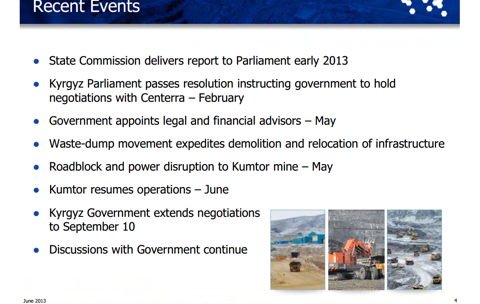 Discussions are on-going and any definitive agreement would be subject to compliance with all applicable legal and regulatory requirements and approvals, including any independent valuation and minority shareholder approval requirements. Centerra expects to continue discussions with the government with the objective of resolving matters through constructive dialogue. However, there can be no assurance that any transaction will be consummated or that Centerra Gold will be able to successfully resolve any of the matters currently affecting the Kumtor project.
Conclusion
The biggest risk in the stock is the ongoing negotiations with the government of the Kyrgyz Republic that could have a major negative impact on the Kumtor project. Despite these negotiations, there have been three different insiders buying the shares and there have not been any insiders selling the shares during the past 30 days. There are 10 analyst buy ratings, three neutral ratings and one sell rating with an average target price of $7.68. The stock is trading at a forward P/E ratio of 1.81 and the stock has a dividend yield of 5.0%. The company has a book value of $5.89 per share. I believe the stock could be a good pick below the book value.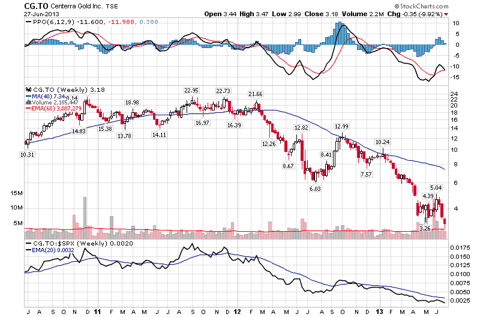 Disclosure: I am long IAG, OSKFF.PK, OTCPK:ALIAF. I wrote this article myself, and it expresses my own opinions. I am not receiving compensation for it (other than from Seeking Alpha). I have no business relationship with any company whose stock is mentioned in this article.