One of the first articles I wrote for Seeking Alpha was an article about how to hedge everyday costs. I wrote it anticipating future follow up articles and this is one of them. Back in 2008 when gasoline was peaking at over $4.00 per gallon I swore to myself that if prices ever fell to a reasonable level I'd find a way to hedge them. One of the ways I found was through a company called "My Gallons" that allows you to hedge your gasoline costs. They basically allow people to purchase gallons of gas at a certain price today, and cash them in at a future date when prices are higher. My Gallons effective functions as a storage facility for your gasoline, they are like a huge virtual gas tank.
Individuals can effectively copy this system by simply buying the US Gasoline Fund (NYSEARCA:UGA). The fund tracks the NY Harbor price of unleaded or RBOB gasoline. The fund isn't a perfect hedge unless you are buying NY Harbor RBOB, but at least it gets you in the ballpark. The fund also has a 0.60% expense ratio and slight tracking error, as well as the bid/ask spread, transaction costs and taxes to be considered when being used as a hedge. Because of this, the best way to use it as a hedge would be to buy a large amount of it to minimize the transaction costs and cash it in infrequently, preferably during years when its gains can offset losses elsewhere.
This chart demonstrates how this concept could have been applied: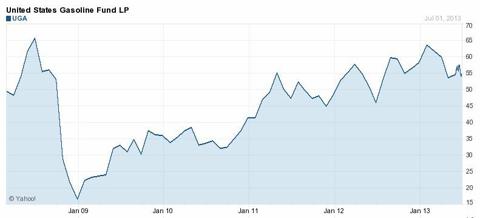 Click to enlarge
Back in 2008 gasoline was peaking, and I started to explore ways to hedge my gasoline costs. Unfortunately I was working in the financial industry at the time and the crisis that hit in late 2008 made me totally forget about this idea. Gasoline prices plummeted, and fell to a fraction of the cost at their peak. UGA fell from over $65 to under $20 in a matter of months. Had I not been distracted with the crisis, I could have locked in years of gasoline purchases at under $2.00/gallon by buying UNG when it traded around $17. Since that time, a barrel of WTI oil went from under $31/barrel in December 2008 to its current price of over $95/barrel. RBOB (LA Harbor) went from under $1.00/gallon in late 2008 to over $3.00/gallon just last week. Regular gasoline (NY Harbor) went from under $0.80/gallon to over $2.80/gallon just last week. I could have saved a fortune in gas costs, but unfortunately I didn't. This time however I plan to be pro-active.
Here is an example of how it would have worked.
Assumptions:
Date: December 5, 2008
Fuel Consumption: 1,000 gallons per year
Goal: To hedge 5 years of fuel consumption
On 12/5/2008 UGA traded at $18.42, when RBOB (LA Harbor) traded at $0.84 (I have to use LA Harbor because I don't have access to NY Harbor pricing data, but it should be a close proxy to NY Harbor). That makes 1 share of UGA the equivalent of buying 22.03 gallons of RBOB ($18.42/$0.84). To hedge 5 years of fuel, you need to buy 5,000 gallons of RBOB, or 226.93 shares of UGA (5,000/22.03). 226.93 shares of UGA will cost $4,180 and buy 5 years equivalent of gasoline.
| | | | | | | |
| --- | --- | --- | --- | --- | --- | --- |
| | UGA | RBOB | Gal Equiv of UGA | Gallons | Shares UGA | Cost |
| 12/5/2008 | $18.42 | $0.84 | 22.03 | 5000 | 226.93 | $4,180 |
Now assume gas prices are peaking and it is 02/15/2013. UGA is trading at $65.71, RBOB is trading at $3.45, and your 226.93 shares of UGA that cost $4.180 is now worth $14,911. That $14,911 will be 4,320 gallons of gas, so it isn't a perfect hedge, but it comes close. You hedged your gas prices at $0.84, and ended up paying $0.97 ($4,180/4320) for 4,320 gallons of gas instead of $0.87 the targeted 5,000. Buying the additional 680 gallons at market price to reach 5,000 gallons would increase the average cost per gallon to $1.31, but that is still a heck of a lot better than the $3.45 market price. This example ignores transaction costs, the bid/ask spread and capital gains taxes but even if they were considered it is unlikely they would make this trade unprofitable. The key is buy large quantities, reduce transactions and take profits in years where you have losses to offset them.
| | | | | | | |
| --- | --- | --- | --- | --- | --- | --- |
| | UGA | RBOB | Shares UGA | Cost | Value | Gallons |
| 2/15/2013 | $65.71 | $3.45 | 226.93 | $4,180 | $14,911 | 4320 |
In conclusion, with gasoline prices falling to levels we haven't seen in months if not years, frugal consumers may want to start planning on how they can hedge their gasoline costs if prices keep falling. As the chart above highlights, the window of opportunity often shuts rather quickly, so it is best to be prepared and ready to act when the opportunity presents itself. Right now the trend is our friend, so I plan to postpone buying until the markets give a signal that the trend is reversing.
Disclaimer: This article is not an investment recommendation. Any analysis presented in this article is illustrative in nature, is based on an incomplete set of information and has limitations to its accuracy, and is not meant to be relied upon for investment decisions. Please consult a qualified investment advisor. The information upon which this material is based was obtained from sources believed to be reliable, but has not been independently verified. Therefore, the author cannot guarantee its accuracy. Any opinions or estimates constitute the author's best judgment as of the date of publication, and are subject to change without notice.
Disclosure: I have no positions in any stocks mentioned, and no plans to initiate any positions within the next 72 hours. I wrote this article myself, and it expresses my own opinions. I am not receiving compensation for it (other than from Seeking Alpha). I have no business relationship with any company whose stock is mentioned in this article.