Precision Castparts (NYSE:PCP) acquired California-based aerospace supplier Permaswage for $600 million. Permaswage specializes in swage fittings, and its technology is included in almost every major commercial and military aircraft program. The deal is right in Precision Castparts' wheelhouse as it improves dollar-content per aircraft and enhances the firm's already-robust product suite.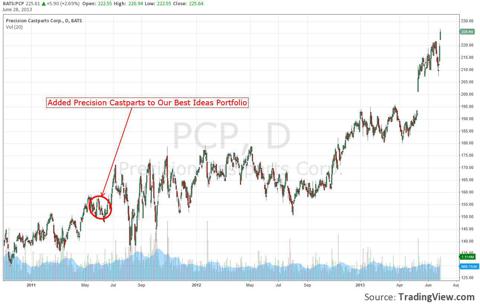 Precision Castparts' CEO Mark Donegan should have no problems folding in the firm's state-of-the-art operations and driving material synergies across the board. Though profitability disclosures are limited, we have a high degree of confidence that cost-savings and revenue enhancements will trump any meaningful premium that may have been paid above the entity's fair value. We also think the deal strengthens Precision Castparts' position in separable fittings that it established with its purchase of Airdrome in 2008.
Commercial aerospace deliveries are expected to surge in coming years. If the massive multi-year backlogs of unfulfilled deliveries at the airframe makers weren't enough, the recent Paris Air Show (ending June 21) unveiled even more orders. At the show, Airbus (OTCPK:EADSY) pulled in nearly $70 billion in new business, consisting of firm orders for 241 planes and agreements for an additional 225. Boeing (NYSE:BA) received 442 orders and commitments at the show, valued at more than $66 billion. So far this year, Airbus has hauled in 758 orders, while Boeing has booked 692 new agreements-both numbers suggesting an annual book-to-bill measure comfortably above 1 for each company, and we're not even halfway through the year yet!
All things considered, we're big fans of Precision Castparts' acquisition program, and we grow excited each time Donegan identifies a worthy candidate - the firm acquired Titanium Metals late last year. Permaswage will undoubtedly supplement the firm's current profitable growth trajectory, and while we don't expect a material change to our fair value estimate for Precision Castparts as a result of the transaction, the firm remains a core holding in the portfolio of our Best Ideas Newsletter.
Disclosure: I have no positions in any stocks mentioned, and no plans to initiate any positions within the next 72 hours. I wrote this article myself, and it expresses my own opinions. I am not receiving compensation for it (other than from Seeking Alpha). I have no business relationship with any company whose stock is mentioned in this article.