On June 24, 2013, Whiting Petroleum (NYSE:WLL) announced a $859.8 million agreement with BreitBurn Energy Partners L.P. (BBEP) to sell its enhanced oil recovery ("EOR") Postle and NE Hardisty projects in the Oklahoma panhandle. The deal includes various associated infrastructure assets.
The market was not impressed. Whiting closed up only 25 cents/share on the day of the announcement ($45.25). This was a very muted reaction to what was a very positive catalyst for WLL. The deal offers investors a buying opportunity with a potential 10-15% return by the end of 2013. Here's why:
Asset Sale Summary
Whiting estimates the sale properties produce net daily production of approximately 7,640 boe/day or 8.6% of its March 2013 production. Whiting estimates the proved developed producing reserves of the properties were approximately 30.7 million boe and other proved reserves were 13.5 million boe as of April 1, 2013.
The following slide, taken from BreitBurn CEO Halbert Washburn's June 26th presentation at the Credit Suisse MLP Energy Logistics Conference, is a good summary of the Postle and NE Hardisty assets Whiting sold to BBEP: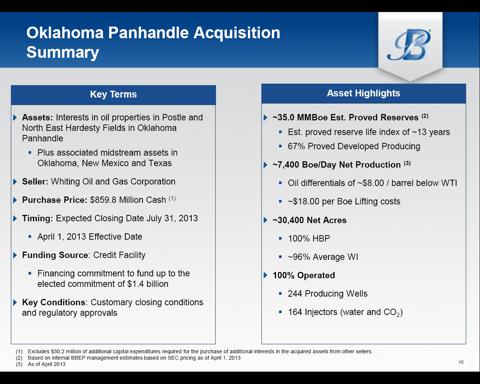 In addition to the Postle and NE Hardisty fields, the sales agreement also included some associated midstream infrastructure:
The Dry Trails Gas Plant
The Hough oil delivery pipeline (shown in green below)
A 60% interest in the 120-mile Transpetco-operated CO2 transportation pipeline (shown in yellow below)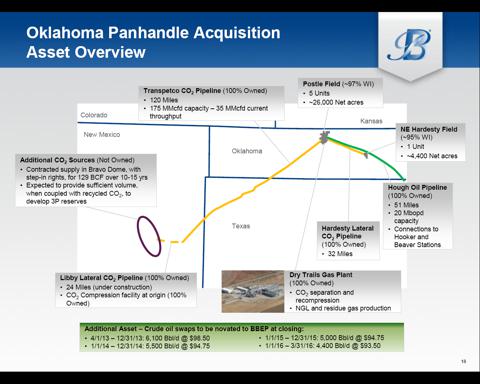 According to BreitBurn's Credit Suisse presentation, the acquired assets include 244 producing wells and 164 injectors. Oil produced and transported through the Hough pipeline is sold to Shell (NYSE:RDS.A), NGLs are sold to OneOK (NYSE:OKE), and the gas is sold to Exxon (NYSE:XOM). CO2 is currently purchased from Exxon. Contracts are in place with other sources for additional CO2 supply in the near future in amounts expected to be sufficient to develop 3P reserves. The Dry Trails Gas Plant processes and produces CO2 for injection as well as gas for sale.
Sale Impact on Whiting Petroleum
As mentioned before, the sale amounts to ~7,640 boe/day (8.6%) of Whiting's March 2013 production and PDP reserves of ~30.7 million boe and other proved reserves of 13.5 million boe as of April 1, 2013.
The sale is expected to close in July 2013. Whiting will operate the properties under a transition services agreement until October 31, 2013.
According to WLL's announcement, the company expects net proceeds from the sale to be ~$850.6 million. The company had ~$1.47 billion of regular federal income tax net operating loss carry forward from 2012. Therefore, Whiting expects its federal and state income taxes on the sale to be only $20 million. After the sale Whiting expects its debt-to-cap ratio to be approximately 21.3%.
Big Picture Analysis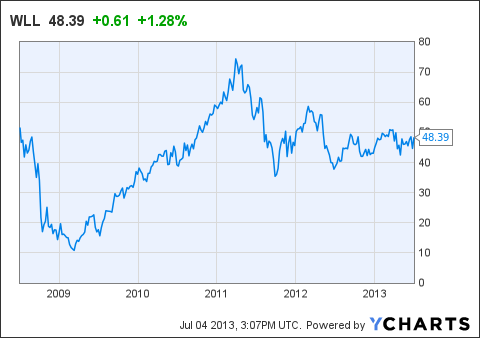 Whiting's current stock market capitalization is ~$5.7 billion. This sales agreement, which will net the company approximately $850 million bucks, equates to roughly 15% of the company's market cap while only contributing 8.6% of production and only ~8% of 2012 year-end proven reserves.
According to WLL's 2012 annual report, the company ended 2012 with a debt-to-cap ratio of 34.3%. As previously mentioned, the company expects proceeds from the sale to enable it to substantially reduce its debt-to-cap ratio to 21.3%.
WLL's Q4 2012 presentation showed a 2013 capital budget of $2.2 billion of which $240 million was included for EOR. Of course the EOR budget includes WLL"s North Ward Estes field and associated properties (8,540 boe/d as of year-end 2012) which were not part of this sale. Although the company has not broken out its EOR cap-ex between Postle and North Ward Estes, a conservative estimate is that the Postle and NE Hardisty disposition will free-up around $100 million/year in cap-ex for other projects.
Summary
Since the sale was announced, WLL's stock has risen from $45.25 to $48.39 as of Wednesday's close (July 3, 2013), or about 7%. However much of this rise can be explained by the nearly 5% run-up in WTI prices since the June 24th sales announcement: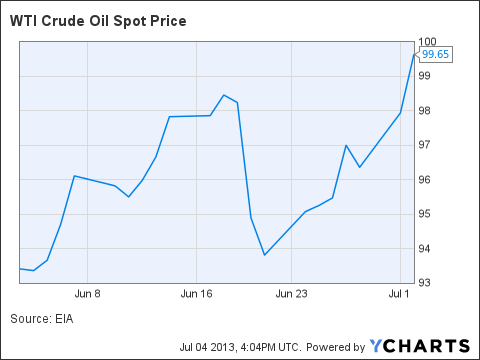 WTI Crude Oil Spot Price data by YCharts
To summarize, Whiting's recent $860 million dollar EOR asset sale:
Amounted to 15% of current market cap
Equates to only 8.6% of production and 8% of proven reserves
Will allow WLL to reduce debt-to-cap by a third to 21.3%
Will free-up an estimated $100 million in cap-ex for Bakken and Permian projects
Is a tax-friendly transaction
The Postle and NE Hardisty asset sale was a positive catalyst for WLL. These were non-core assets and the additional cash will allow WLL to reduce debt and focus on its core Bakken and Permian properties which together accounted for 84% of total production in 2012.
Whiting has some of the best properties and is one of the biggest and best operators in the Bakken. As evidence, I will reference two recent articles by Seeking Alpha contributor Michael Filloon:
Bakken Update: Whiting's Sanish Well Models to 2 Million Barrels of Oil
Bakken Update: NE McKenzie County Wells Produce $33 Million In Under 18 Months
On the downside, I have been frustrated with WLL's inability to translate excellent production growth into net income. I said as much in this article: Whiting Petroluem: Q1 Production Up 10%, Net Income Down. In particular, it is my opinion the company should replace its current employee Production Participation Plan ("PPP") with incentive stock options. Currently, management and employees profit from increased production even if net income goes down. This motivates production growth at any cost and is not in the best interest of its ordinary shareholders.
Also, with 119.2 million shares outstanding, this transaction was a wonderful opportunity for WLL's management to reward shareholders with a special one-time $1.00/share dividend. Shareholders today own a stock which pays no dividend and which is not appreciably higher than it was 3 years ago despite impressive production growth. Management should be more sensitive to investors who have chosen to own the company's shares.
In addition to my concern about the company's PPP and management's apparent insensitivity to the plight of ordinary shareholders, any oil producer carries the risk of a significant decline in oil prices. But like most Bakken producers , WLL has an ongoing hedging program. It is also very modestly priced with a P/E of 14.3.
All that said, the recent divestiture of EOR assets is a positive step for Whiting. A straight sale is much preferred over the formation of Trusts such as the Whiting USA Trust I and Whiting USA Trust II. The creation of these Trusts, while benefiting management and employees through the PPP, have done little if anything to reward existing WLL shareholders. While this EOR asset sale will also benefit management and employees through the PPP, it is a tax-friendly straight forward transaction which in my opinion is a cleaner way to shore up the balance sheet, re-allocate cap-ex, and enable WLL to focus its attention on its core Bakken and Permian properties.
Conclusion
Whiting Petroleum's stock has not appreciated in price commensurate with the recently announced EOR asset sale. The sale is expected to close this month and there is no reason it should not do so. Combined with the recent jump in WTI prices and the company's excellent recent results via the drill bit, WLL could easily move to $55/share by the end of 2013. That would be a ~14% gain from today's price and would equate to a 28% annualized return.
Analysts at SunTrust raised their target price on WLL to $60 the day after the sales announcement. Raymond James has a $56 target on the stock. Barrington Research recently reiterated its "outperform" rating on the stock and has a $72 price target. Societe Generale cut their price target on shares of Whiting Petroleum Corp. from $59.00 to $57.00 in a research note to investors on Friday, June 14th (prior to the announcement of the sale). They now have a "buy" rating on the stock. I do too. Whiting Petroleum is a BUY.
Disclosure: I am long WLL, XOM. I wrote this article myself, and it expresses my own opinions. I am not receiving compensation for it (other than from Seeking Alpha). I have no business relationship with any company whose stock is mentioned in this article.
Additional disclosure: I am an engineer, not a CFA. The information and data presented in this article was obtained from company documents and/or sources believed to be reliable, but has not been independently verified. Therefore, the author cannot guarantee its accuracy. Please do your own research and contact a qualified investment advisor. I am not responsible for investment decisions you make. Thanks for reading and good luck!