Enbridge Energy Partners (NYSE:EEP) is a large midstream MLP, best known for operating the US portion of the principal petroleum pipeline bringing oil to the US. Enbridge, Inc. (a prominent Canadian energy company and the general partner for EEP) operates the Canadian portion of the pipeline that moves petroleum from oil sands in Alberta, Canada, to Illinois and on to eastern Canada.
US oil imports were 8.7 million barrels per day (MMPD) in 2012 and Canada was the largest foreign source, providing 2.4 MMPD. EEP transported 53% of that oil which accounts for 15% of US petroleum imports. In 2010, US petroleum consumption was about 17 MMPD and that should be reduced 1 MMbpd by 2020 when the foreign share (less Canada) should fall to under 1 MMbpd. A slide below shows how important Canadian oil is in making America free from importing oil from other countries.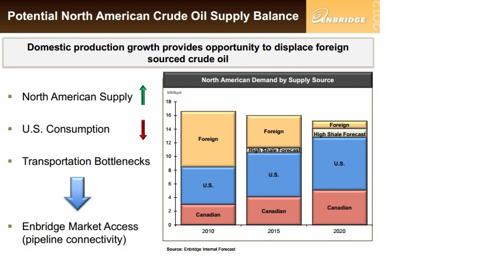 Click to enlarge
Oil is booming in North America. Alberta oil sands, with 170 billion barrels of reserves, are the third largest crude oil reserve in the world. Daily production is forecasted to grow 50% by 2020 from the present 3 million barrels per day MMbpd. Bakken and Three Forks formations in North Dakota and Montana have quickly grown to become a leading oil producing region where daily production is forecasted to more than double by 2020 from 700 thousand barrels per day (Mbpd).
EEP has increased capacity on its mainline system that goes from Gretna, Manitoba, to Superior, Wisconsin and then into Flanagan, Illinois. Additionally, in recent years EEP has been investing heavily in infrastructure from the Bakkan fields and became the dominant pipeline transportation for petroleum from North Dakota and Montana.
Besides oil infrastructure, EEP has more than 10,000 miles of pipelines for natural gas and NGL, largely in Oklahoma and Texas, which accounted for 20% of operating income last year. Last week, EEP announced it will have an IPO for Midcoast Energy Partners (NYSE:MEP) that will consist of 40% ownership of the natural gas and NGL business. EEP will become the general partner and have incentive distribution rights in MEP. The change will allow EEP to focus on the crude oil midstream business while MEP focuses on its natural gas and NGL business. In addition, it will lower EEP's cost of financing by reducing its equity and debt capital requirements.
EEP capital expenditures for 2013 are budgeted at $2.2 billion, with $1.6 billion for petroleum projects. EEP has over $7 billion in capital projects scheduled going forward. The $2.5 billion Sandpiper Project expands and extends the North Dakota feeder system by establishing a new export pipeline out of the Bakken region. Sandpiper will expand capacity of the North Dakota System by 225 Mbpd to 580 Mbpd by early 2016. $2.4 billion is budgeted for 3 pipeline expansions in the Midwest and another $2.4 billion will be invested on the Eastern Access Expansion, across Wisconsin and Michigan.
EEP gives investors a choice in investing. Besides MLP units with tax advantaged distributions, there is a comparable corporation, Enbridge Energy Management (NYSE:EEQ), with shares that pay stock dividends. Behind each share, is one unit of EEP and stock dividends are based on quarterly distributions. EEP, like all other MLPs, is constantly making presentations to financial professionals to help it have successful equity offerings. There was an offering in September of more than 16 million EEP units, yielding $447 million, and an offering of more than 10 million shares of EEQ yielded $273 million in March. The latest EEP presentation was made on June 26.
EEP has been paying distributions since 1992 with no cuts. In 1993 distributions were $1.18 and rose to $2.15 last year. Since 2008, the distribution has been increased annually from $1.86 in 2007 and annual growth is guided at 2-5%. The next distribution is scheduled to be declared on July 29 when the annual rate will probably be raised from $2.17 to about $2.20.
2013 through early 2014 will be a transitional period for EEP. Distribution coverage was less than targeted in 2012 and that should continue in 2013 because of startup and financing costs on capital projects. Distributable cash flow (used to pay distributions) growth will have improved coverage as organic growth projects come on stream. By 2014, coverage is expected to improve which can bring a higher level of distribution growth. Meanwhile maintaining investment grade credit rating (BBB) is a priority for management.
EEP has been delivering impressive returns for more than 2 decades. Below is a chart comparing the track record of EEP with the S&P 500.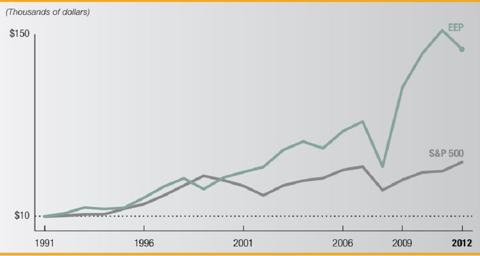 Click to enlarge
Returns for the S&P 500 have been flattish since 1998 while EEP has been growing at an 11% rate since 1991; enough to satisfy a target rate of 10% return that is commonly used by investors. With EEP and EEQ prices near $31, the yield is about 7%, where it has been for many years, and capital appreciation accounted for the remaining 4%. Many highly regarded stocks with famous names envy that record.
Further growth at Canadian and Bakken oil fields should bring higher distributable cash flow. Strengths for Enbridge are higher yields than the Alerian MLP Index (under 6%), growing distributions and a strong general partner. Whether the Federal Reserve moves slowly or quickly to reduce its low interest rate policy, EEP distributions will continue to grow and capital appreciation should follow. An excellent long term record of income and growth is a valuable recommendation for a successful future investment.
Disclosure: I am long EEQ. I wrote this article myself, and it expresses my own opinions. I am not receiving compensation for it (other than from Seeking Alpha). I have no business relationship with any company whose stock is mentioned in this article.