Since the market closed on Wednesday we have had a coup in Egypt with the country's military firmly in command of the situation. The military obviously overthrew a democratic government, however this may not be such a bad thing as it was beginning to appear that the Muslim Brotherhood was gaining more and more traction in the country and obtaining more power. So long as this process for a new government does not take too long or become in any way chaotic, then this will probably be a plus for the market.
Looking around at stocks over this holiday we have found some names which we still find attractive, even though in some cases this is because of sell-offs resulting from the market losing faith.
Chart of the Day:
The Euro is trading back down to the 1:1.29 ratio versus the US Dollar which has generally marked a level of support for the currency. It will be interesting to see whether the central bankers in Europe and Fed Chairman Bernanke will be able to continue this easing game which has actually been quite tame and led to stability in the FOREX markets.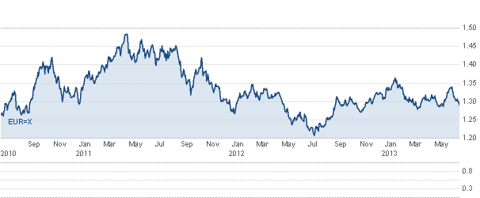 Source: CNBC
We have economic news due out today, and it is as follows:
Initial Claims (8:30 a.m. ET): 348k
Continuing Claims (8:30 a.m. ET): 2955k
Nonfarm Payrolls (8:30 a.m. ET): 166k
Nonfarm Private Payrolls (8:30 a.m. ET): 180k
Unemployment Rate (8:30 a.m. ET): 7.6%
Hourly Earnings (8:30 a.m. ET): 0.2%
Average Workweek (8:30 a.m. ET): 34.5
Natural Gas Inventories (10:30 a.m. ET): N/A
Asian markets finished higher today:
All Ordinaries -- up 0.95%
Shanghai Composite -- up 0.05%
Nikkei 225 -- up 2.08%
NZSE 50 -- up 0.69%
Seoul Composite -- down 0.32%
In Europe, markets are mixed this morning:
CAC 40 -- down 0.29%
DAX -- down 0.20%
FTSE 100 -- up 0.50%
OSE -- up 0.37%
China Stocks
Orient Paper (NYSEMKT:ONP) saw its shares rally significantly after the Securities & Exchange Commission ended its investigation into the company with no action. In the shortened trading session on Wednesday shares rose $0.55 (37.16%) to close at $2.03/share on above normal volume of 2.3 million shares. This is a name we initially traded on the news that the SEC was taking a look at the company as shares were pounded but that was a very short-term trade and it has been some time since we owned shares. Since then the shares have traded sideways with some volatility but the real story is that this stock got thrown in with the bad Chinese stocks and discarded from many investors' portfolios. This is a name that we will have to start doing some work on once again to see if there is a trade of some sort, but until then we are reluctant to get involved, even on a momentum basis.
What was a big winner has seen investor optimism wane over the past few years as worries surrounding Chinese stocks rose and SEC investigations were announced. If there is a breakout above the downtrend line, watch out.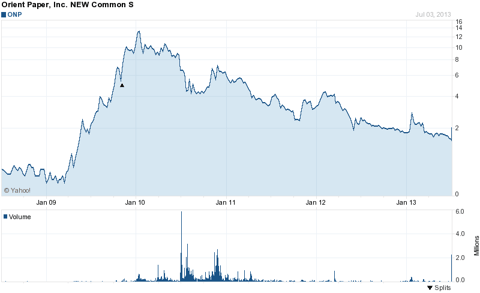 Source: Yahoo Finance
Financials
The online brokerages continue to rally higher with one of our recommendations continuing to catch our eye. Charles Schwab (NYSE:SCHW) remains within easy striking distance of its 52-week high and with the most recent market rise should have enough good news in the market to continue to attract both new Main Street type investors to the market and bring back capital which had been scared towards the sideline. When the market is bullish so too should be one's view of the discount brokerages as volume tends to increase as well as trade frequency. We look for the online brokerages to continue to show strength and think that these are good blue chips to include in the portfolio.
Technology
Readers know we have been bullish on shares of ARM Holdings (NASDAQ:ARMH) for some time. We stuck to our recommendation on the shares all the way to new all-time highs and back down as the market turned and continue to think that the company is one of the more compelling tech plays out there. That belief is even stronger with the shares trading at current levels because the valuation has become that much more attractive. Our guess is that this name will see renewed interest with the sell-off appearing to have ended and investors looking for ways to play the growth in smart phones, especially after the news that Samsung released that appears to indicate that their Galaxy line of phones may be seeing sales growth slowing. ARM Holdings is the way to play the trend and keeps one's portfolio insulated from brand specific issues.
Elliott Management is once again finding itself in the news as one of the company's in its portfolio is looking to increase shareholder returns by potentially selling itself. We are discussing Emulex (NYSE:ELX), which in the past has turned down unsolicited offers, Broadcom comes to mind. Shares in the company rose $0.96 (14.41%) to close at $7.62/share on above average volume of 4.3 million shares after disclosing that it had retained Goldman Sachs to shop the company around. We have seen the $9/share number thrown around a few times, but investors have to realize that Elliott Management has to sit this one out as part of their agreement to get the board expanded and thus the sale of the company is being pushed by Altai Capital Management, LP.
The share price has performed poorly since the company turned down the last buyout offer at $11/share. Investors are now looking at a possible $9/share offer, per the analysts.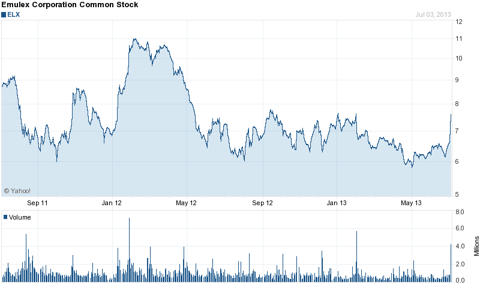 Source: Yahoo Finance
Oil & Natural Gas
Generally we focus on commodities in our 'Commodities Today' market commentary, however today we wanted to bring readers' attention back to Diamondback Energy (NASDAQ:FANG), a company we have been highlighting since its IPO a few months ago, and hit a new all-time and 52-week high during Wednesday's shortened session. Although we have traded in and out of it personally, we have been bullish on the overall prospects of the company and the underlying assets they possess and believe that the ultimate trajectory for the stock is still higher, even after the already 100%+ rise since the company came public.
Disclosure: I have no positions in any stocks mentioned, and no plans to initiate any positions within the next 72 hours. I wrote this article myself, and it expresses my own opinions. I am not receiving compensation for it (other than from Seeking Alpha). I have no business relationship with any company whose stock is mentioned in this article.