Oil is holding steady at the $100/share level, but we are moving toward a bearish stance on WTI crude as it appears the military is firmly in control of the situation in Egypt. Although we are bearish on the overall price of WTI, we are still bullish on the oil and natural gas E&Ps. And we will remain so until we see WTI head below support levels.
Obviously, our attention is still on Egypt, but less so this morning as we have had some closure to the situation as many of the big questions have been answered. Our attention is now shifting toward issues here at home, namely the Securities & Exchange Commission looking into Linn Energy (LINE). That's because this could have serious ramifications not just for Linn, but for the entire MLP industry.
Chart of the Day
With corn prices heading lower, live cattle have seen a bump up in recent sessions. Our question is whether lower grains could lead to higher cattle prices. The move has not been large enough to justify this yet, but if the move is large enough, some ranchers will begin to ponder the benefits of keeping cattle rather than slaughtering them in order to maximize profits. It is something we are watching right now, and will report back if we see anything worth placing a trade around.
Click to enlarge images.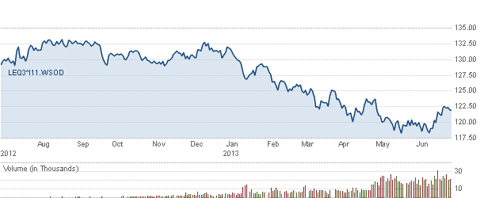 Source: CNBC.
Commodity prices this morning are as follows:
Gold: $1234.40/ounce, down by $17.50/ounce
Silver: $19.17/ounce, down by $0.53/ounce
Oil: $101.11/barrel, down by $0.13/barrel
RBOB Gas: $2.8441/gallon, up by $0.0059/gallon
Natural Gas: $3.666/MMbtu, down by $0.024/MMbtu
Copper: $3.1015/pound, down by $0.073/pound
Platinum: $1334.70/ounce, down by $12.10/ounce
Oil and Natural Gas
The situation surrounding Linn Energy and LinnCo (LNCO) got worse during Wednesday's shortened session as more people take a look at the situation and it becomes a real possibility that the merger with Berry Petroleum (BRY) does not go through. Now, we are not saying that the accounting is off or that it is not, but what we are in fact trying to point out is that a lot of people who had been bullish on the names are bulls no longer. The SEC has a tendency to have a negative effect on stock prices of entities when they decide to give them further scrutiny, and that scrutiny is scaring many away now. This is getting to be troublesome, and if we do not see a relief rally soon we might see a reluctance among Berry shareholders to approve the merger when it comes up for a vote. We could even see the vote delayed until the facts are established.
The chart seems to get uglier by the day for these two. Shareholders simply have to hope for a quick wrap-up to this SEC business.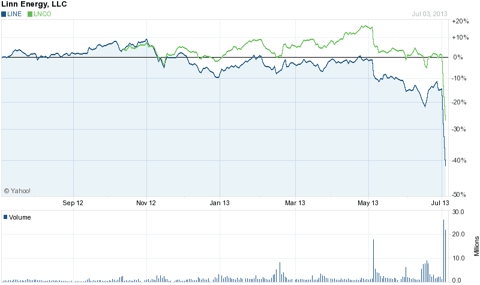 Source: Yahoo Finance.
While the above story had our attention on Tuesday and Wednesday, another big story was EXCO Resources (NYSE:XCO) and Chesapeake Energy (NYSE:CHK) announcing an approximately $1 billion deal. EXCO will purchase approximately 55,000 net acres in the Eagle Ford shale from Chesapeake with 6,100 Boe/d in production, along with 11,600 net acres in the Haynesville shale producing 114 million cubic feet of natural gas per day with a majority of the acreage actually in EXCO's core play. This deal makes EXCO Resources a much more attractive play in our eyes as it increases its liquids production and gives it a healthy inventory of drilling locations to increase oil and liquids production moving forward.
Egypt
With what appears to be a bloodless military coup in Egypt, we might see some of the pressure that has been weighing on Apache's (NYSE:APA) shares recede. And there's the possibility that shares actually turn higher if this transition goes smoothly. What would be even more bullish is if some of the ex-pats working abroad whose names have been thrown around as possible leaders of the country (in various aspects) were to return and take those rumored leadership posts. If pro-business names were to return to Egypt and provide leadership from the center, rather than from either extreme of the political spectrum, then Apache's large Egyptian assets could see interest from buyers. This is the outcome that shareholders have to be hoping for.
Disclosure: I have no positions in any stocks mentioned, and no plans to initiate any positions within the next 72 hours. I wrote this article myself, and it expresses my own opinions. I am not receiving compensation for it (other than from Seeking Alpha). I have no business relationship with any company whose stock is mentioned in this article.