I went out to California's Inland Empire this morning to look at a recently developed retail center. The center is market anchored and has built-out shop space and a few national tenants operating on pads. The shop space is approximately 90% vacant. Here is a photo of the interior of one of the shop buildings: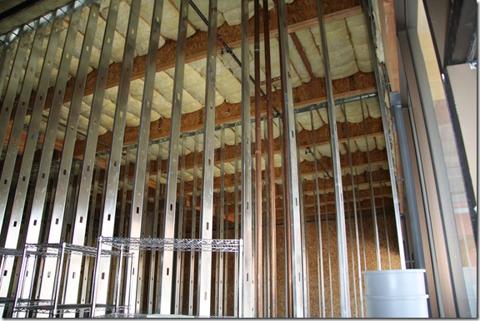 The interiors of the shop buildings are empty and unfinished from end to end (with the exception of 2 or 3 tenants). The lender on this deal is going to take a major bath. The whole property as it stands is worth maybe 40% of the face value of the existing loan.
Unfortunately, this story is a common one in California's Inland Empire. This is a supermarket anchored center and it is essentially totally vacant. Unanchored strip retail built on spec in the last couple of years in the IE is even worse. Every half-way decent street is home to at least one completely vacant retail building and there are several terrible streets that have seen spec retail construction as well (no idea what those guys were thinking – they weren't). There are several big box regional power centers out there as well that are destined to fail. I don't know how many Kohl's (NYSE:KSS) and Best Buy's (NYSE:BBY) the IE needs with a 3 mile radius of each other. I think there will be several major retailers going dark out there in the near future. Once that happens, the little guys in those centers that rely on the customer traffic generated by the anchors will shut down as well. Before you know it, a class A regional power center is a ghost town with a neighborhood swap meet as its anchor. I think we can expect to see ZERO significant new retail construction in the Inland Empire for at least 7 to 10 years.
In hindsight, it is easy to say that much of the retail building that took place over the last 3 or 4 years was unnecessary, but it did not take a crystal ball to predict that the Inland Empire was going to crash hard. When tenants were signing leases in the $3.50 PSF range with $1.00 NNN charges (after tax increase from the sale) there was NO WAY they could make money. Look for retail rents in the Inland Empire to settle in at about $1.00 PSF once tenants return to the marketplace. When rents are dropping by 70% and capitalization rates are increasing by 400+ basis points you have a recipe for total financial collapse (or a valuation reset to a new norm to put a slightly less abrasive spin on it).
Lenders should be prepared for very, very deep discounts. I don't think they are though. I'm particularly interested to see how owners of non-distressed properties view their valuations as the REO properties begin coming to market. I've already had many conversations where owners have told me they don't have distress so their properties should command a better capitalization rate regardless of what else is going on with other properties. Best of luck with that strategy.