Statoil (NYSE:STO) is Norway's leading oil and gas group. During the past few months Statoil's yield has increased significantly and possibly it now provides a good entry-point for income investors. The oil sector is one of the few that offers a rare combination of high and sustainable shareholder remuneration due to its high free cash flow generation capacity and sustainable payout ratios over the long-term. These companies' earnings are mainly exposed to the oil price due to their high weight on profits from the Exploration & Production divisions. Naturally, high oil prices translate in higher profits and cash flow generation.
Statoil is an integrated international energy company with operations in 36 countries, primarily focused on upstream oil and gas operations. It was founded in 1972 and is based in Norway, with approximately 23,000 employees worldwide. Its primary listing is in Oslo but is also traded on the New York Stock Exchange through its ADR programme. One ADR represents the right to receive one ordinary share. Its market capitalization is about $66 billion. It has an AA- credit rating from S&P, reflecting Statoil's low credit risk. The Norwegian State is Statoil's biggest shareholder with a 67% equity stake, with the remaining 33% trading as free-float..
The stock's performance over the past year is quite weak, underperforming compared to most of its peers. This bad performance is justified by the reversal of strong production growth in 2012 (9% from the previous year) into a fall in the first quarter of 2013, but also by the payment of its annual dividend in May and the unexpected petroleum tax hike in Norway. However, this has increased Statoil's dividend yield, that is currently about 5.3% and should be support its current share price. This yield is now broadly in-line with the sector's average while it used to be below-average, adding to Statoil's attractiveness within the major oil and gas companies and the reason why may Statoil has reached a bottom.
Statoil has more than six billion barrels of oil equivalent (boe) of proven reserves at the end of 2012. The vast majority (74%) of its oil and gas production comes from the Norwegian continental shelf, but international production has started to grow through acquisitions and new discoveries. For instance, Statoil had 4 discoveries in Tanzania last year which will contribute to make the company less dependent on Norway going forward. Statoil increased its production by 9% in 2012, which was in-line with its target. The company's guidance for 2013 is for lower production volumes but this should reverse in 2014. Over the next few years, the company's production guidance is for approximately 2-3% compounded average growth rate (OTCPK:CAGR) from 2013-2016, and 3-4% CAGR between 2016 and 2020. The company's goal is to reach a production above 2.5 million barrels of oil equivalent in 2020 compared to around 1.7 million during the past year, with international operations accounting for about 44% of the total. To achieve these targets Statoil is relying on its exploration strategy, which has been very successful lately. In 2012, among the major oil companies in the world only Eni (NYSE:E) and Petrobras (NYSE:PBR) discovered more oil than Statoil. Statoil's oil-related downstream operations include about 300,000 boe of refining capacity. After the disposal of the last interest in Statoil Fuel and Retail in June 2012, the company has no exposure to retail and marketing activities.
The investment on exploration is obviously reflected in huge cash outflows. In 2013, Statoil expect its capital expenditures to be about $19 billion and should move towards $21 billion by 2015. This makes the company's free cash flow to be negative after dividends, but Statoil forecasts a return to positive free cash flow by 2016. In the meantime, the company will most likely do asset sales and add debt to fill its funding gap.
Statoil pays its dividends annually, instead of quarterly as most of its peers. The company's goal is to increase its dividend annually in-line with the underlying earnings. This makes the dividend less stable, leading to cuts during bad times like 2008-09. In 2012, the dividend per share increased 3.8% from 6.50NOK ($1.06) to 6.75NOK ($1.10), making it the third consecutive dividend increase. The dividend payout ratio was only 30%, which is very low and gives a high degree of safety compared to the company's earnings power. The dividend is also supported by Statoil's strong balance sheet given that over the past few years net debt has decreased, leading to lower gearing (net debt/equity) ratios. At the end of 2012, its gearing ratio was only 12% and the debt-to-EBITDA ratio only 0.6x.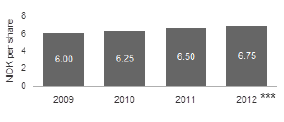 Income-investors should note that dividends paid with respect to shares or ADR's will generally be qualified dividend income and subject to 15% withholding tax. Although Statoil's dividend is attractive it is not without risks. The company is only free cash flow positive with oil prices above $100, so if the oil price tumbles like it did in early 2009 most probably the dividend will be cut. In the short-term, global oil demand appears to be weak so prices should be constrained to the upside and most likely will remain range-bound for the next 2 to 3 years. Therefore, if oil prices remain close to $100 for the next couple of years, Statoil's dividend should not be at risk. Regarding its valuation, Statoil is trading at a discount to its closest peers like Eni, BP (NYSE:BP) or Total (NYSE:TOT). Its price-to-earnings ratio is only 8.3x its estimated 2013 earnings, trading at a 12% discount to some of its closest peers.
Disclosure: I have no positions in any stocks mentioned, but may initiate a long position in STO over the next 72 hours. I wrote this article myself, and it expresses my own opinions. I am not receiving compensation for it (other than from Seeking Alpha). I have no business relationship with any company whose stock is mentioned in this article.