By: Brendan Gilmartin, VP Research and Content
Alcoa (NYSE:AA) is scheduled to report Q2 2013 earnings after the closing bell on Monday, July 8. A conference call will follow at 5:00 p.m. ET. Alcoa is a critical release, as the company is the first member of the Dow 30 to report quarterly results and is often viewed as a proxy for the ensuing earnings season. Therefore, the results may have an impact across the broader market, including the index futures and ETFs.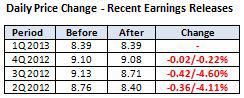 Outliers and Strategy
Alcoa is seen posting EPS of $0.06 for the Q2 period, which is below the $0.14 projected 90 days earlier (source: Yahoo Finance). The range of estimates is from $0.04 to $0.12. Revenues are seen falling 2.3% to $5.83 billion.
On the London Metal Exchange (LME), aluminum prices declined throughout the quarter, dropping close to 4%.
Alcoa shares tend to see minimal movement off earnings, while the index futures (S&P and Dow E-mini) fluctuate more heavily given the psychological impact from the Dow's first quarterly earnings release. Last quarter, Alcoa reported EPS ex-items of $0.11, topping the consensus of $0.08, but indicated revenues were 1.14% below consensus. While the share price was initially higher in reaction to the report, the S&P 500 E-Mini Index (June 13) futures moved from about 1558.00 to 1559.25.
Recent News
July 3: JPMorgan downgraded Alcoa from Buy to Neutral and cut the price target from $12 to $9, according to a post on StreetInsider.com, based on the firm's lowered forecasts for aluminum. JPMorgan also cut FY 2013 and FY 2014 EPS estimates.
July 1: Goldman Sachs believes Alcoa faces near-term downside risk, according to a report on StreetInsider.com. The firm reportedly believes Alcoa faces the risk of removal from the Dow 30 and another possible debt downgrade. The firm maintained a Neutral rating, but slashed the Q2 EPS estimate from $0.13 to $0.05.
May 29: Moody's lowered its rating on Alcoa based on headwinds facing the aluminum industry, including lower prices.
May 3: Alcoa declared a quarterly common stock dividend of $0.03 per share. The current yield is 1.56%.
Technical Review
Alcoa shares have come under heavy selling pressure ahead of the Q2 2013 earnings release, dropping to their lowest level since April 2009, along with the Relative Strength Index dipping to the 30-level -- an area that generally signals an oversold scenario. Should earnings disappoint, downside appears pretty limited with the shares off 10.5% YTD. Should earnings either meet tempered forecasts or surprise to the upside, look for initial resistance at $8.00, just below the 20-day SMA, followed by $8.20.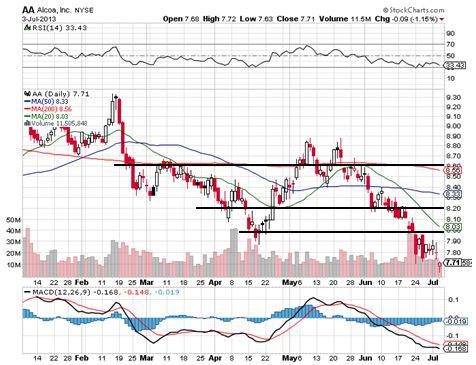 Summary
Alcoa shares have been tracking the decline in London aluminum prices, slipping to the lowest level since April 2009. Despite the weak prices, demand appears stable, evidenced by the recent flurry of positive sales reports from the top U.S. automakers. Furthermore, Alcoa is trading at a relatively steep discount to book value ($12.50), while the company continues to reduce debt. Barring a loss for the quarter, much of the weakness on pricing looks factored into the shares at these levels, especially in light of the technically oversold scenario.
Disclosure: I have no positions in any stocks mentioned, and no plans to initiate any positions within the next 72 hours. I wrote this article myself, and it expresses my own opinions. I am not receiving compensation for it (other than from Seeking Alpha). I have no business relationship with any company whose stock is mentioned in this article.
Disclaimer: By using this report, you acknowledge that Selerity, Inc. is in no way liable for losses or gains arising out of commentary, analysis, and or data in this report. Your investment decisions and recommendations are made entirely at your discretion. Selerity does not own securities in companies that they write about, is not an investment adviser, and the content contained herein is not an endorsement to buy or sell any securities. No content published as part of this report constitutes a recommendation that any particular investment, security, portfolio of securities, transaction or investment strategy is suitable for any specific person.