There has been plenty written as to the negative affects that rising interest rates and increased mortgage rates could, or will, have on the economy and the stock market. Especially interest rate sensitive sectors, such as housing and banking. I am going to offer my opinion on why I believe that rising mortgage rates will make a few stocks strong buys right now.
Annaly Capital (NYSE:NLY), and Wells Fargo (NYSE:WFC) are in two completely different business segments, but are in one business sector: the financial sector. Both companies are impacted by increasing mortgage rates. The majority of news reports I come across state the negatives that could adversely affect these two stocks:
Higher mortgage rates means less mortgages written, which could affect future revenue and profits.
Higher mortgage rates means existing loans already made at lower rates have less value, hence the "products" held by these companies are worth less and so is the company value and share price.
While on the surface most investors would clearly agree with these opinions, there is the flip side of the coin -- which leads me to believe that both NLY and WFC are strong buys right now. In this article I will be focusing only on NLY, and I will do an in-depth follow up article on WFC later next week.
The Federal Reserves Role
The Fed has set monetary policy during these economically precarious times to attempt to aid both the borrowing and lending of the nations businesses, as well as consumer borrowing for new mortgages and refinancing. By implementing quantitative easing, which contains the purchasing of mortgage-backed securities as well as longer-term Treasuries, the Fed has held down interest rates as well as artificially forcing down our nations mortgage rates.
Rates have simply never been lower, and the policies have certainly stimulated the housing recovery. This is arguably the most important business sector when it comes to employment opportunities and growth, right along side the energy sector. The goal of the Fed is to keep money flowing into the sectors to stimulate hiring to lower the unemployment rate, and keep consumers spending on the higher ticket items, such as housing and manufacturing, that would require financing. Keeping inflation in check is an obvious mandate as well, and according to the way the Fed calculates inflation, it has been kept in check for quite some time.
Here are the Fed's current key policies:
$85 billion spent every single month the purchasing of mortgage backed securities and longer term Treasuries, the latter of which has been referred to as "Operation Twist."
Continuation of these policies until a goal of 6%-6.5% unemployment rate has been reached and sustained.
Avoiding deflationary pressures (added liquidity and "cheap money"), as well as keeping the inflationary target of 2-2.5% well at hand.
Finally, the most important policy to support my thesis: the zero interest rate policy, or ZIRP, which has held short-term interest rates at virtually zero, no higher than .25%.
Much has been made of the sudden increase in interest rates in the face of all of these policies. The increases were self-inflicted, in my opinion, by the confusing mixed messages of the Fed itself as I outlined completely in this article.
I believe that the rush to exit the fixed-income markets, like bonds, has led to the sudden increase in interest and mortgage rates because of the fear and uncertainty that the Fed has placed within those markets. Just the mere mention of "tapering" of QE has led many investors to exit now so they do not become engulfed in what can be a drastic decline in the net asset value of their fixed income holdings, when and if the Fed pulls the plug. While the response has been reasonable for many, I also believe the response has been overdone.
What Do the Facts Show Us?
I think the first chart we should look at is the current inflation rate and the current unemployment rate.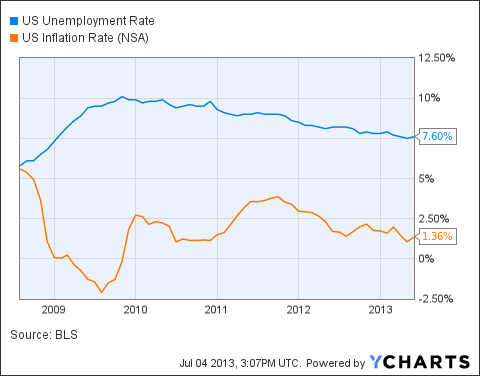 Both of these figures are still well outside of the Fed's monetary goals, indicating to me that for the time being, the Fed will continue the current QE policies. Some might even argue that more easing is needed -- especially if the housing market and the economy as a whole begins to slow from its already slow-paced recovery.
Let's take a look at the current interest rate environment chart.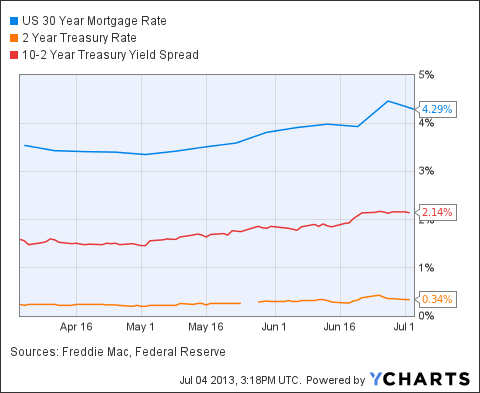 In the last three months or so, there has been a spike in the long-term rates, most specifically the 30-year mortgage rate. It has shot over 4% for the first time since the housing collapse took hold. As you can see, the increase has dipped within the last two weeks as the overreaction toward rapidly rising rates have eased a bit, and the Fed itself has left all QE policies intact as per the last Fed press release of June 19.
You can easily see how the dip in the mortgage rates coincided with the press release. By tying these facts together, along the following Fed statement within the press release, an observant investor can see the reality through the confusion:
To support continued progress toward maximum employment and price stability, the Committee expects that a highly accommodative stance of monetary policy will remain appropriate for a considerable time after the asset purchase program ends and the economic recovery strengthens. In particular, the Committee decided to keep the target range for the federal funds rate at 0 to 1/4 percent and currently anticipates that this exceptionally low range for the federal funds rate will be appropriate at least as long as the unemployment rate remains above 6-1/2 percent, inflation between one and two years ahead is projected to be no more than a half percentage point above the Committee's 2 percent longer-run goal, and longer-term inflation expectations continue to be well anchored.
I am by no means an expert in this entire field, but what I try to do as a prudent investor is to look at the facts as I see them, and relate those facts to my overall investment strategy. I have developed some discipline when it comes to my own finances not to deal in "what if" scenarios, and to focus on the actual facts. To my non-expert, individual investor eye, the facts support my thesis.
How Will These Facts Help NLY?
NLY:
Price: $12.13/share
Dividend Yield: 13.00%
ESS Rating: Neutral
The share price of NLY has reached a new 52-week low, and even with the recent cut in its dividend by 11%, the yield is still roughly 13%. According to the latest book value, the stock is selling at a rather steep discount.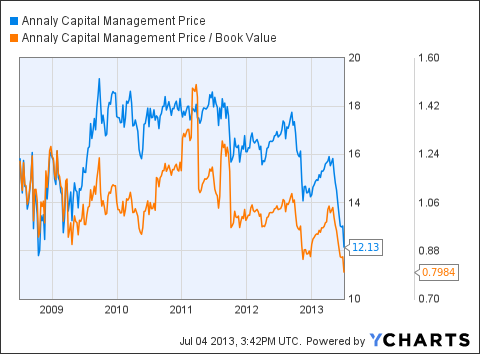 Unless you believe that the economy is now worse than it was in 2009, or you believe that the entire mREIT sector is going away, these facts alone offer me an indication that the stock is vastly oversold right now. I believe that fear and confusion has been the main reasons, but we cannot ignore the fact that NLY is sitting with "inventory" that has decreased in value and it has faced challenges with hedging positions and turnover of "inventory." The reduction in the dividend is evidence of that fact. The latest findings by the mortgage bankers association gives me some additional evidence to support my opinion of the stock being oversold, however:
'Mortgage rates reached their highest point in two years last week. At these rates, many fewer homeowners have an incentive to refinance, and refinance application volume declined more than 15 percent. With this decline in volume, the refinance share dropped to its lowest level in more than two years. Purchase application volume also declined, but not nearly to the same extent, as affordability remains strong,' said Mike Fratantoni, MBA's Vice President of Research and Economics. (emphasis added)
This finding actually places on the back burner, for now, one of the major risks that NLY (and other agency mREITs) face: prepayments. What this says is that folks who have mortgages will avoid refinancing now, and will continue making payments on existing loans, so the "inventory" that NLY currently has will continue to produce income rather than be taken off the table. Another report has come out stating that while refinancing applications have dropped dramatically in June alone, by over 29%, new purchase applications actually are climbing:
While refinance applications fell, however, purchase applications -- 'the better indicator of underlying demand in the housing market' -- edged up 0.1 percent month over month in June. Though purchase volume fell 3.1 percent in the latest weekly report, it still stands 12.3 percent higher than last year.
What these facts tell me is that since the pre-pay risks have diminished, and new mortgages at higher rates can be slowly integrated within the inventory portfolio of NLY, even while it adjusts its hedges. This also supports my opinion that shares are quite cheap and the prospects for greater profits -- and, in turn, higher dividends -- could be on the horizon.
Finally, when we combine these facts with the strategic moves that NLY has made -- specifically the recent purchase of CreXus, as I outlined here and as commented on by NLY itself -- my strong buy opinion is fully developed:
The CreXus's acquisition is accretive to the Annaly dividend and represents a meaningful step in the evolution of Annaly's capital allocation strategy, one that will enable us to take advantage of a broader spectrum of investments. Since the announcement of this acquisition in November, we have continued to build out our commercial expertise and we remain confident that CreXus' capabilities and growth may be significantly enhanced when coupled with Annaly's broader capital base. (emphasis added)
While I have added shares of NLY already, I believe that if the share price falls below $12.00 a case could be made for allocating more than my 4% maximum amount, since the reward will be greater than the risk. That said, I will also increase my allocation to 6% (a 50% increase from the current level) to hopefully capture not only some capital appreciation, but also higher dividends for my dividend income portfolio strategy. (See: "The Team Alpha Retirement Portfolio.")
The minimum upside I believe will be in the neighborhood of 20% in share price. The dividend yield of our overall portfolio can be enhanced even if the current dividend payout remains the same as it is now. I happen to believe that when the dust settles, NLY could actually begin to make more profits, which in turn will mean higher dividends for shareholders.

Disclosure: I am long NLY, WFC. I wrote this article myself, and it expresses my own opinions. I am not receiving compensation for it (other than from Seeking Alpha). I have no business relationship with any company whose stock is mentioned in this article.
Disclaimer: The opinions of the author are not recommendations to either buy or sell any security. Please do your own research prior to making any investment decisions.