Monsanto Company (NYSE:MON) released its third-quarter earnings on June 26. Profit for the quarter fell 3% to $909 million from $937 million due to slower growth in corn seed sales and higher production costs because of last year's drought. However, diluted EPS on an ongoing basis still managed to rise by 2% from $1.63 to $1.66, beating analysts' forecasts of $1.60. This was primarily because of the higher selling prices on its herbicides, which increased operating profit margins in its agricultural productivity segment.
Click to enlarge images.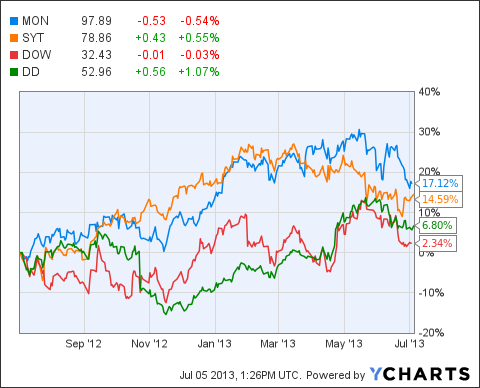 Seeds and Genomics Segment
The seeds and genomics business is regarded as Monsanto's core business. The company has the largest market share of genetically modified seed products because of its patented technology and strong branding. This means the company enjoys wide margins, and this segment generates the overwhelming majority of its profits.
Lower revenue was attributed to decreased collections of royalties on soybean from Brazil because of a legal dispute, and reduced planting of cotton in the U.S. because of falling commodity prices. Production costs increased significantly because last year's drought caused higher production during the winter, which is typically more expensive. Monsanto chose not to pass on this additional production cost to consumers as it intends to stick with its original pricing strategy of 5%-10% annual price increases. This meant gross profit margins for this segment fell to 59% from 65% on the corresponding quarter in 2012. As a result, gross profit fell significantly, by 10% to $1,815 million.

Source: 10-Q (2013 Q3).
Agricultural Productivity segment
The agricultural productivity segment was therefore the main surprise from this quarter's earnings release. Gross profit rose by 31% primarily because of higher selling prices of its herbicides, including its "Roundup" brand. As a result, gross profit margins increased to 37% from 31% in the corresponding quarter last year.

Source: 10-Q (2013 Q3).
Management Expects FY Diluted EPS of $4.50-$4.55
Monsanto reaffirmed its guidance for full year diluted EPS on an ongoing basis to be between $4.50 and $4.55, despite lower profit from the seeds and genomics segment. CEO and Chairman Hugh Grant said:
This is a year where the strength of our global portfolio has really been highlighted, and with the continued strength of our larger, more global business, we're on track to deliver more than 20 percent ongoing earnings growth in fiscal year 2013 and in a very strong position to build on that success with continued growth next year.
Monsanto also projects EPS on an ongoing basis for 2014 to grow in the mid-teens. This is not at all unrealistic, given that management will have achieved a growth rate of over 20% over the past three years. Grant justifies his expectation on future profit growth:
Our optimism reflects the expanding opportunity we see to unlock successive layers of growth next year and beyond as our focus on farmers, new product platforms and operating efficiency combine to build continued momentum.
Monsanto expects much of the profit growth in the future to come from its product upgrades and international expansion of its seeds and genomics business, especially into Eastern Europe, but also in Latin America. In Eastern Europe, more farmland is used to grow corn instead of wheat because of the higher yields of corn production. As well as the growing market, Monsanto has been able to significantly grow its market share, and with a current market share of 16%, further growth in market share is likely.
Selected Financial Data
| | | | | | |
| --- | --- | --- | --- | --- | --- |
| | 2010 | 2011 | 2012 | 2013 (NYSE:F) | 2014 (F) |
| Revenues ($ bn) | 10,502 | 11,822 | 13,516 | 14,947 | 16,087 |
| YoY growth (%) | - 10.6 | 12.6 | 14.3 | 10.6 | 7.6 |
| Diluted EPS on an ongoing-basis ($) | 2.41 | 2.96 | 3.70 | 4.58 | 5.30 |
| YoY growth (%) | - 45.4 | 22.8 | 25.0 | 23.8 | 15.7 |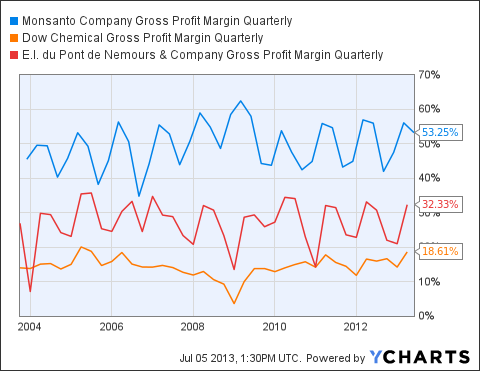 Monsanto may well be subject to great controversy, but the unquestionable need for increases in crop yield means those products from Monsanto are going to be very difficult to substitute. Combined with a competitive edge in R&D and strong branding, Monsanto enjoys a wide economic moat. This gives the company strong pricing power and wide profit margins.
At the time of writing, Monsanto trades at a forward price-to-earnings ratio of 21.4. This compares with 15.6, 13.7 and 13.8 for Syngenta (NYSE:SYT), Dow Chemicals (NYSE:DOW), and Dupont (NYSE:DD), respectively. This may seem expensive, but with future demands for increases in farm productivity, Monsanto and Syngenta's specialization on products which deliver crop productivity mean that these companies deserve a valuation premium. Together with Monsanto's wide economic moat, the company may continue to enjoy superior profit growth.
Disclosure: I have no positions in any stocks mentioned, and no plans to initiate any positions within the next 72 hours. I wrote this article myself, and it expresses my own opinions. I am not receiving compensation for it (other than from Seeking Alpha). I have no business relationship with any company whose stock is mentioned in this article.