The data are in and for Arena's (NASDAQ:ARNA) third week on the market with the anti-obesity drug Belviq. As expected, the numbers are still pacing upward. However, the pace of the sales moves does not seem to be as good as the street is looking for. Before moving on there are a few items that need to be pointed out so as to avoid confusion.
The chart I use in tracking scripts includes two paths to $150 million. One is straight line growth (yellow), and the other is hockey stick growth (NASDAQ:BLUE).
I use IMS Health data in the chart. Symphony Health is another company that tracks sales data. Develop a a simple chart using two data sets does not make much sense.
I adjust the IMS data by 30%. This accounts for under-reporting in the IMS model, multiple month scripts, etc. The 30% is based on historic models for other drugs, including Qsymia.
I have received a few questions about refills. This model takes into account all scripts. Thus includes new sales and refills. I do model issues such as refill rate, etc., but this is about the number of scripts needed (new or refill) to get to a specified sales target.
The data are the data. I made a model that I felt developed reasonable paths to $150 million in sales within 30 weeks. Last week I offered the spreadsheets to readers who were interested in developing their own models. Many readers took advantage.
The $150 million in sales by the end of the year is not "official guidance" in the classic sense, but was a number offered up by Eisai and later confirmed by Arena. Until such time that Eisai or Arena offers official guidance, the $150 million in sales is all we have to work with as a target.
The chart actually has 3 lines. Two (blue and yellow) are paths to $150 million. The third line (orange) is tracking the adjusted IMS sales data. The orange line is currently tracking along the straight line model (yellow) and thus still not very apparent on the chart.
These are early numbers. We will know more about the chances of hitting $150 million by the end of the year somewhere between week 12 and 16.
The data are not bullish, nor bearish. The data are simply the data, and only bullish or bearish when compared to expectations and/or the guidance offered by the company.
The equity will respond based on market expectations. Those expectations vary. If Belviq sales can come in near $150 million it will be a big positive. If the data misses it will be a negative. Many analysts are currently projecting well below the $150 million sales pace.
The $150 million is gross sales. The Eisai Arena split is based on NET sales.
With the third week of sales now in, I am adding another chart to this coverage. This chart actually circles back to something I raised months ago in that Arena investors should use the sales of Vivus's (NASDAQ:VVUS) Qsymia as a measuring stick. Some readers were very critical of my stance regarding the comparison, citing that one drug (Belviq) is novel and the other a compound of existing drugs (Qsymia). Using Qsymia as a measuring stick has nothing to do with how the drugs work, which works better, or which is safer. It is about market expectations on how an anti-obesity drug will be accepted by the market. If you believe that Belviq should outperform Qsymia, then you are indeed using Qsymia as a measuring stick. What we want to watch for on the direct comparison chart are the numbers and the trajectory.
A third element that I will discuss is another point that I made months ago. I stated that I felt it was important that Arena's Belviq attain 40,000 scripts within the first 12 weeks. The number was not at all arbitrary. Instead it was an exercise in modeling that demonstrated to me that if the company could get sales to that level it was possible to get to a point where $250 million in NET sales for the first year is possible. The $250 million in NET sales represents the lowest bar of the bonus and payment structure in the deal between Arena and Eisai.
At this point, some readers may be having an epiphany of sorts, seeing all of this come together. Tracking to 40,000 scripts in 3 months, understanding why it is prudent to use Qsymia as a yardstick, and tracking the sales toward the $150 million are all methods to gauge what is happening in reality vs. what the street expectations are. These are all points that remove noise from the equation.
Tracking To $150 Million By Year End
The sales IMS Health reported in the third week came in at 2,222 total scripts. This number does indeed show continued growth. In my chart I speak to the importance of being above at least one of the two paths to $150 million. Thus far Belviq has not disappointed in that regard, as it has remained above the "hockey stick" model. It is still very early, but early indications are what the market is all about.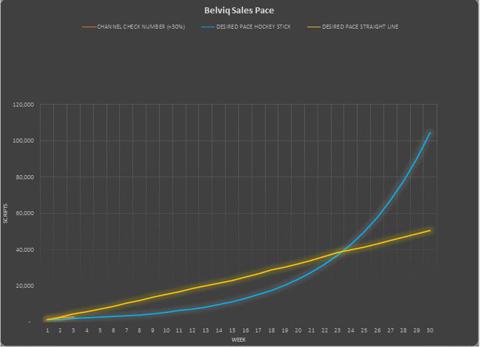 Investors should be aware that this equity will still move based on the instant perception of the weekly data. The weekly numbers will be played by more active traders, while longer term investors (long or short) will look more at the trend and where it is heading. In my opinion there will be volatility in the early weeks because with only a few data points the trend line is not very mature yet. We should be able to see a more realistic trend somewhere between weeks 12 and 16. The equity can stabilize more when it becomes more clear as to whether or not the $150 million goal is attainable, or how easy or difficult that path will be. It was my opinion prior to seeing these numbers that it would take 3,000 scripts to stop the slide in Arena. I felt it was possible, but it did not happen. The equity is not responding well partly because the trajectory is flattening out. See below for a direct comparison to Qsymia.
The Qsymia Measuring Stick
While it is tempting to simply look at the numbers and see if Belviq is outselling Qsymia, the real meat and potatoes is in comparing the chart pattern. Does Belviq follow a similar patter to Qsymia? Again, it is early in the process, but expectations are being drawn based on what has happened before. As you can see, Belviq is currently pacing ahead of the curve of Qsymia. Take note of the various flat sections in Qsymia sales, and consider that these sales are considered modest. One element that will build confidence in the Belviq story is if it can track at a better growth curve. As you can see, while Belviq is starting off faster than Qsymia did, the pattern of the curve is similar. Qsymia did not rocket up, and at this point Belviq is tracking in a similar manner. Remember, it is early yet. The next few weeks of data will begin to illustrate whether or not this can happen. Currently we are at a "so-far-so-good" stage.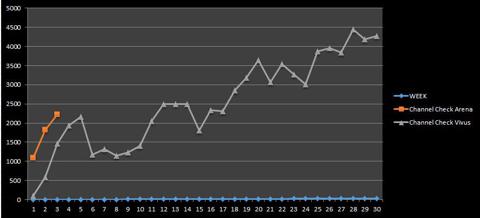 Another important point here is that there are some direct things that impact this data. Price is an important one. Qsymia did not do its first price adjustment until 10 weeks after launch, whereas Arena and Eisai understood that pricing was a key element from the start and offered rebates and discounts in conjunction with the launch of Belviq. Pricing is one reason that I have stated many times that insurance coverage and news is extremely important to the success of these drugs. We need to remember that Belviq and Qsymia are competing not only against a whole host of weight loss products, but also a very inexpensive and generic phentermine as well. Some formularies actually require a failure of generic phentermine before coverage is offered on one of these newer drugs.
Summary
The anti-obesity drug market is essentially in its infancy at this point. The term "Blockbuster" ($1 billion of sales in a year) has been assigned at one point or another to both Qsymia and Belviq. That sets a high bar. In general the street does not yet buy into the blockbuster thought process. In my opinion that status will take time, but even if sales are at $250 million per year, these drugs can be successful. Ironically, the more successful the sector, the more that we will see competitive forces come into play. Companies like Orexigen (NASDAQ:OREX), Novo, and Zafgen are already making early ripples in the water. There is room for more than one solution, and there needs to be more than one solution. Being early into the market does carry advantages. As an investor, try to keep your eye on the more important issues that impact the equity and drive the price rather than some of the minutia that people tend to get caught up in. Develop, refine, and adjust your expectations based on all of the information (good or bad), and more importantly understand the overall expectations of the street. Do not be fearful of the bear side if you are long or the bull side if you are short. Embrace the news and look at things objectively and realistically. Stay Tuned.
Disclosure: I am long ARNA. I wrote this article myself, and it expresses my own opinions. I am not receiving compensation for it (other than from Seeking Alpha). I have no business relationship with any company whose stock is mentioned in this article.
Additional disclosure: I have no position in Vivus or Orexigen