Green Mountain Coffee Roasters (NASDAQ:GMCR), known for its Keurig coffee brewing machines in which K-Cups can be inserted for brewing coffee, is planning on expending its product and marketing efforts into some new market segments such as the workplace and food service. In the company's fiscal Q2 2013 earnings call held on May 8, 2013, the company's President and CEO Brian Kelley estimated the company only has a presence in 10% of workplaces and less than 1% of food service establishments - and he has plans on changing that situation.
Mr. Kelley noted that many food service establishments brew a lot of coffee, yet only serve a few cups and Mr. Kelley sees an opportunity for Green Mountain to reduce waste while serving a good cup of coffee. An example of Mr. Kelley's food service plan can be observed with Green Mountain recently signing a new long-term agreement with partner Starbucks (NASDAQ:SBUX) covering the next five years and potentially even longer. The Starbucks agreement is primarily focused on North America, but also has the potential for international expansion. Mr. Kelley indicated the company is pursuing a number of opportunities in the food service market segment like Starbucks and is confident this segment will contribute significant growth beginning in 2014. On a slightly negative note, Mr. Kelley further indicated that he expects the food service business to be very price competitive, which could be translated as the company's sky-high profit margins taking a hit with the penetration of the food service market segment.
Fran Rathke, CFO, said Green Mountain reported revenue of just over $1 billion, which represents a growth rate of 14% and the growth was driven by single serve pack sales. Ms. Rathke further noted the company anticipates 2013 total net sales increase of 11% to 15% over 2012 and a long-term annual sales growth outlook of 15% to 20%. Additionally, Mr. Kelley noted that Green Mountain has racked up several awards lately: the Edison Award for innovation in consumer packaged goods, brand of the year in the 2013 Harris Poll Equity Study in the coffeemaker category and the Corporate Award from the Millennium Challenge Corporation.
Mr. Kelley indicated the company's objectives are: 1) earn sustained growth through continuous innovation and passionate advocacy of brands, 2) achieve operational excellence to delight consumers and customers and 3) develop talent and culture to achieve its mission.
By the end of fiscal year 2013, Green Mountain is expected to have a presence in 16 million to 17 million homes which represents a growth rate of 25% to 30% and expects to realize similar results next year as well.
In addition to the company's strategy for new market segments, Green Mountain is also planning on developing and marketing a coffee brewer which supports both K-Cups and Vue packs. The combination provides the capability of the traditional K-Cups with the extended capability offered by the Vue packs. The combined K-Cup/Vue pack product offering is scheduled to be rolled out toward the end of calendar 2014.
Green Mountain's stock price has gone ballistic over the last year as shown below: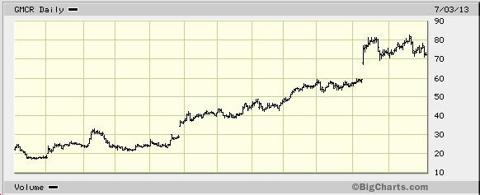 Green Mountain's Price-to-Sales (P/S) ratio of 2.6 and its Price-to-Earnings (P/E) ratio of 27 are fairly reasonable considering the explosive growth potential of the company.
With Green Mountain's potential new market segments and new combined brewing product offering, an investment is considered for the company. With Green Mountain's new potential market segments and product offering, an investment looks tempting. However, with Green Mountain's ballistic stock price appreciation over the last year, a protected position should be considered such as the married put stock option strategy - just in case the company reports bad news. The married put strategy provides unlimited upside with limited downside. The married put position can be entered by buying a long put option against a long position in the stock. The put option is typically selected several months out in-the-future in order to reduce the per-day cost of the put option "insurance."
A number of potential married put positions were found for Green Mountain for option expiration in December of 2013 as shown below: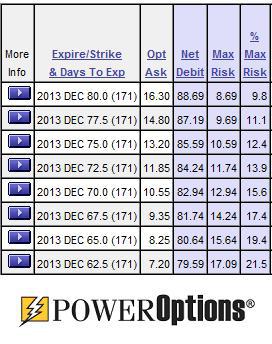 The married put position using the 2013 Dec 80 put looks attractive with a maximum potential loss of 9.8%, so even if the stock price tanks, the maximum loss which can be realized is 9.8%. The maximum loss of 9.8% which can be sustained is a little higher than normally selected, but with Green Mountain's growth potential the additional risk premium is worth considering. The specific details for entering the Green Mountain married put position are shown below:
Green MountCoffee Roasters Married Put Position:
Buy GMCR stock (existing or purchased)
Buy GMCR 2013 Dec 80 put at $16.30
A profit/loss graph for one contract of the Green Mountain married put position is shown below: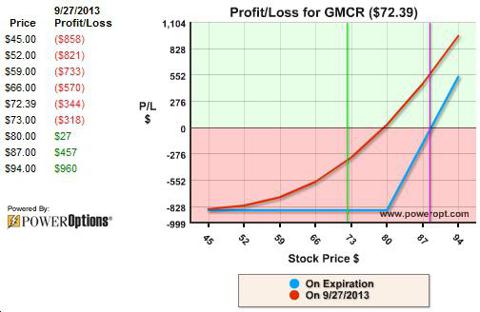 As can be seen in the graph above, the value of the married put position increases as the price of the stock increases, and if the price of the stock drops significantly the put option prevents the married put position from realizing a large loss. And if the price of the stock increases to above the $80 strike of the put option, then income methods can be applied in order to receive income and reduce risk as taught by RadioActiveTrading.com.
Disclosure: I have no positions in any stocks mentioned, and no plans to initiate any positions within the next 72 hours. I wrote this article myself, and it expresses my own opinions. I am not receiving compensation for it (other than from Seeking Alpha). I have no business relationship with any company whose stock is mentioned in this article.