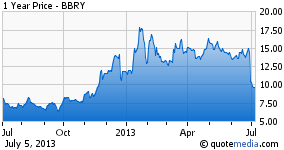 We were wrong. We thought that BlackBerry (NASDAQ:BBRY) would have a strong Q1 FY14 report and show a healthy profit. However, their earnings report was significantly below our expectations, even without the effect of the missing Venezuelan service revenues.
Our estimates for many of the items in the quarterly report were actually quite accurate, but the most important factors such as shipments and gross hardware margins were significantly off. We are going to look at the results versus our estimates to see what we can learn and also help develop a stronger model going forward.
Shipments and Sell-through
This is the area where our forecasts were off the most. We had forecasted 4.8 million units in BB10 shipments and 4 million units of legacy BlackBerry shipments based on sell-through of 4 million units for each type. Instead, shipments came to 2.7 million BB10 units and 4.1 million legacy BlackBerry units.
The forecast for legacy BlackBerry units was quite accurate using Google Trends as a tool. However, BlackBerry 10 shipments were very overestimated based on Google Trends. We can think of two possible reasons why this was the case.
The first possible reason is that the high price of the BlackBerry 10 devices led to a significant underperformance in conversion between interest and actual purchase. Google Trends shows the level of relative interest, which indicated interest in BlackBerry 10 devices was consistent with a 4 million unit sell-through level. The premium pricing of BlackBerry 10 devices may have made many users hesitant to actually purchase though. If there are significant price cuts on BlackBerry 10 devices, we'd probably see demand get closer to the level predicted by Google Trends.
The second possible reason is that our comparison benchmarks may be overstated, resulting in some overestimation of BlackBerry 10 sales. We compared Google Trends data to shipment volumes for the Note 2, iPhone 5, and S4. However, neither Samsung nor Apple provide exact sell-through numbers for these devices, so actual sell-through could have been significantly less than shipments during the periods we used. As well, the market for premium devices seems to be becoming increasingly challenging, with suggestions being that the Samsung Galaxy S4 has been underperforming relative to expectations - resulting in a reduction in shipment estimates to 7 million per month from 10 million per month.
BlackBerry mentioned that sell-through was 6.8 million units, but they did not specify the actual sell-through mix this time, but we are going to estimate it as 2.2 million BB10 units and 4.6 million BB7 units. There is no way to confirm any sell-through estimates right now, but 4.6 million BB7 units would be consistent with the suggestion they made last quarter that BB7 inventory levels were no longer elevated.
ASP
Hardware revenue was $2.181 billion in Q1 FY14. We had estimated that BlackBerry 7 ASP was $230 and BlackBerry 10 ASP was $440. It appears that if BlackBerry 7 ASPs were the same as last quarter then BlackBerry 10 ASP would be around $454. Our ASP estimates were pretty close to the numbers suggested in BlackBerry's latest financials.
| | | | |
| --- | --- | --- | --- |
| Type | Shipments (Million) | ASP | Total Revenue |
| BlackBerry 7 | 4.1 | $230 | $943 Million |
| BlackBerry 10 | 2.7 | $454 | $1.225 Billion |
| Total Handset | 6.8 | $319 | $2.168 Billion |
| Playbook | 0.1 | $132 | $13 Million |
| Total | 6.9 | $316 | $2.181 Billion |
BlackBerry's handset ASP of $319 is the highest it has been since Q2 FY10, nearly four years ago, which is one positive. However, BlackBerry could use a BlackBerry 10 portfolio with a wider range of price points, as the Q5 is still fairly expensive for emerging markets.
Subscriber Counts
We had estimated that sell-through of 9 million units would result in a stabilized subscriber count. Therefore actual sell-through of 6.8 million units should have resulted in a net loss of 2.2 million subscribers. Instead the subscriber count had a net loss of 4 million units (although due to rounding the actual loss could have been anywhere from around 3 to 5 million units).
This difference of 0.8 to 2.8 million units could be caused by some combination of increased churn among BlackBerry subscribers and some BlackBerry users purchasing new devices earlier than they would have normally (buying BlackBerry 10 products before their contract was over).
Service Revenues
Service Revenues came out to $794 million during the quarter and would have been $866 million without the Venezuelan service revenue issue. This compares to our estimate of $903 million. We had estimated an quarterly ARPU of $11.96, versus the actual $11.70 quarterly ARPU. The decrease in service revenues indicates that some higher revenue customers likely churned out during the quarter. Revenue from managing non-BlackBerry devices may serve to help offset some of these losses.
Operating Expenses
We estimated operating expenses at $1.349 billion, composed of $383 million in R&D, $785 million in SG&A and $181 million in amortization. Actual operating expenses were significantly less at $1.211 billion, with $358 million in R&D, $673 million in SG&A and $180 million in amortization. The biggest difference is with SG&A, which was overestimated by $112 million. We believe this was mostly due to some of the projected 50% increase in marketing spend being captured under cost of sales instead. Possible marketing items that would fit in cost of sales include carrier rebates and spiffs.
Hardware Cost of Sales
If we estimate cost of sales for service and software at 14% (based on prior annual reports), and cost of sales for the other category at 75%, we can figure out the hardware cost of sales as noted in the table below.
| | | | |
| --- | --- | --- | --- |
| Type | Revenue | Cost of Sales % | Cost of Sales |
| Hardware | $2,181 Million | 86% | $1,873 Million |
| Service | $794 Million | 14% | $111 Million |
| Service (Venezuela) | $72 Million (not included in total) | 14% | $10 Million |
| Software | $60 Million | 14% | $8 Million |
| Other | $36 Million | 75% | $27 Million |
| Total | $3,071 Million | 66% | $2,029 Million |
We had estimated that BlackBerry 10 had $157 gross margin per unit. From looking at the Q1 FY14 financials, it looks like BlackBerry 10 achieved around $115 per unit in gross margin instead if we assume that BB7 units are sold at breakeven. Cost of sales per BlackBerry 10 unit was therefore around $56 more than anticipated.
The majority of this difference seems to be related to some of the 50% increase in marketing spend being captured under cost of sales. The effect of the marketing spend is estimated at $41 per unit.
| | | | | | |
| --- | --- | --- | --- | --- | --- |
| Type | Shipments | ASP | Cost of Sales Per Unit | Gross Margin Per Unit | Total Gross Margin |
| BB7 | 4.1 Million | $230 | $230 | $0 | $0 Million |
| BB10 | 2.7 Million | $454 | $339 | $115 | $311 Million |
| Playbook | 0.1 Million | $132 | $163 | ($33) | ($3 Million) |
| Total | 6.9 Million | $316 | $271 | $45 | $308 Million |
Conclusion
BlackBerry's results were disappointing. BlackBerry 10 sales were on the low end of expectations while promotional activities increased cost of sales and reduced margins. They are also fighting against subscriber churn.
From looking at search volumes though, it appears that interest in the Z10 and Q10 was significantly higher than shipments of 2.7 million units would suggest, with slow sales likely due to high-end pricing. We wonder if it would have been better for BlackBerry to have reduced prices, sacrificed some margin and sold/shipped over 4 million BlackBerry 10 units instead. Such a strategy may not have improved earnings, but would have resulted in a better perception of BlackBerry 10's launch success.
On the other hand BlackBerry is not dead yet. They have over $3 billion in cash and did manage to improve sales both over the previous quarter and Q1 FY13. They are in a strong enough financial position to execute their BlackBerry 10 launch plans over the next 1-2 years. The road back to sustained profitability is cloudier now that it appears that selling high-end BlackBerry 10 phones alone won't generate sufficient margins.
We feel that current stock prices have fully accounted (and then some) for the increased uncertainty. Much of the sell-off was warranted by the results, but BlackBerry's current price is only a couple dollars higher than their price after their Q1 FY13 report, when BlackBerry 10 was at least six months away, there were no guarantees against further delays, and serious questions about whether they would have enough money to launch it. We believe that the slow sales of BlackBerry 10 products to date is not a sign of a lack of interest in the platform itself, but rather a sign that BlackBerry cannot expect to command a significant device premium in the consumer market (and in some segments of the enterprise market too) over Android and Windows Phone competitors. BlackBerry needs to get more competitively priced products to market while continuing to develop additional revenue generating opportunities to offset lower hardware margins. Search volumes indicated interest in the Z10 and Q10 were much higher than actual sell-through. The high prices compared to competitor phones were mentioned quite often (especially in emerging markets) and served to significantly affect BlackBerry's conversion rate from interest to purchase. We will see in Q2 FY14 whether BlackBerry has higher conversion rates with enterprise customers and the Q10 (which as a QWERTY phone has less direct competition). Having competitively priced devices appears to be essential in the long run though.
Disclosure: I am long BBRY. I wrote this article myself, and it expresses my own opinions. I am not receiving compensation for it (other than from Seeking Alpha). I have no business relationship with any company whose stock is mentioned in this article.