Linn Energy (LINE) may not make the Top 20 list of US oil and gas operators by production volume, but in terms of popularity and emotional intensity surrounding it -- both positive and negative -- the partnership holds one of the top positions in the sector. Sadly, Linn may also win the title of the sector's most painful security to own over the past two months. Its price is down by 41% since the publication of a controversial article in Barron's and following the press release that disclosed the company and its affiliate LinnCo (LNCO) are subject to an informal SEC inquiry. Is the correction overdone?
Click to enlarge images.
The company's July 1 press release indicates that the matters under SEC's informal inquiry are quite serious. Judging by the stock price reaction, investors are concerned:
The SEC has requested the preservation of documents and communications that are potentially relevant to, among other things, LinnCo's proposed merger with Berry Petroleum Company, and Linn and LinnCo's use of non-GAAP financial measures and hedging strategy.
The SEC inquiry aside, one of the biggest issues with the two entities has been their highly controversial valuation. Despite the dramatic repricing that Linn Energy units and LinnCo shares have gone through in reaction to the SEC inquiry announcement, overvaluation concerns are not fully relieved. As summarized in the spreadsheet below, even after the 32% price correction during the last two trading sessions, defending Linn's current valuation still seems to be a bit of a challenge.
The illustrative valuation below (which does not include the proposed Berry Petroleum (BRY) acquisition) suggests the MLP's units may be vulnerable to an additional material downward repricing (30%-plus from the closing price of $22.79 on July 3, based on this illustration), assuming the market requires a ~10% rate of return on E&P assets similar to those that Linn has assembled in its portfolio. On top of that, the SEC inquiry obviously creates a valuation contingency, which will translate to a tangible discount to estimated value until the issue is resolved.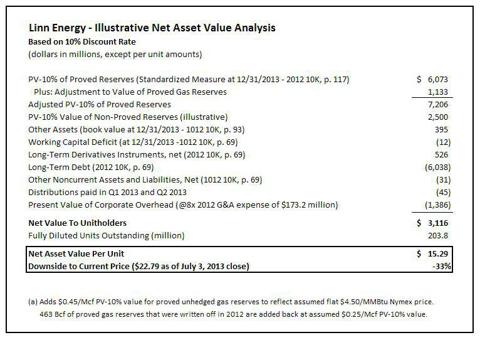 Obviously, the illustrative valuation above is sensitive to three key assumptions: discount rate, value of non-proved reserves and resources, and future commodity prices.
Opinions may differ on whether the 10% discount rate used above in the calculation of the proved reserves value is too high or too low. It is important to remember however that even though Linn's operating profile is less risky than that of many traditional oil and gas companies, its assets are not exactly risk-free: drilling results, development costs, long-term well performance, accuracy of reserve estimates, and commodity prices are just some of the risk factors that cannot be eliminated. To put the issue of the discount rate in perspective, Linn's pending acquisition of Berry Petroleum -- which was agreed to at a ~20% premium to Berry's market price pre-merger -- implies a rate of return on Berry's proved reserves substantially above 10%. Would Berry Petroleum's assets become any more valuable (i.e., should the implied discount rate go down) once they become Linn's assets? Probably not. Same is probably true about other acquisitions Linn has completed to date.
The spreadsheet above uses a $2,500 million "uninformed" illustrative valuation for Linn's unproved reserves and potential resources. Given the mature nature of many of Linn's acquired properties, it is difficult to attribute high valuation to the company's unproved assets. It is also important to note that Linn will not have much capital available to accelerate the development of its unproved reserves as it distributes a large percentage of its operating cash flow to unitholders. As a result, present value of any potential upside from unproved properties is severely diminished by discounting.
The illustration above uses flat commodity price assumptions: Oil prices are based on the SEC case as of Dec. 31, 2012, and gas prices are assumed to be flat $4.50/MMBtu (an adjustment to valuation is made to reflect the higher gas price assumption relative to the SEC-10 case). In effect, assumed oil price is substantially above what is indicated by the current Nymex futures curve, which is currently in strong backwardation, while the gas price assumption corresponds approximately to the average Nymex futures price over the August 2013-August 2020 period (for reference, the two futures curves are shown below).
While illustrative, the valuation above actually passes the historical cost test. Since its inception, Linn has completed a total of $9.7 billion in acquisitions (see the slide below). In the process, Linn has incurred $6.0 billion in debt, paid $2.2 billion in distributions, spent $0.7 billion on G&A expenses and $1.1 billion on interest payments, and "earned" estimated ~$0.9 billion by issuing its units at prices exceeding their estimated underlying value. Assuming Linn paid fair market value for its acquired properties and has earned an above-expected 12% return on its assets every year, net of maintenance capital spending, the ~$3.1 billion estimate for fair value of unitholders' equity is, in fact, almost on target.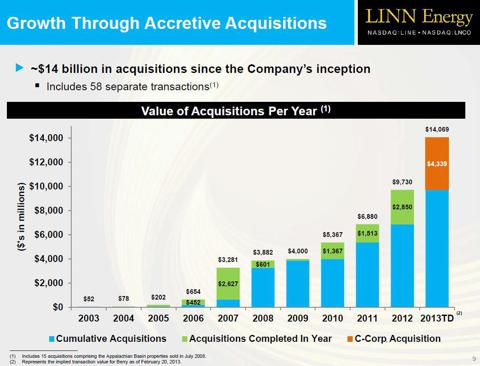 Source: Linn Energy June 2013 investor presentation.
Will the Acquisition of Berry Petroleum Go Ahead?
In their press release, Linn and LinnCo commented on the Berry Petroleum merger outlook:
Although the impact of the inquiry on the timing of LinnCo's proposed merger with Berry Petroleum Company is difficult to predict, LinnCo and Linn remain committed to the completion of the transaction.
The comment is fair. Clearly, Linn and LinnCo would want to close on the transaction, even more now than before. It is important to remember however that the merger is a stock-for-stock transaction subject to shareholder votes. Given the very material decline in LinnCo share price from the time when the merger agreement was signed, and major uncertainties related to the outcome of the SEC inquiry, it is difficult to take the approval by Berry Petroleum shareholders for granted. Furthermore, even though the merger agreement does not seem to have a stock price-related termination or renegotiation clause, there are many other "Material Adverse Effect" clauses that may be unexpectedly triggered should the worst-case scenario of the SEC inquiry develop, even before the transaction is put before Berry Petroleum shareholders for vote.
A failure to close the Berry Petroleum acquisition would not be a welcome development for Linn's unit price. The acquisition of Berry Petroleum was, arguably, a successful move by Linn from the financial impacts perspective. A stock-for-stock exchange, the transaction took advantage of Linn's strong unit price and looks very accretive on a PV-10 basis, the metric that Linn needed to enhance. As a reminder, total consideration paid in the Berry Petroleum acquisition was $4.3 billion (including assumed debt), which represented a premium of 19.8% to the Berry closing price on Feb. 20, 2013, and a premium of 23.1% to its one-month average price at that date. At the same time, PV-10% of Berry's proved reserves as of Dec. 31, 2012, stood at $5.4 billion. In addition to proved reserves, Berry has estimated its probable and potential reserves at 3.8 Tcf.
Does Linn's Business Model Provide a Silver Bullet?
Listening to Linn's presentations, it would almost seem as if the company has invented a new technology of making quick, strong returns in the oil and gas business. In essence, Linn pursues acquisitions of mature producing properties paying for them an equivalent of, let's say, PV-10% (or even less, as is the case in the pending Berry Petroleum acquisition) while financing the purchase with a mix of debt and equity that yield 6%-8%. This formula would seem to create arbitrage between expected return on the acquisition (10%-plus) and yield on the financing (6%-8%). As each such acquisition is accretive to distributable cash, the more LINN acquires, the faster the distributions can grow.
There are several weak links in this chain of logic, though.
Let's not confuse current distribution yield with the required rate of return on investment in oil and gas assets (cost of capital).
These are really two very different concepts. Finance theory postulates that the rate of return on a project (oil and gas acquisition, in this case) required by the market does not depend on financing but depends solely on the project's risk and its correlation with other investment opportunities. In other words, market value of an oil and gas property being acquired should not depend on whether it is financed with 5%-yield MLP units, zero-dividend common stock, 2% bank debt, or private equity with promised 25% rate of return. Market value of the asset is invariant.
In other words, an acquisition may be accretive to Linn's current per unit distributions; however, it is an entirely separate question whether it is also accretive to the units' valuation or whether the price paid for the properties was actually attractive relative to the inherent value.
Are acquisitions as cheap as they are presented?
The argument that one would often hear from advocates of Linn's business model is that Linn is a willing acquirer of properties that a typical oil and gas operator would want to get rid of: mature, long-lived, low-upside reserves that tie up a lot of capital for many years but yield somewhat limited return. As a result, the argument goes, Linn gets those properties at an attractive price.
The argument implicitly presumes that the A&D market is inefficient. In reality however, Linn pursues oil and gas properties in a marketplace that is highly competitive, capital-rich, and sufficiently transparent to potential buyers. Properties that are put on the block are typically very actively shopped through a variety of channels while sellers provide extensive operating data to potential buyers. Linn competes with dozens of other oil and gas operators, private equity firms, and foreign corporations seeking exposure to the U.S. oil and gas sector. Thinking that Linn is the only aggressive acquirer of mature oil and gas assets would simply be incorrect. Therefore, it does not seem intuitive that Linn can consistently create value by paying a winning price in what essentially is a competitive auction process (i.e., Linn likely pays a full market price).
There is also something to be said about the type of properties that E&P companies typically put on the block. Very often those are less competitive assets that come from the "lower left quadrant" on corporate strategic attractiveness diagrams. Capital raised in the divestiture is typically redirected towards higher-return opportunities. A question springs to mind, should a portfolio that represents a diverse collection of "bottom quartile" properties be valued at a premium to comparable metrics for other portfolios in the industry or at a discount?
Is Linn best positioned to maximize the value of acquired properties?
Linn is not the only company who has built its business model based on the "acquire and exploit" strategy. Apache (NYSE:APA) and Occidental Petroleum (NYSE:OXY) are examples of companies that many analysts would characterize as highly successful acquirers and operators of mature properties. However, there are some tangible differences between Linn on one hand and operators such as Apache and Oxy on the other.
First, Linn targets to spend only limited amount of capital developing its acquired properties -- just enough to maintain existing production volumes ("maintenance drilling"). The larger part of the entity's cash flow is designated to be passed on to unitholders. With its reinvestment program cash-starved relative to other operators, Linn may not be able to take advantage of all the exploitation opportunities that exist on the properties it acquires. It may not be able to develop and maintain a cutting edge operating capability, which is not unimportant in achieving a long-term success in the E&P business.
Second, in contrast to well established operators like Apache or Oxy, Linn's acquisition strategy does not appear to be centered on asset consolidation in select core operating areas (the map below shows an eclectic collection of operating areas). One would question if Linn will be able to extract the same operating efficiencies as one would expect from a more focused acquirer in its core focus area.
Third, as an organization, Linn is a relatively young E&P operator and a recent newcomer to many of its operating areas. Without prior operational involvement in its new areas of operation, does Linn have the ability to properly evaluate acquisition opportunities or be a top quality operator of acquired properties, at least in the immediate term following the acquisition? Is there a cost and risk associated with evaluating, acquiring and integrating highly varied assets at a break-neck pace?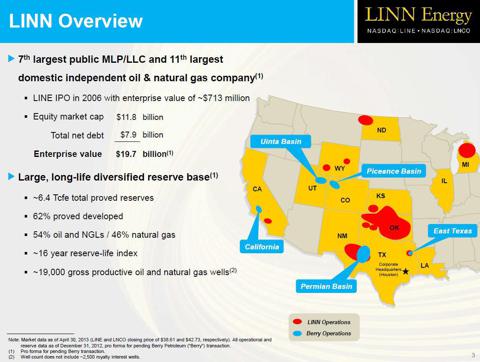 Source: Linn Energy June 2013 investor presentation.
Hypnosis by Current Yield
Linn's high current distribution has often been presented as the justification of the partnership's unit price that has seemed to be in disconnect from the PV-10 metric for quite some time. The argument misses one important aspect: production from the company's existing 19,000-plus wells has a declining profile. New wells need to be drilled to offset those natural declines. The reason why the company's properties are often referred to as "mature" is that additional drilling opportunities on those properties have become scarce and, most importantly, are often progressively less economic to drill. Linn's distribution model is based on the presumption that the company will be able to offset natural declines with a limited amount of capital expenditures. Intuitively, however, one would expect capital requirement to maintain flat production from "mature" properties to have an upward trajectory which will ultimately eat into cash available for distribution. While current yield may be very attractive, is it indicative of the IRR that the partnership will be able to achieve over the life of its assets?
Another important consideration relates to the economic competitiveness of the properties other operators have chosen to divest. Obviously, existing production is almost always economic, under a very wide set of commodity price assumptions. New drilling economics is a different issue. This has been particularly obvious in the gas business in the past several years where only select plays and sweet spots are truly economic for new development.
Operationally, Linn Is a Success Story
All the above considerations and concerns related to the valuation of the partnership's units are not meant to overshadow the fact that the partnership has so far executed remarkably well on its "raise funds and acquire" strategy. The management team deserves credit for being able to manage numerous complex tasks of screening, evaluating, financing, closing, and integrating 58 transactions for a total amount of almost $10 billion in just seven years while building its organization and operating capability essentially from scratch.
Will Linn be able to prove that it has created value in the process, on top of the $10 billion of capital that was invested on behalf of its public partners? It's very possible. Ultimately, the value added would become evident in operational and financial metrics, including production volumes and PV-10. Naturally, the process takes some time.
Leverage, Leverage
It would make little sense to discuss Linn's valuation and not mention the important reality of today's marketplace: broad proliferation of margin accounts, aggressive use of portfolio leverage by both institutional and individual investors, and limits-driven risk management by hedge funds. As this article is being submitted for review, Linn shares are trading down another 8%. The words "involuntary liquidations" come to mind. In the situation surrounding Linn units, valuation fundamentals are obviously not the primary factor driving the price performance. However, one might ask oneself, was the stage set perfectly for the drama by the market abandoning basic valuation math in favor of what appears to be populist rationales?
Disclosure: I have no positions in any stocks mentioned, and no plans to initiate any positions within the next 72 hours. I wrote this article myself, and it expresses my own opinions. I am not receiving compensation for it (other than from Seeking Alpha). I have no business relationship with any company whose stock is mentioned in this article.
Disclaimer: Opinions expressed in this article by the author are not an investment recommendation and are not meant to be relied upon in investment decisions. The author is not acting in an investment advisor capacity. The author's opinions expressed herein address only select aspects of potential investment in Linn Energy units and LinnCo shares and cannot be a substitute for comprehensive investment analysis. Any analysis presented herein is illustrative in nature, limited in scope, based on an incomplete set of information, and has limitations to its accuracy. The author recommends that potential and existing investors conduct thorough investment research of their own, including detailed review of the companies' SEC filings, and consult a qualified investment advisor. The information upon which this material is based was obtained from sources believed to be reliable, but has not been independently verified. Therefore, the author cannot guarantee its accuracy. Any opinions or estimates constitute the author's best judgment as of the date of publication, and are subject to change without notice.