Have people been misinterpreting volume studies? Many have been paying attention to the low volume as equities steam roll higher, but perhaps they should also be paying attention to the low selling volume.
I just wanted to follow up on my article on selling exhaustion with a chart that better illustrates what I am seeing. As I mentioned in my previous piece, selling exhaustion is visible when you have two troughs, and during both troughs, volume peaks. However, during the second trough, the volume is noticeable lower than the first trough, indicating that sellers do not have the same power as they did during the previous sell off; a bullish sign.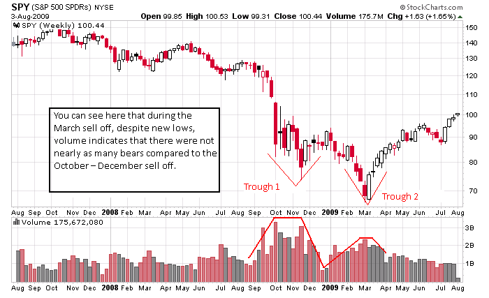 Many were caught off guard several weeks ago when the equities were set up to correct (myself included), and while prices drifted lower, it was not the sell off that people expected; it was brief, shallow, and buyers quickly stepped in. While the current buying mania makes me nervous, in context of the current environment, this could well mean that while a correction seems over due, the long term bears may have lost the power to sell this market to new lows.
Disclosure: no positions in the SPY.