With emerging markets stocks getting pummeled this year, many investors are sticking closer to home and looking for solid US stocks. This week's profile stock may not be a high dividend stock, like some of those in our recent articles, but 96% of its sales are in the U.S., and it does have recent and projected earnings growth, which makes it look undervalued. It's also going ex-dividend this week, on 7/10/13.
Profile: Founded in 1909, Texas-based Ennis Inc. (EBF) is a leading wholesale printing and apparel manufacturer in the US. Ennis employs over 6,000 people in over 50 facilities throughout the US, and has one of the largest wholesale offerings of products and capabilities in the printed product industry for national distribution. Ennis offers an extensive line of stock and custom business forms, checks, commercial printing, promotional products, envelopes, tags, labels, presentation products, plastic cards, multi-media packaging and blank apparel, such as blank T-shirts.
EBF's Apparel sales and profits struggled infiscal year 2013 (ended 2/28/13) due to rising cotton prices. EBF attempted to match its apparel sales price with the cost through the sale of this high cost inventory rather than reducing its selling price below its embedded costs, like some of its competitors.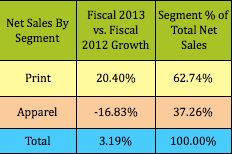 Fortunately, cotton prices have declined, and EBF has worked through most of the higher cost cotton, plus, as CEO Walters stated, Ennis "realized a 240 basis point sequential margin improvement last quarter and a 270 basis point sequential margin improvement this quarter, (ended 5/31/2013). We would expect our apparel margin to continue to improve as the average carrying value of our finished goods inventory declines and as our operational efficiencies improve as production levels increase." (Source: Ennis website)
In addition to improving apparel margins, EBF's print margins remained healthy, which helped it to blow out its latest quarterly earnings, (quarter ending 5/31/13), in spite of slightly slower sales:

Undervalued Earnings Growth: Analysts are calling for an average of over 44% EPS growth for Fiscal Year 2014, (ending 2/28/14), and over 22% growth for fiscal year 2015, (ending 2/28/15), making EBF look undervalued on a PEG basis for both years:

Click to enlarge
EBF commands higher Price/Book and Price/Sales ratios than its peers, but it also looks cheaper on a Price/Free Cash Flow basis:

Click to enlarge
Dividends: EBF did the right thing by its shareholders in late 2012, and accelerated its third and fourth quarter dividend payments, paying them in December 2012 to avoid a higher dividend tax rate. With this week's dividend, EBF is getting back to its normal dividend schedule and there will be 3 dividend payments in fiscal year ending 2/28/14.

Options: EBF does have call and put options available, but, at present, selling put options offers a more compelling yield than selling covered calls. EBF is up over 16% in 2013, and has also beaten the S&P since the May 21st highs, rising over 9%, vs. the S&P's -2.45% decline.
If you're leery of buying EBF at this level, this January 2014 put trade, from our free Cash Secured Puts Table, offers you a $1.00 premium, and a breakeven that's 8.4% below EBF's current price:

Click to enlarge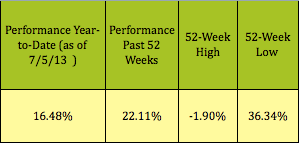 Financials: EBF has a very solid balance sheet, with low debt and a strong current ratio. It also has better management efficiency ratios than its peers:

Click to enlarge
Disclosure: Author had no positions in EBF shares at the time of this writing.
Disclaimer: This article was written for informational purposes only, and isn't intended as investment advice.
Disclosure: I have no positions in any stocks mentioned, and no plans to initiate any positions within the next 72 hours. I wrote this article myself, and it expresses my own opinions. I am not receiving compensation for it (other than from Seeking Alpha). I have no business relationship with any company whose stock is mentioned in this article.