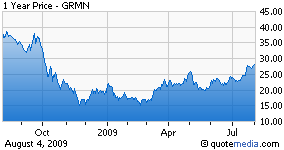 Garmin (NASDAQ:GRMN) is expected to report Q2 earnings before the market open on Wednesday, August 5, with a conference call scheduled for 10:30 am ET.
Guidance
The consensus estimate is 51c for EPS and $654.89M for revenue, according to First Call. This quarter, Wall Street will look for color on pricing and carrier announcements for the Nuvifone G60, Garmin's navigation-enabled smartphone built along with Taiwanese PC maker Asustek and pitted against the likes of Research In Motion's (RIMM) BlackBerry and Apple's (AAPl) iPhone. The G60 was launched Taiwan on July 27, and is expected in Singapore and Malaysia by end of August, followed by Europe and the U.S. in 2H09. The M20 will be available in August in Taiwan, Hong Kong, Singapore, Thailand, and Malaysia, followed by Europe in 2H09.
Analyst Views
No single carrier covers all the announced markets, hence analysts expect multiple carrier relationships. Wedbush expects in-line Q2 results but believes the outlook remains challenging with the macro environment and competitive solutions in the portable navigation device, or PND, market. For Q2, Wedbush expects EPS of 51c on revenues of $657M. While, Wedbush finds the Nuvifone devices interesting, the delay of a year has allowed smartphone manufacturers catch up with functionality, especially location-based services, or LBS. The firm believes that this late release poses risks to Garmin's previous goal of 1M units in 12 months and the firms more modest assumptions. Two weeks back, Garmin's chief competitor TomTom beat Q2 sales and profit expectations as it sold more devices at higher prices than expected. The company said it saw signs that markets had bottomed even as conditions continued to be "challenging". Wedbush noted that TomTom reported PND units were down -20% year-over-year and ASPs were down -14% year-over-year. For Garmin, Wedbush expects PND units to be down -10% year-over-year, and ASPs down -20% year-over-year. While this is an improvement from Q1, Wedbush believes the market remains challenging. Currently, PNDs make up the majority of Garmin's Auto/Mobile sales. While Wedbush has seen some smartphone solutions that could be used as substitutes for PNDs, the firm's longer-term concern is with in-dash solutions that are becoming more standard with cars. Wedbush maintains a Underperform rating on Garmin with a $20 target, below its currently trading price of $27.89.