Prudential Financial Inc. (NYSE:PRU) offers a tantalizing 43.6% upside return by December 31st, 2013. Prudential is currently priced at a 32.95% discount to fair market value. The sector valuations are bordering on silly. The company is benefiting from the rising U.S. Treasury Bond rate yield, demand for retirement services, and its role as a leading entity in the life insurance space and retirement sector. Prudential invests assets in bonds, and a higher bond rate will drop down to earnings. I will highlight why Prudential is cheap at 9x 2013 earnings per share. I will highlight why this is only the first inning of a long profitable story.
Scope
Projected Earnings per Share (EPS) and Price Valuations: 2013 - 2016

Click to enlarge
Prudential is currently trading at a 32.95% discount to fair market value. I believe catalysts exist to enhance the likelihood of achieving a fair value market valuation.
Downside Risk
The downside risk is $66.80 per share. I base this on an 8x P/E multiple upon 2013's EPS coming in at $8.35. This risk represents an 11.6% decline from today's price of $75.60.
Prudential's 2013 Earnings per Share Estimates: Fiscal year 2013, $8.35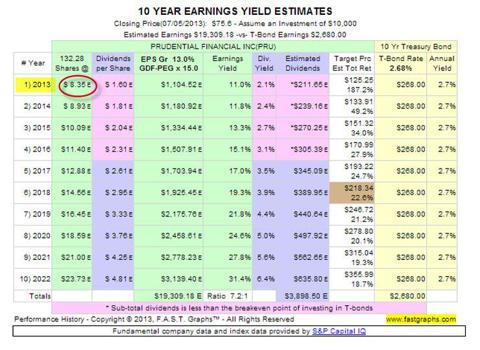 Click to enlarge
Catalysts
1. Dividends - $1.60 per year, 2.2% Yield
In fiscal 2013, Prudential Financial moved to quarterly dividend distributions from annual dividend distributions in earlier years. The company paid its first quarterly dividend of $0.40 per share on March 21, 2013, and recently announced its next quarterly dividend of $0.40 per share payable June 20, 2013 - with a $1.60 annualized rate that is unchanged over fiscal 2012.

Click to enlarge
At $75.60 (as of July 6, 2003), Prudential shares are up 62.4% over the past year and now trade near the top of their 52-week range of $44.96 to $75.60. Shares have a dividend yield of 2.2%, a market capitalization of $35.23 billion. The company should earn $8.35 per share in 2013. The company trades at a 9x 2013 P/E multiple and an 8.4x 2014 P/E anticipated multiple.
2. $1 Billion Share Buyback Program
On June 11, 2013, Prudential's Board authorized a new stock buyback plan. This announcement provided clarity on a new $1 billion share repurchase program. The buyback will occur July 2013 through June 2014. This new program comes on the heels of a similar $1 billion buyback program that will expire at the end of June 2013 under which the company only repurchased 2.7 million common shares for $150 million through March 31, 2013, likely due to elevated share prices. Prudential's recurring $1 billion share repurchase programs, combined with steady dividends, confirm management's commitment to shareholder distributions.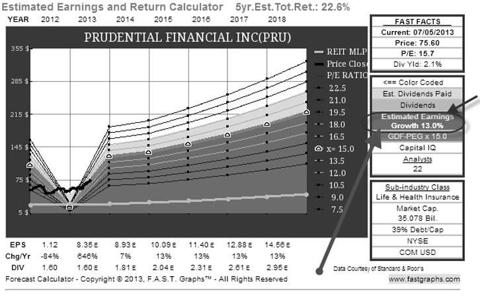 Click to enlarge
Prudential is expected to grow earnings per share at a 13% clip. The stock buyback only enhances the likelihood of increased earnings beyond a 13% expansion.
3. Rising Interest Rates Will Boost Earnings
Interest rates are currently at historically low levels and the Federal Reserve has made clear that it plans to keep interest rates exceptionally low for an extended period which most economists interpret as about a year or so - perhaps through late 2014 or early 2015 - after which the Fed will become less accommodative and let rates rise. Low rates have, so far, reduced interest income for many retirees and prompted them to save more and increase their defined contributions, which has benefited Prudential.

Click to enlarge

Click to enlarge
The July 5th 10-Year Bond yield is 2.72%. The May 2nd 10-Year Bond yield was 1.66%. This is a 63.8% increase in interest rates since May 2nd. This is significant and material to Prudential's earnings going forward.
Moreover, 75% of Prudential's investments are in fixed income securities with yields that are at all-time lows. In its most recent quarter, net investment income contributed $3.6 billion or 36% of total revenue and was up 10%. Rising interest rates should significantly increase net investment income, perhaps to double or more.
For example, at 2.72%, yield on the 10-Year Treasury is up 67% since early May 2013. This is well above the 52-week low of 2.72%. Moreover, of late the Fed has been preparing the markets for the ultimate tapering of its $85 billion monthly bond buying program - this program propped up Treasury prices and held yields artificially low - so, in anticipation of the ultimate lifting of this program, bond yields have started to climb. Over the upcoming years, 10 Year Treasury Bond yields could easily go back up to their earlier levels of 5% or more and more than double interest and investment income for Prudential.
On the flip side, Prudential should manage its fixed income portfolio in the near term to make sure that rising rates do not overly result in significantly reduced face value and unrealized losses on its existing fixed income investments.
4. Competitors
Prudential primarily competes with AIG (NYSE:AIG) and MetLife (NYSE:MET), and privately-held Dai-ichi Life Insurance of Japan. Prudential has a lower market cap than its competitors and is smaller than AIG and MetLife. Prudential's quarterly revenue growth is well above AIG which suffered calamitously in 2008 and about at par with MetLife. Prudential has significantly lower operating margins (2%) than its competitors and the industry (10%). On other valuation ratios, Prudential appears underpriced relative to its peers. Prudential also offers a lower dividend yield than its chief competitors.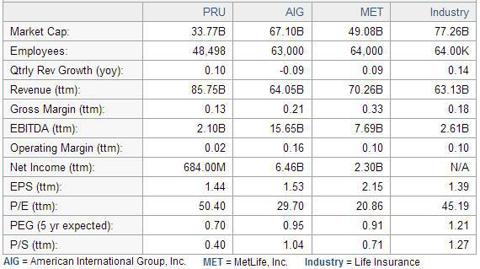 Click to enlarge
Context
The opportunity for market gain is due to the low interest rate environment. The 10 Year Bond is up 67% since early May. Prudential's earnings will expand with the higher net yield margins. The company has traded in the single digit Price-to-Earnings multiple due to the depressed bond yields.
Prudential held their analyst day on June 18th. John Robert Strangfeld - Prudential's Chairman, Chief Executive Officer, President and Member of Executive Committee - has taken an aggressive earnings expansion plan. Mr. Strangfeld stated his return on equity (ROE) goals: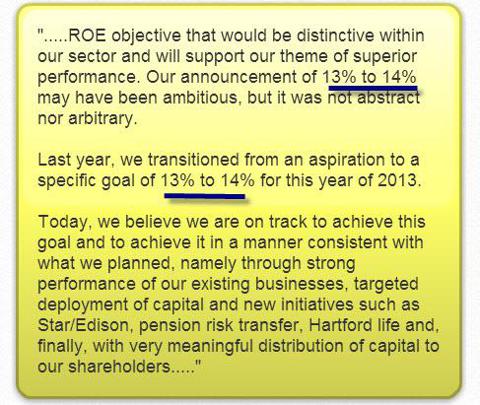 Click to enlarge
The recent ROE percentages have ranged between 8% and 10%. The company is on track for higher ROE returns. These will positively impact the net earnings.
Prudential will accelerate earnings per share as the Federal Reserve's Bernanke tapers Quantitative Easing.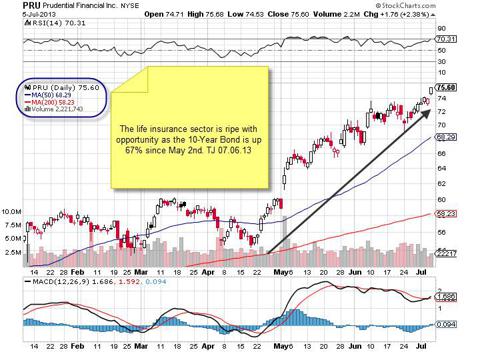 Click to enlarge
Timeframe: Multi-Year
Bernanke's QE program has lasted 5 years. Tapering is coming closer than ever. In fact, job growth should expand as Obamacare is delayed for 1 year. The country is rebounding from the Great Recession.
I believe the Treasury Bond yield will continue to rise. Many bond investors do not want to realize bond losses as rates spike higher. The interest rate hedgers have this same view as indicated in this image: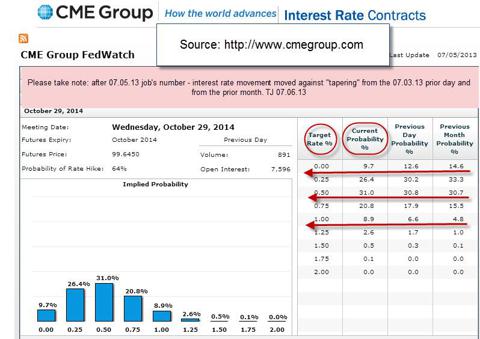 Click to enlarge
The above chart highlights the significant change in interest rate movement out to October 29, 2014.
My Time Line View
I expect Prudential to experience year over year growth in earnings. I believe this will continue for a multi-cycle due to the artificially, legally manipulated interest rates environment for 5 years. We are only in the 1st inning of a 9 inning game.

Click to enlarge
Prudential is trading at a 2013 EPS P/E multiple of 9x. This is time to recognize the easing of QE and who will profit. Life insurance companies with widening profit margins are an obvious candidate.
Company Background
Prudential Financial is one the world's largest and oldest financial services institutions - in business for the past 137 years with operations in over 38 countries. Prudential is dedicated to growing and protecting the wealth of its institutional and individual customers. Prudential, through Prudential Insurance Company of America, is also the second largest insurance provider in the world with $3.6 trillion in gross life insurance accounts worldwide. The company's products and services include life insurance, annuities, pensions, retirement accounts, mutual funds, trust services and asset management - giving Prudential one of the most diversified portfolios in the financial sector.
Company
Prudential Financial has three major operating divisions and six reporting segments. The three operating divisions are U.S. Retirement Solutions and Investment Management, U.S. Individual Life and Group Solutions and International Insurance and Investments. The six segments include Individual Annuities, Retirement and Asset Management (all three in U.S. Retirement Solutions and Investment Management); Individual Life and Group Insurance (both in U.S. Individual Life and Group Insurance) and International Insurance. International Insurance (40%), Individual Annuities (30%) and Retirement (14%) account for 84% of the company's attributed equity of $27.1 billion as of 12/31/2012.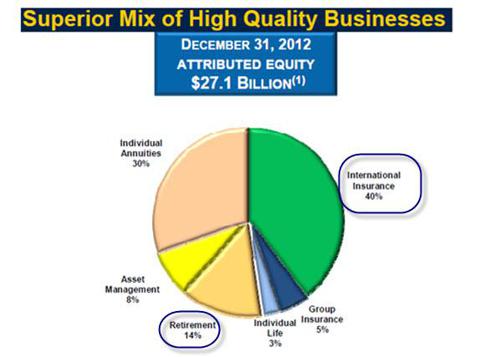 Click to enlarge
The graph below shows growth and Return on Equity prospects for each of the company's six segments along with expected volatility. International Insurance has low volatility, strong growth potential and good ROE prospects. Group Insurance ranks the lowest.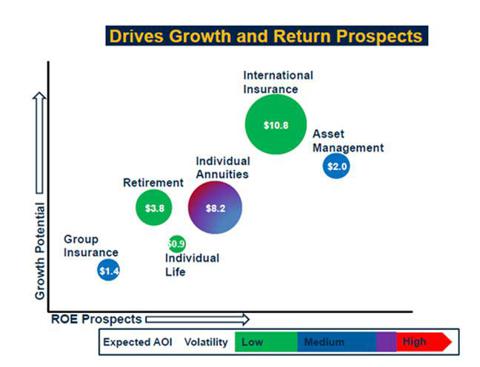 Click to enlarge
Acquisition of The Hartford's Individual Life Insurance Business
In January 2013, Prudential acquired The Hartford's Individual Life Insurance business for $615 million in a deal that was structured as a reinsurance transaction on approximately 700,000 life insurance policies with a net retained face value of approximately $141 billion. This acquisition will help the company expand its presence in the U.S. Individual Life Insurance market.
Prudential has $1.06 trillion in assets under management (AUM) with 61% invested in fixed income, 14% in equities, 3% in real estate, 2% in international securities and 20% in non-proprietary insurance, annuity and other investments (see pie chart below).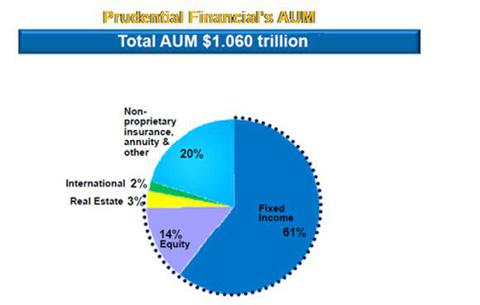 Click to enlarge
Principal Operating Divisions and Segments
1. U.S. Retirement and Investment Management
Individual Annuities are the largest revenue contributor under this division and the second largest contributor of all segments to total company revenues. Segment products include customized variable and fixed annuities for individuals where variable annuities have an automatic-balancing feature that helps hedge against equity market risk and volatility. However, individual annuities is one of the most competitive businesses in the insurance sector and sales can be volatile. This segment brought in $1.04 billion in revenue in 2013.

Click to enlarge
Retirement provides plan administration, customized participant education, actuarial advisory services, trustee services and institutional and retail investment funds. For institutional investors, Prudential provides guaranteed investment contracts (GICs), funding agreements and institutional and retail notes. For defined contribution plans, defined benefit plans, non-qualified entities and individuals, Prudential offers structured settlement annuities and group annuities. The Retirement segment had revenues of $638 million in 2013.
Asset Management had $827 billion in AUM as of December 31, 2012. Under this segment, the company provides investment management services, advisory services, mutual funds and structured products. Prudential invests a substantial portion of its AUM in fixed income assets to limit risk, stabilize returns and provide interest income for investors seeking principal protection and annual income. As of December 31, 2012, 78% of its total assets under management were in fixed income investments, 18% were in equities and 4% were in real estate.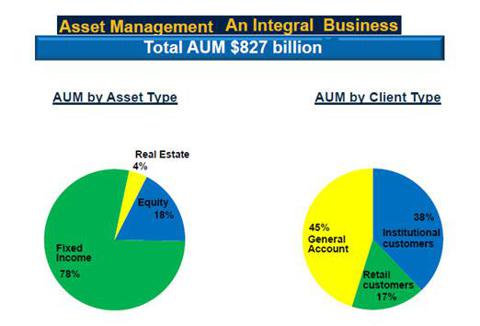 Click to enlarge
Over its first quarter of 2013, Prudential grew AUM to $840 billion (see table below for asset distribution by class).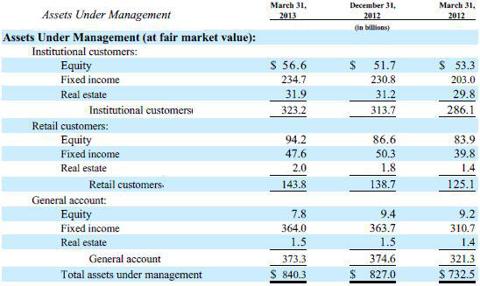 Click to enlarge
Overall, U.S. Retirement and Investment Management brought in $2.2 billion in revenues in 2012.
2. U.S. Individual Life & Group Insurance

Click to enlarge
Individual Life tailors and distributes individual variable life, universal life, term life and non-participating whole life insurance products. Prudential's January 2013 acquisition of The Hartford's Life Insurance business substantially added to the distribution and scale of this segment. 2012 revenues were $384 million, down from $482 million.
Group Insurance customizes and distributes life insurance, long-term and short-term group disability insurance, and corporate and trust owned life insurance to groups in the U.S. This segment also sells accidental death and dismemberment policies. Group Insurance reported a sharp drop in 2012 revenues to $16 million.
3. International Insurance

Click to enlarge
International Insurance has delivered solid and consistent revenue growth over the past four years, up from $1.65 billion in 2009 to $2.7 billion in 2012 at an 18% annual growth rate.
Prudential has international operations across Europe and Asia. Japan represents one of the biggest markets for life insurance with household wealth of $19.3 trillion, a growing retiree population and customers who prefer insurance to equity. In Japan, Prudential distributes tailored individual life insurance products and held investments worth $44 billion as of March 31, 2013. International Insurance conducts business abroad via its Life Planners and Gibraltar Life subsidiaries.
Closed Block Business
Under its Closed Block business, Prudential has certain life insurance and annuity policies that it no longer offers but are still in force, and related assets for benefits and dividend payments to such policy holders. The company's Class B shares, which are not publicly traded, reflect performance of this business. This business reported Q1 2013 operating income of $19 million, down from $30 million in Q1 2012. Class A and Class B shareholders jointly own Prudential Financial and results reported below consolidate Prudential Financial and Closed Block figures.
Management
John R. Strangfeld has served as Chairman and Chief Executive Officer of Prudential Financial since 2008. He earlier held multiple senior positions at the company and also worked in the company's London office for six years. Mr. Strangfeld holds a BBA and MBA and is a designated Chartered Financial Analyst. Charles F. Lowrey serves as EVP and COO of U.S. based businesses which manages over $1 trillion in assets. Before he joined Prudential in 2001, Mr. Lowrey headed J.P. Morgan's Real Estate and Lodging Investment Banking group. Mr. Strangfeld is assisted by a solid bench of qualified and experienced executives in the U.S. and in growth markets across the world.
Financials - 2013 First Quarter Ended March 31, 2013
Income Statement
Prudential Financial ended its first quarter of FY 2013 with a 6% increase in total revenue, negative GAAP earnings and a 74% increase in comprehensive income on unrealized gains on investments. The company reported total quarterly revenues of $10.2 billion, up from $9.6 billion in Q1 2012. At $7.1 billion, Premiums contributed 70% to revenues and were up 5% over the year-ago quarter. Net investment income contributed $3.6 billion, 36% of total revenue, and was up 10%. Policy charges and fee income increased 29% to $1.36 billion.
Benefits and Expenses were up 13% to $11.7 billion, offsetting gains in revenue with increases in insurance and annuity benefits and interest to policyholders accounts up significantly. The company recorded a GAAP net loss of $706 million or $1.55 per diluted share which was still 25% less than Q1 2012's net loss of $939 million or $2.03 per share.
Total comprehensive income almost doubled on $4.3 billion in net unrealized gains on investments, to $1.5 billion in Q1 2013 from $859 million in Q1 2012.

Click to enlarge
The table below shows standalone results for Prudential Financial Services without the Closed Block business - with revenue up 13%, adjusted operating income up 41% and comprehensive income up 74%. Realized losses and other charges negatively impacted results and drove the company to a GAAP net loss of $721 million, 25% better than in the year-ago quarter.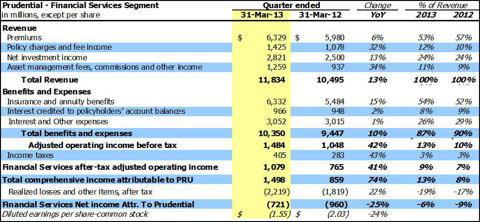 Click to enlarge
The table below shows operating income for each of the company's six segments.

Click to enlarge
International Insurance contributed $877 million to total adjusted operating income of $1.5 billion. U.S. Retirement Solutions and Investment Management was the next biggest contributor with $775 million. Segment-wise, Individual Annuities contributed $372 million, the most segment-wise to adjusted operating income followed by the Retirement segment at $228 million and Asset Management at $175 million. The Individual Life segment contributed $137 million or 94% of adjusted operating income for the U.S. Individual Life and Group Insurance division which contributed 10% to total adjusted operating income.
Balance Sheet
At the end of Q1 2013, Prudential had $407.5 billion in total investments of which fixed maturity investments accounted for 74.7% at $304.2 billion, commercial mortgage and other loans accounted for 9.4% at $38.5 billion and trading account assets accounted for 5.1% at $21 billion. The company had $14.5 billion in cash and cash equivalents, down 20%, and total assets were up 2.1% to $724.1 billion. Liabilities totaled $683.4 billion.
Long-term debt of $25.5 billion was 1.8-times cash, 4% of total assets and 63% of stockholders' equity. Stockholders' equity was up by 3.5% to $40.7 billion from $39.3 billion at the end of Q4 2012.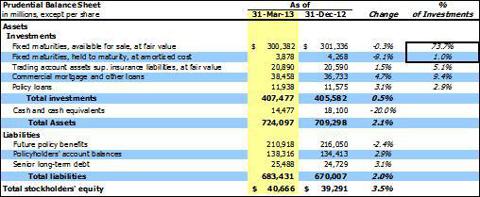 Click to enlarge
Fixed Income Investments
The table below shows Prudential's available-for-sale fixed maturity and equity investments.

Click to enlarge
$163.3 million or slightly over half of the fair value of the company's fixed investments are in corporate securities. Foreign government bonds account for $84.8 million (of which Japanese government bonds accounted for $69.1 billion). U.S. Treasurys only accounted for $16.4 billion of Prudential's fixed maturity investments (as of March 31, 2013).
Cash Flow
For the Q1 2013, the company generated $187 million in cash from operating activities, invested $3.7 billion and received $349 million from financing activities, customer deposits, etc., to end the quarter with $14.5 billion in cash.
Synopsis
Prudential Financial Services (without its Closed Block business) reported robust quarterly revenue growth (13%) and solid gains in adjusted operating income (up 41%) and comprehensive income (up 74%). International Insurance earnings were up 47%, Retirement accounts were up 25%, Asset Management inflows were up 15% and Individual Annuity account values were up 15%. The company reported a 25% reduction in GAAP Net Loss over the year-ago quarter on reduced realized investment losses.
The company also strengthened its U.S. Life business with the acquisition of selected assets and 650,000 new clients from The Hartford.
The valuation seems reasonable-to-undervalued when compared with peers. Moreover, rising interest rates likely will increase investment interest income and significantly boost results in the coming years. Prudential is also building upon its strong existing franchise and client base through acquisitions - with a solid set of domestic and international products and services. Prudential receives more than 50% of its adjusted operating income from international operations that were up 47% in the recent quarter, giving investors access to solid growth markets and currency diversification.
Dividends could rise on strong future earnings. I expect Prudential to offer 43.6% increase in share price. The valuations are priced primarily on low interest rate yields. Prudential offers the investor significant capital gains for a multi-year theme.
Disclosure: I am long PRU, MET, AIG. I wrote this article myself, and it expresses my own opinions. I am not receiving compensation for it (other than from Seeking Alpha). I have no business relationship with any company whose stock is mentioned in this article.