Many investors outside of China are weary of investing in the country's stock market, given the lack of transparency in the government and economy, and the tendency for asset prices to experience extreme volatility at seemingly unexpected times. This year has been no exception, with the Shanghai Composite Index seeing year-to-date declines of nearly 10%, in a largely bullish environment for global stocks.
Stock performance in China has been a rough mirror image of what has been seen in the S&P 500, which has made gains of over 15% during the same period. Performances like these favor positions in the SPDR S&P 500 ETF Trust (NYSEARCA:SPY), and paint a discouraging picture for ETFs that track the broader Chinese economy, such as the iShares FTSE/Xinhua China 25 Index ETF (NYSEARCA:FXI). Most of this year's weakness in China has come on the heels of the credit crunch in China, which bears some striking similarities to the 2008 credit crisis in the U.S. But, given this weakness, there are bargains that can be found in some of the country's more stable companies -- and one clear choice can be found in Baidu (NASDAQ:BIDU).
Cheap Valuations, Yet Poised for Growth
This recent downturn in Chinese stocks has pushed Baidu down by more than 22% over the last year. But from a fundamental perspective, this bear run is looking excessive. Earnings projections for the fiscal year 2014 are expected to rise by 27%, and post average increases of 20% for the following five years. Trailing P/E ratios have dropped significantly, and Baidu's T12 P/E is currently below 18.5. Trailing earnings are now seen at $4.84 a share, and with revenue for the 2013 fiscal year expected to rise by more than 30%, the outlook for the "Chinese Google" looks bright.
From a strategic perspective, moves toward investment in ad exchange services will place the company in new markets and in a position to capitalize on major increases in internet penetration in China, which currently stands at a very weak 40%. For a comparison, internet penetration in the U.S., South Korea, and Japan comes in closer to 80%, suggesting the upside potential for growth at Baidu is extreme. The Chinese government has clear-cut plans to increase these figures, and this creates substantial opportunities in online advertising for Baidu in the next half-decade.
External Offerings Modeled After Google
Currently, more than 90% of revenues at Baidu are generated from paid search services. Its new strategies allow the company to build on products offered at external sites. This is the approach that creates about 30% of the advertising at Baidu's U.S. counterpart, Google (NASDAQ:GOOG). As Baidu continues to build on successful approaches implemented by Google, profit performance is likely to unfold in markets and offerings that generate more sustainable revenues.
With Google competition relatively non-existent in China, Baidu is able to control about 70% of the country's market share in search spending and online ads. This scenario is highly favorable for the long-term prospects of the company, and suggests that market valuations now are excessively cheap. The main opportunity here is created by the fact that fundamentals and underlying strategy put the company in a position to greatly improve on its rates of growth.
Market Positioning
Given the extreme weakness in Chinese stocks, other comparisons to Google should be made. From its 2009 lows, Google took a leading role, and more than tripled alongside a broader recovery in U.S. stock markets. Similar performances can be expected at Baidu, once the negative influence of the Chinese credit crisis is removed from the picture. Looking forward, gains in Baidu's stock will be largely driven by improvements in margins and ad spending. Mobile search will be another bright point for the company, as the industry remains largely deficient in this area and Baidu's main goals include this as a clear priority.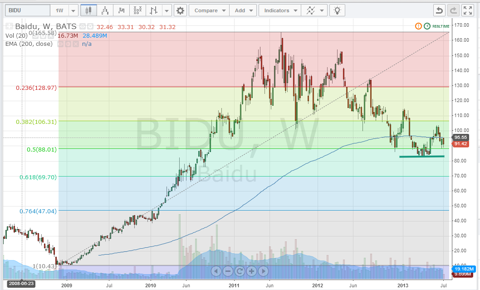 From a relative perspective, Baidu is positioned for major gains when compared to Google. Markets found support at $82.80 (the 50% Fib retracement of its long-term rally). As long as prices remain above $70, there is scope for additional gains back toward the middle of its monthly trading range near $120.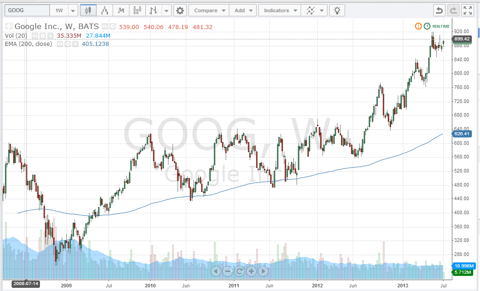 On a comparative basis, Google has become overbought, trading well above its 200-day EMA and at the upper end of its trading range. From here upside is limited, and any break of support at $840 turns the bias bearish.
Disclosure: I have no positions in any stocks mentioned, and no plans to initiate any positions within the next 72 hours. I wrote this article myself, and it expresses my own opinions. I am not receiving compensation for it (other than from Seeking Alpha). I have no business relationship with any company whose stock is mentioned in this article.