Actionable Items:
Highest Positive Spread: PIMCO High Income Fund (NYSE:PHK)
Focus Stock: Gabelli Convertible & Income Fund (NYSE:GCV)
Last Week's Focus Stock: Cohen & Steers Infrastructure Fund (NYSE:UTF)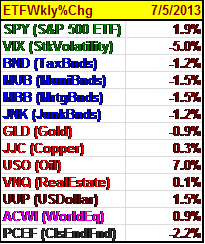 U.S Jobs Gains: American employers added 195,000 jobs in June. For April and May, it climbed by a combined 70,000. Wages rose and many of the jobs were services. While the unemployment rate is 7.6% (same as last month), the Feds would be happy if the rate was 6.5%.
However, rates are going up. Many bonds markets have been altered. The yield on 10-year Treasury notes rose by 0.10% and continued to rise to 2.718%, the highest level since August 2011. Rates on a 30-year mortgage have climbed from 3.45% in April to more than 4% in June.
Last month, investors in bond-focused mutual funds withdrew about $60 billion from such funds, according to the Investment Company Institute, a trade group.
ETFs' % Change Week-to-Week: Health Care (+3.5%), Small-Cap (+3.2%) and Financial (+2.9%) were the leaders this week over the previous week. AssetAlloc (-3.8%), Pacific-Asia (-1.6%) and EmergingMkts (-1.4%) were laggards for the week. Bond prices were (-1.0%). Both Gold (NYSEARCA:GLD) was negative (-0.9%) and copper (NYSEARCA:JJC) was a positive +0.3%. (See "Chart 1")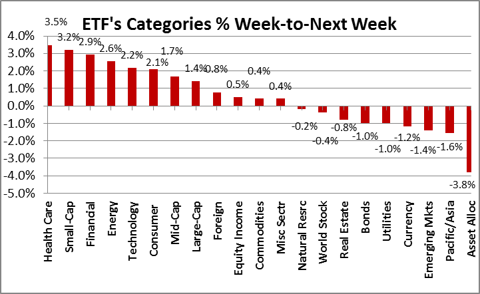 CEF Weekly Fund Type Performance: This week saw price rises for GenEqFnds (+0.4%), WrldEqFnds (-0.5%) and SpecEqFnds (-0.6%). The laggards were LoanPartFnds (-3.7), WrldEqFnds (-3.6%) and USMrtgBndFnds (-3.5). Some of the positive PrcNAVSprds were GenEqFnds, ConvtSecFnds and SpecEqFnds.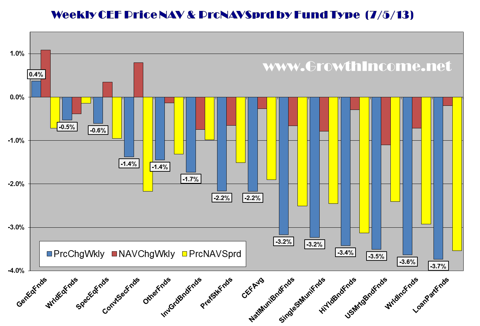 Highest Spread and Stock for the Week: Our "Highest Spread" for the week was PIMCO High Income Fund. PHK had a positive share price of +0.3% and a negative NAV of -2.8%. The PrcNAVSprd was +3.1% (a positive number may mean a future decline in share price).
PHK, a HiYldBndFnds, has a premium of 46.1%. The discount for HiYldBndFnds is a negative -2.5%. The total assets were $1.3 billion with leverage of 21.5% (Action-Rate Cumulate Preferred Shares). The rate of distributions is 12.5% of the annualized monthly yield (monthly yield of $0.1146 Income and $0.0073 return of capital). While interest rates will likely go up, the yield rate will likely go down. This yields may likely difficult to maintain. (However, I've been saying this for two years.)
Lowest Spread and Focus Stock for the Week: Gabelli Convertible & Income Fund was our "Focus Stock" of the Week. GCV share price was negative -3.6% and its NAV per share was a plus +1.3%. Its PrcNAVSprd decline was -4.9%. (Stock prices typically go up.)
The distribution is a managed distribution. GCV will have short- and long-term gains from quarter to quarter. Its quarterly distribution yield is 7.8%. Its net assets are $107.1 and its debt (Cumulative Preferred Shares) is 23.8%. Its shares discount to NAV is 2.8%.
Focus Stock & High Price for Last Week: Last week's "Focus Stock" for the week was Cohen & Steers Infrastructure Fund. UTF shares is +0.6% this week from last week (the stock was up 1.4% on Tuesday). The "Highest Spread" for the week is Cornerstone Progressive Return Fund (NYSEMKT:CFP) ("Highest Spread" seems to go down) where it went down a negative -0.8%.
Disclosure: I have no positions in any stocks mentioned, and no plans to initiate any positions within the next 72 hours. I wrote this article myself, and it expresses my own opinions. I am not receiving compensation for it. I have no business relationship with any company whose stock is mentioned in this article.