Wells Fargo (NYSE:WFC) reports its second quarter 2013 financial results before the bell on Friday, July 12, 2013. Analyst consensus is expecting $0.92 in earnings per share (EPS) on $21.2 billion in revenues for expected year-over-year growth of 12% and 0%, respectively.
While banks like JP Morgan (NYSE:JPM) and Goldman (NYSE:GS) and Morgan Stanley (NYSE:MS) have a revenue stream that is very sensitive to the capital markets and trading activities, WFC (to me anyway) is a combination of a super-regional bank with traditional spread-lending attributes, as well as some capital market revenues.
The point being that, depending on how you label WFC today, it can be thought of as well-positioned or not-so-well positioned for today's economy and capital market environment.
WFC is up 23% year-to-date from its $36 close at year-end, and is trading just $2 shy of its mid-September 2008 all-time high of $44.69.
The main issue for WFC the last three quarters, both in the back half of 2012 and then Q1 13, is that net interest margin (NIM) compression was much greater than the Street was expecting. NIM is the difference between a bank's cost of funds and the average yield on its earned assets (basically the difference between what a bank earns on its loans, assets, etc. versus what it pays to depositors.)
Probably the surprise for the Street was that traditionally WFC was thought of as having a very good and stable low cost source of funding, which helps its return-on-assets (ROA), but the NIM had compressed thanks to its mortgage portfolio, which couldn't be offset despite the low cost deposits.
Here is a quick look at what the Street is expecting from WFC from its various businesses in Q2 13:
Spread Income: The compression will likely continue but at a slower pace then previous quarters, as interest rates now are starting to rise, and the portfolio run-off looks to be diminishing (reinvesting maturing securities at lower interest rates).
WFC's NIM the last 4 quarters:
| | |
| --- | --- |
| Quarter | |
| q2 13 (est) | -1 bp's (est) |
| q1 13 | -8 bp's |
| q4 12 | -10 bp's |
| q3 12 | -25 bp's |
* Source: Deutschebank report dated 6/27/13
Mortgage revenues: For WFC, mortgage banking revenues are 25%-30% of total non-interest income for the bank. While the recent sharp increase in interest rates will likely slow re-financings, the real question remains, given WFC's 33% market share in mortgage origination, what does the growth rate of this business look like down the road as interest rates and mortgage rates normalize?
Trust/Investment/Capital Markets: Roughly 30% of WFC's total non-interest income, this revenue line should be a positive contributor this quarter to top-line results, given the 14% increase in the SP 500 year-to-date, and the fact that interest rates didn't really start to rise until May.
Lending/Loan Growth: Commercial and industrial loan growth is still modest while consumer loan growth is pretty strong. The improvement in consumer balance sheets off the 2008-2009 Financial Crisis has been substantial, and WFC should benefit from this. I don't think analysts are modeling any great improvement in business loan growth. This tends to be later in the economic cycle.
Credit: $200 million in loan loss reserves were released in Q1 13, as this number continues to decline, since credit continues to be a positive contributor for the sector. I do think credit and the EPS contribution from the release of reserves and less dollar provisioning is a shrinking story for the major banks and financials. These trends were discounted already by the end of 2012.
Valuation: Of all the major institutions we follow, WFC is trading at its highest premium to book value and tangible book value (TBV) relative to JPM, GS, MS, and a host of others, which speaks to the quality of the WFC's management and its ability to navigate through the post-2008 Financial Crisis and Dodd-Frank(enstein-ian) regulation.
Book value for WFC is roughly $28 per share while tangible-book is $22 per share, leaving WFC trading at 1.50(x) book, and 1.90(x) tangible book value.
On an earnings per share valuation, WFC is trading at 11(x) the expected 2013 estimate of $3.71 and 10.7(x) the 2014 estimate of $3.91 for expected year-over-year growth of 10% and 5%, respectively, in 2013 and 2014.
WFC's performance this year has been a pleasant surprise. With the stock up well in excess of the SP 500, the market could be telling investors that NIM will eventually re-set so that compression will stop and the NIM will eventually be positive once again, offsetting the drag that higher mortgage rates have on mortgage origination.
This is a very well-run bank, with one of the top management teams in the business. There is a reason this is a long-term Buffett holding.
Ultimately, I believe NIM expansion will start to occur probably beginning in the 3rd or 4th quarter of 2013, which will eventually replace the slowing refinancing business, both as a result of higher interest rates. The positive of NIM expansion should offset the negative from a slower mortgage business.
Technically, watch the $44 level. A trade above $45 on volume and the stock could run quite a bit higher.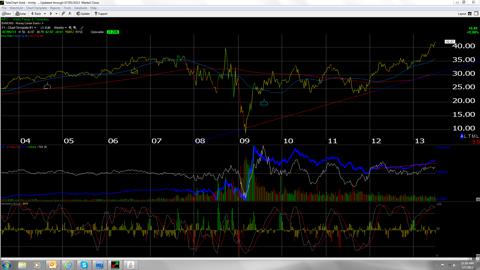 Disclosure: I am long WFC, JPM, GS, MS. I wrote this article myself, and it expresses my own opinions. I am not receiving compensation for it (other than from Seeking Alpha). I have no business relationship with any company whose stock is mentioned in this article.