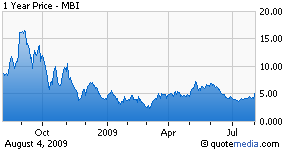 MBIA (NYSE:MBI) is expected to report Q2 earnings before the market open on Thursday, August 6 with a conference call scheduled for 8 am.
Guidance
Analysts are looking for EPS of (92c) on revenue of $307.75M. The consensus range for EPS is ($1.07) to (76c), according to First Call. Only one analyst set a revenue estimate for the company while two analysts set EPS estimates. MBIA's stock is jumping $1.13, or 25.34%, to $5.59 in mid-afternoon trading. The increase in the shares may be related to speculation that bond insurers, including MBIA, will be able to avoid paying their customers for investment instruments that received high ratings from the ratings agencies. Alternatively, the surge may have been caused by short covering before MBIA reports results.
Analyst Views
Meanwhile, two ratings agencies had negative outlooks on MBIA last quarter. Moody's downgraded MBIA's senior debt rating to Ba3 from Ba1 at the end of June, and the ratings agency has a negative outlook on the debt. Moody's said the rating reflects MBIA's continued stress as a result of its exposure to ABS CDOs and RMBS securities. Moreover, Moody's significantly increased its estimate for MBIA's losses from ABS CDOs. The ratings agency predicts that MBIA will eventually settle these exposures "under terms similar to a distressed exchange."
Early in June S&P lowered its rating on MBIA's variable-rate surplus notes. S&P has concerns about MBIA's continued adverse loss development within its insured portfolio. Meanwhile, 18 financial firms sued MBIA in May for splitting its business. Claiming that one of the businesses is insolvent, the plaintiffs contend that the move by MBIA was fraudulent. MBIA investors will listen for an update about the case on Thursday.