Microsoft (NASDAQ:MSFT) is the largest software company in the world. The company develops licenses and supports software, services and solutions for personal computers, servers, smartphones and other intelligent devices. Microsoft is best known for its ubiquitous Windows operating system and for popular applications such as its Microsoft Office Suite with Word, Excel, PowerPoint, Outlook, Publisher and Access. The company also develops and sells devices such as its Surface tablets and the hugely popular Xbox gaming console. In addition, Microsoft has long been trying to compete with established vendors such as SAP (NYSE:SAP) on enterprise applications such as Microsoft Dynamics and databases such as SQL.
Microsoft also offers a slew of online software and services such as Skype, Internet Explorer, Bing, SkyDrive, MSN and more, and is strongly pushing cloud computing. Microsoft products and services serve individuals, small/medium/large enterprises, governments and schools and universities, with a constant quest to integrate everything for greater productivity. With a $287 billion market cap and over $74 billion in cash and short-term investments, Microsoft is a technology-industry bellwether stock and a component of the Dow Jones Industrial Average, Nasdaq 100 and S&P 500 indices.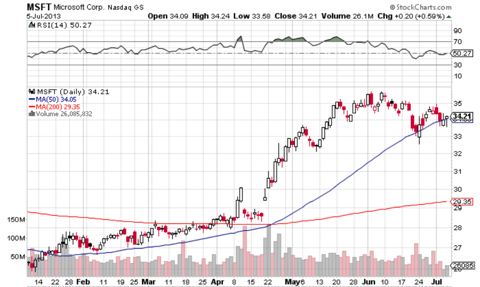 Dividends: $0.92 annualized, 2.8% yield
On June 12, 2013, Microsoft announced its fourth quarterly dividend of $0.23 per share ($0.92 annualized), payable September 12 and up 15% over the prior year quarter.
Microsoft paid its first annual dividend, $0.08 per share, in January 2003. In September 2004, the company moved to quarterly dividend payments and has since steadily paid and ramped up dividends to their current level of $0.23 per share.
With shares at $34.35 (June 26, 2013), Microsoft has a dividend yield of 2.8%, market capitalization of $287 billion and a price-to-earnings ratio of 17.7. Shares are up 14.4% over the past twelve months and rallied significantly since January, with year-to-date gains of 24.4%. After notching a high of $35.78 early in June, shares now hover near the top of their 52-week range of $26.26 - $35.78.
Investor Returns since IPO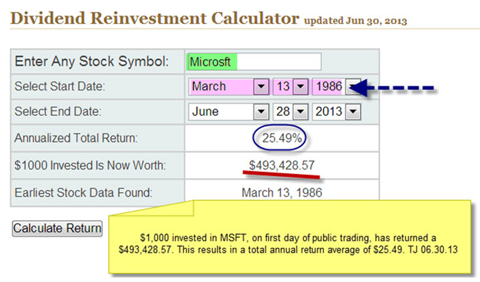 Share Buybacks: $1 billion in Q3 2013
During its recently concluded third quarter, the company bought back 36 million common shares for $1 billion under a $40 billion share buyback program authorized in September 2008 under which Microsoft has bought back $35.4 billion in shares.
The graph below shows the jump in dividends from $0.20 per share to $0.23, money spent on dividend payments and money spent on buybacks. The company was particularly active on buybacks in Q2 2013.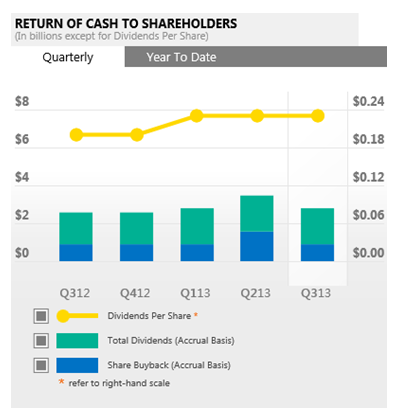 Company
Microsoft was incorporated in 1975 by Bill Gates and Paul Allen in New Mexico, USA. The company entered the operating systems software business in 1980 when it tried to sell its version of Unix, named Xenix. But the company's real success came with the development of the Microsoft Disk Operating System (MS-DOS) and by 1985 the company went full throttle with the launch of Microsoft Windows, a user-friendly graphical extension of MS-DOS. Today, Windows is the most popular operating system in the world but its dominance is under continuous assault from open-source alternatives such as Linux.
Shortly after launching Windows, Microsoft went public in 1986 and is now worth $287 billion. While the company has expanded its software and product base year-on-year since inception, many now accuse current CEO Steve Ballmer of mismanaging the company and worsening its culture. Ballmer has also been accused of wasting corporate capital by paying too much for pet acquisitions that do not translate into equivalent earnings such as the $8.5 billion Skype acquisition, its largest to-date.
Over the past six months, Microsoft has acquired four companies - Pando Networks in February, MetricsHub and NetBreeze in March InRelease in June. InRelease, its latest acquisition, specializes in application lifecycle management (ALM) services and Release Management solutions on Microsoft's .NET (dot-NET) platform.
53% of the company's revenues come from large enterprises, 21% from original equipment manufacturers such as computer makers who install Microsoft applications with their products and 20% from consumers (such as Xbox) and Internet services. Small and medium businesses bring in about 6% of sales.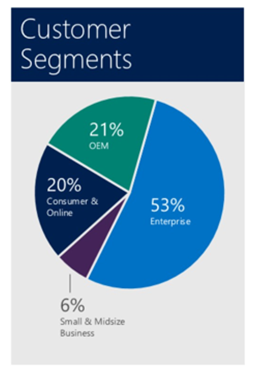 Microsoft has five operating segments - Windows Division (Windows & Windows Live Division), Server and Tools, Online Services Division (OSD), Microsoft Business Division (MBD) and Entertainment and Devices Division (EDD). Microsoft Office (under MBD) was the biggest contributor to total revenues while EDD had the highest sales in the second quarter (ended January 2013) on Christmas and holidays seasonality. Windows Division and Server and Tools also contributed significantly to revenues at 25% and 26% respectively.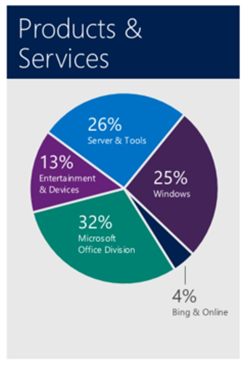 By geography, the US and Canada contribute 55% to Microsoft revenue while the rest of the world (ROW) brings in 45% of total sales.
Currently, the four biggest drivers of technology are cloud computing, social media, mobility and big data (which refers to the mining, analysis and management of ever burgeoning digital data). And Microsoft plans to capitalize on each.
Industry analysts estimate that by 2020, 30% of the IT industry will be in the cloud. In anticipation, Microsoft launched its own suite of cloud applications such as Windows Server 2012, Windows Azure, Office 365 and System Center infrastructure where businesses can download, upload and use applications across the cloud. The company's top brands include Windows 8, Office 365, XBOX 360, Surface, search engine BING, the MS-SQL database and Microsoft Dynamics for businesses.
Management
While Bill Gates is widely credited with Microsoft's hard-nosed success, he is no longer active in the company's daily operations which are led by Steve Ballmer as CEO. Ballmer joined Microsoft in 1980 as its first business manager and was appointed CEO in the year 2000. Ballmer is intimately familiar with Microsoft's core products and has overseen the tripling of revenues and the doubling of profits on his watch as CEO. However, many regard him as being brusque, arrogant and ill-suited to foster open communications, ground-breaking originality and innovation within the company, and there are calls for him to step down but he's staying for now.
Amy Hood joined Microsoft in 2002 and now serves as CFO. She is responsible for all financial functions, acquisitions, corporate strategy, internal audit and investor relations. Hood was deeply involved in the acquisition of Skype and Yammer. Before becoming company CFO, she was CFO of the Microsoft Business Division where she supervised productivity applications and services including Microsoft Office 365 and Dynamics ERP.
Competitors
Microsoft's closest competitors include International Business Machines Corporation (NYSE:IBM) and Oracle (NASDAQ:ORCL).

Microsoft is the largest IT software company in the world by market capitalization and revenue. The company has competitive price multiples with price-to-earnings and price-to-book ratios that are lower than the industry average. Microsoft's price-to-book value is comparable to Oracle but significantly lower than IBM, its biggest competitor. However, Microsoft 2012 earnings were lower than 2011 giving it a near-term negative earnings growth rate and the lowest Return on Equity (ROE) even though the company maintains a stronger dividend yield than its competitors. Microsoft is a safer stock compared to its competitors because it has lower debt-to-equity and lower debt-to-asset ratios.
Microsoft shares have rallied about 12% over the past year, Oracle shares are up about 8% but IBM shares have only moved up marginally.
Financials (Third Quarter Ended March 31, 2013)
Income Statement
Historically, the company's quarterly results follow seasonality with the highest revenues in its second quarter (Oct-Nov-Dec) due to sales increases in its Entertainment and Devices division with the holiday season and year end on the corporate calendar. Yet, the company reported solid revenues and earnings for Q3 2013.
Net quarterly revenue was up 18% to $20.5 billion from $17.4 billion in Q3 2012, a gain of $3.1 billion. Revenue gains were tied to the launch of new products such as its Windows 8 operating system, Surface tablet device and Office 2013, partly offset by dropping PC sales.
Cost of revenue was up 21% or $835 million on higher new product introduction costs. Gross profit climbed 17% to $15.7 billion from $13.5 billion. Operating expenses were up 14% and net income jumped 19% to $6.06 billion or $0.72 per diluted share from $5.6 billion or $0.60 per share.

Revenue at its Windows division was unchanged at $4.6 billion and brought in 23% of total revenue. The Microsoft Business division was the biggest contributor with $6.1 billion in sales (30% of revenue), up by 5% over the year-ago quarter. Revenue from the Entertainment and Devices division jump the most, up 33% to $2.1 billion on the launch of the new XBOX 360; this division contributed 10% to total revenues. Server and Tools contributed 25% to total revenues with $5 billion, up 11% over Q3 2012. All divisions except Windows reported strong sales growth. Weakness in Windows sales reflects a general slowdown in PC sales as individuals and businesses focus more on mobile devices and tablets.

Operating income was up 19% overall to $7.6 billion, a gain of $1.2 billion. Windows, Server and Tools and Microsoft Business reported strong operating margins as the biggest contributors to total revenue and earnings. Earnings declined over the year-ago quarter for Windows but improved for all other divisions with losses significantly reduced in Online Services, Entertainment and Devices and Other.

Balance Sheet
At quarter end, Microsoft held $5.2 billion in cash and cash equivalents and $69.2 billion in short-term investments for a total of $74.4 billion in tap-able assets, $9.2 billion in net property and equipment and $14.7 billion as goodwill. Total assets stood at $134.1 billion.
Total liabilities were $57.4 billion including $11.9 billion in long-term debt, up 11.5% and $1.2 billion. Long-term debt is 16% of cash and investments, 9% of total assets and 16% of equity, and not at all a concern for this cash rich company. Total shareholders' equity increased 15.6% to $76.7 billion from $66.4 billion nine months ago (June 30, 2012).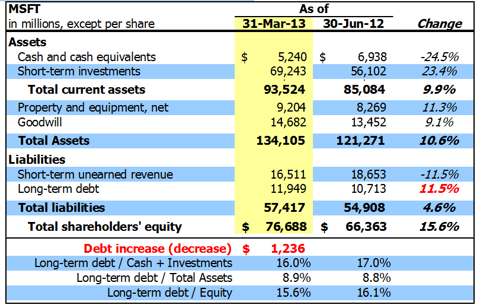 Cash Flow
The company generated $9.7 billion in net cash from operating activities, used $2.7 billion on stock buybacks ($1.03 billion) and cash dividends ($1.9 billion), and used $7.6 billion on net purchases of investments and new property and equipment.

Synopsis
Microsoft is the world's largest software company by revenue and market capitalization. Over the years, the company has incrementally diversified its revenue streams, partly through internal developments but mainly through acquisitions. Margins on software are fairly high but lower margins on hardware and new products have brought gross margins down to the 77% range. As a result, Microsoft is a cash generating machine that has built up a war-chest of over $74 billion over the years. While its core Windows, Server and Tools and Microsoft Business divisions bring in 77% of revenue, the company is expanding its offerings in the online, tablet computing, cloud computing and gaming space, with mixed success and continued operating losses, though at a diminishing pace.
While Microsoft has a massive war chest for acquisitions, it isn't the acquirer of choice and has to often over-pay for acquisitions, such as its hugely criticized $8.5 billion Skype acquisition. Entrepreneurs do not see Microsoft as the ideal partner to grow their companies autonomously and believe Microsoft's desire to integrate everything with its legacy products can be a hindrance to innovation. So while management has the wallet to acquire new businesses, its corporate culture appears to be holding it back. Yet, the company continues to deliver strong growth in earnings.
The company has steadily ramped up dividends and this trend is expected to continue, given that Microsoft generated close to $10 billion in cash from operations this past quarter. Its shares are up significantly and could see consolidation if there is a broad market downturn. Existing investors should consider selling covered calls and new investors should consider holding off until shares correct. However, over the long run, Microsoft is a reliable core holding with little volatility and moderate but dependable high-single to mid-double digit % returns.
Conclusion
MSFT's management has recently indicated it will consider splitting the company into separate divisions. The company has returned positive returns in recent months. The balance sheet is pristine. The yield is acceptable. The stock buyback supports the predictable EPS and dividend growth. I would like to see the gaming division spun off from the enterprise product line. This is a great blue chip company. I just don't know how much more upside the stock has - until EPS growth appears in constant double digit figures.
Disclosure: I am long MSFT. I wrote this article myself, and it expresses my own opinions. I am not receiving compensation for it (other than from Seeking Alpha). I have no business relationship with any company whose stock is mentioned in this article.