At the beginning of last week, I outlined an investment hypothesis for lower oil prices in an article titled "A Catalyst For Lower Oil Prices". The crux of this hypothesis was that slowing growth in China coupled with increased U.S. domestic production would lead to lower prices in WTI crude oil (NYSEARCA:USO). As evidence of the former, I cited the Shanghai stock index and China's PMI numbers, to support the latter, I used EIA's oil inventory and U.S. production data.
The price action this past week told a different story, with crude rallying from $96.00 at the beginning of the week to close at $103.61.
click to enlarge images


The Cause of the Rally in WTI Crude Oil
The most widely cited catalyst for the rally in crude oil was the military coup in Egypt, which was reported to threaten the safe passage of goods through the Suez Canal. Although this may have increased the risk premium in oil slightly, it is doubtful that it was the primary cause for two reasons.
First, Egypt is an oil importer rather than exporter, and the Suez Canal only transports approximately 101,000 barrels of oil per day, or 0.1% of global demand. Not to mention, even if Egypt were to attempt to close the Suez Canal, I suspect it would last all of 5 minutes before the U.S., China and Russia reopened it.
Second, if it was simply a matter of risk premium, both WTI crude oil (NYSEARCA:CRUD) and Brent crude oil (NYSEARCA:BNO) would have seen equal increases. This wasn't the case, as WTI crude oil increased substantially more than Brent crude oil.

This caused the spread in WTI to Brent Crude Oil Spread to narrow to levels not seen since early 2011.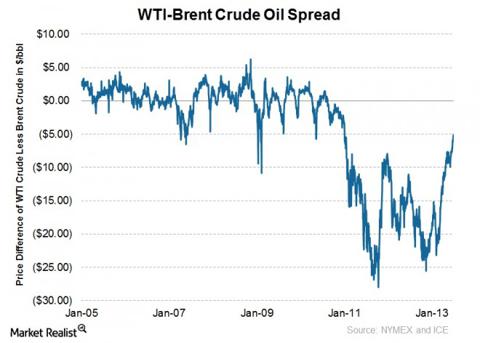 Since Egypt is not a vital component of the world's oil supply and the narrowing of the WTI-Brent Crude Oil Spread disproves any risk premium hypothesis, what was the catalyst?
The true catalyst for the rally in WTI crude oil was one of the biggest depletions in oil inventories in the past 10 years.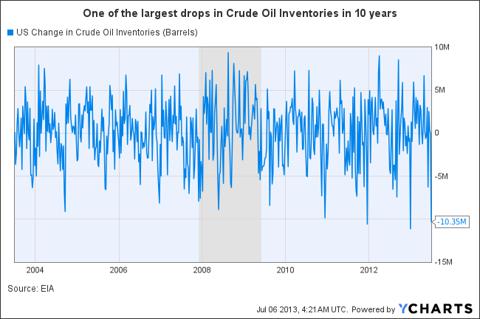 The -10.35 million barrels of oil change is the 3rd largest drop in inventories since July 2003. This drop almost brings crude oil inventories in line with the top end of the 5 year inventory range.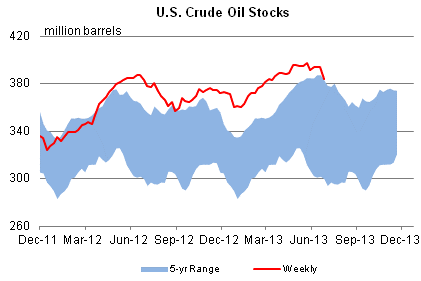 Price Action after a Large Depletion of Inventories
As the U.S. Change in Crude Oil Inventories chart demonstrated, this is not the first large drop in crude oil inventories. Since 2009, there have been 5 outlier falls in inventories.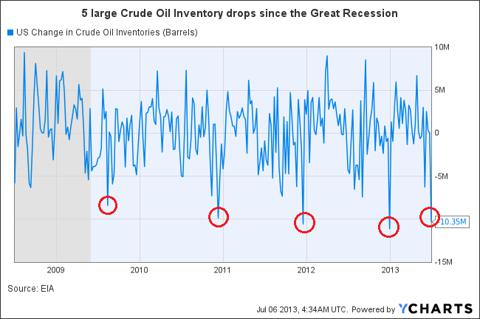 Date

Change in Inventories
(millions of barrels)

August 14th, 2009

-8.40

December 10th, 2010

-9.85

December 16th, 2011

-10.57

December 28th, 2012

-11.12

July 28th, 2013

-10.35
What is interesting about these falls is that majority of them have happened in the winter, with the only recent summer precedent in 2009.
Overlaying the WTI Crude Oil Spot Price on this chart, a pattern begins to emerge, which is not good for my original investment thesis.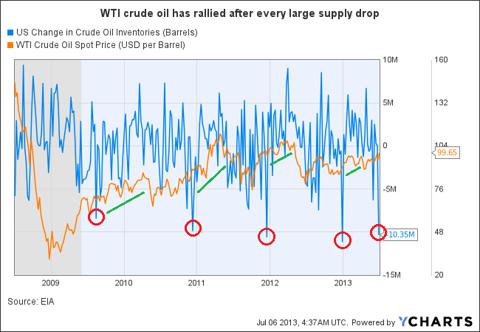 What is especially concerning about this chart is the sustained uptrend after the previous summer depletion of inventories in 2009.
My Next Move in WTI crude oil
The past does not necessarily repeat itself, but it usually rhymes. Therefore, if this massive drop in inventories is not followed up with a massive increase in inventories, it appears oil prices will be rising in the near term. U.S. production and China's slowdown have not been enough to cause downward pressure in oil prices.
The last hope for the investment thesis is that it is not 2009, but 2013, and the supply and demand picture for WTI crude oil is much different now.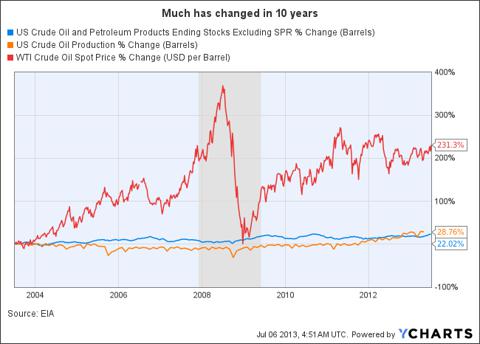 Over the past 10 years, U.S. Crude Oil production has increased 28.76%, while U.S crude oil inventories have increased 22.02%. Economics 101 would tell you that this would lead to lower prices, but the world is a complex place. Over this same time period, WTI crude oil prices have instead increased 231%. Whether the emerging markets weaken or QE is tapered, the price of WTI crude oil relentlessly pushes upwards.
This may be a case of the market remaining irrational longer than I can remain solvent. The rally in oil this past week caused me to take one of the largest losses in my investing careers, erasing more than an entire year of gains. Unfortunately in the world of leveraged trading, this is an outcome you must be mentally prepared for. My trading account is made up entirely of my own capital, I know the risks I'm taking and the rewards I seek. All one can do is pick themselves up, dust themselves off and rebuild.
At this point, I'm going to try to maintain my short WTI crude oil position until the July 10th EIA Crude Oil Stocks Change report or an earlier indication of where inventories are going. If there is a large pullback, I may exit the position and move on. I still see the increase in U.S. oil production as a game changer for WTI crude oil prices, but the time frame may be longer than I originally expected.
Disclosure: I am short USO. I wrote this article myself, and it expresses my own opinions. I am not receiving compensation for it (other than from Seeking Alpha). I have no business relationship with any company whose stock is mentioned in this article.
Additional disclosure: I am actively trading FOREX and CFDs and may either be long or short the instruments discussed at the time of this article's publication. To see a complete list of my open trades in real time, visit mcnultycapitalmanagement.com.