Overview
While Gold (NYSEARCA:GLD) has been one of the worst performing commodities of the year, the Gold Miners (NYSEARCA:GDX) have fared even worse. As the "risk-on" trade has powered markets this year, with little inflation many have removed Gold from their portfolios as it is viewed as a protector of wealth in both inflationary environments and in economic downturns. Of course as the markets have performed very well, this sort of hedge has underperformed rather significantly; the SPDR Gold Trust is down over 27% YTD while the Market Vectors Gold Miners ETF is down more than 49% YTD. The underperformance of the gold miners is to be expected, given the dismal performance of the commodity in addition to the additional risks with holding the mining companies. Many of the gold mining companies are trading at multi-year lows with reasonable valuations, strong dividend yields and breakeven production prices below the current Gold price. These conditions have put both the metal and the mining equities in a strong position to benefit in future market corrections and in inflationary environments. While buying the gold miners can be a very risky play and downside is still present, investors focused on long term performance may benefit significantly as the economic cycle plays out over the next few years and Gold returns as an inflationary hedge and into investors' portfolios.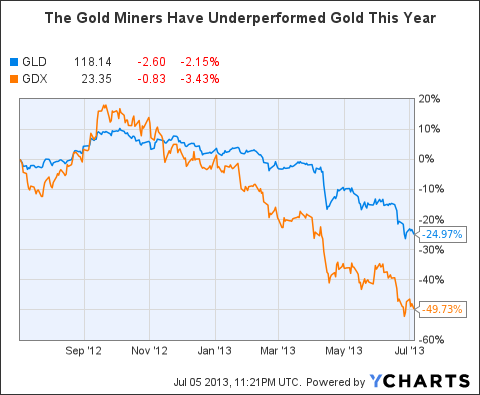 GDX vs GDXJ
Market Vectors offers two ETFs to play the gold mining space: the Market Vectors Gold Miners ETF and the Market Vectors Junior Gold Miners ETF (NYSEARCA:GDXJ). The main difference between these two products is that the former owns larger and more proven companies in the industry and the latter owns junior producers with a shorter track record and often focusing on specific geographic plays and certain mining projects. There is a rather large difference in performance, as the junior gold miners are generally associated with more risk as they often need higher gold prices to break even on certain projects than the larger counterparts. Additionally, the juniors have more exposure to risks associated with operating in a limited geographic area as well as with a smaller mine portfolio. The discrepancy in volatility will likely remain in the future and investors will ultimately choose which ETF they want to gain exposure to. Currently GDX charges 52 bps per year in fees while GDXJ charges 55 bps. Market Vectors states that GDX's portfolio has a weighted average market cap of $10 Billion, trading at around 14.3x TTM earnings while GDXJ has a weighted average market cap of $500 Million and trades approximately 10x TTM earnings, all as of 5/31/13. Additionally, the GDXJ recently underwent a 1:4 reverse split.
Overview
While the gold miners have significantly underperformed both the US stock market and gold YTD, there is significant opportunity for investors with a long time horizon, as gold will eventually exit its current downturn leaving room for miners to benefit. However, current market downside is present and the bear market for gold and the gold miners could remain for some time.
Disclosure: I have no positions in any stocks mentioned, but may initiate a long position in GDX, GDXJ over the next 72 hours. I wrote this article myself, and it expresses my own opinions. I am not receiving compensation for it (other than from Seeking Alpha). I have no business relationship with any company whose stock is mentioned in this article.
Additional disclosure: I have exposure to Gold through my holding of The Central Fund of Canada (NYSEMKT:CEF).