On July 2, Warren Buffett and Berkshire Hathaway (NYSE:BRK.A) (NYSE:BRK.B) proceeded to do what they do best. The investment conglomerate added an impressive 639,200 shares of DaVita HealthCare Partners Inc. (NYSE:DVA) according to the Form 4 signed off by Buffett on July 5. The average purchase price of the multiple transactions came out to be $114.78, representing a transaction value of $73.37 million. Altogether, Berkshire Hathaway now holds 15,613,106 shares of DaVita upon completion of the purchases.
DaVita is a leading provider of kidney care within the United States. The company delivers dialysis services to patients with chronic kidney failure and end-stage renal disease. As of March 2013, the company operated or provided administrative services at 1,991 outpatient dialysis centers serving nearly 156,000 patients.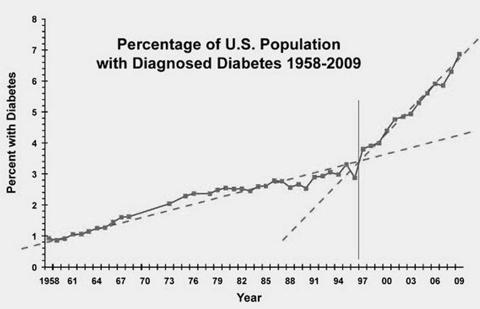 Click to enlarge
(Click to enlarge)
What has made DaVita such a promising investment has been the long-term story that continues to unfold. Sadly, the United States remains one of the most prominent nations where the need for kidney services has been rapidly growing. Seen in the graphic above, the unchallenged rise of diabetes has served as a stark indicator of future demand when it comes to dialysis. As seen in the graphic below, revenue growth has also accelerated for the company in recent years.
DVA data by YCharts
The Surprise Medicare Cut
On July 1, shareholders of companies specializing in dialysis received a rather unexpected jolt. The Centers for Medicare & Medicaid Services issued a proposed rule that would cut spending to large dialysis organizations in calendar year 2014. The proposed rule changes lower overall Medicare payments for end-stage renal disease by 9.4%. As a result, this lowers payments for large dialysis organizations by 12% in 2014.
As a result, large public companies such as Fresenius Medical Care (NYSE:FMS) and DaVita took a dive as shareholders digested the news. As the world's largest provider of products and services to people requiring kidney dialysis, Fresenius Medical bore the largest hit. DaVita also suffered a blow as its shares fell nearly 6%.
In light of this news, the following represents three reasons why and why not to consider DaVita as an investment going forward:
3 Reasons Why:
It remains theorized that the cuts may be scaled in over multiple years. As a result, the action could soften the blow to revenue growth going forward. This would make the recent sell-off appear as a possible overreaction.
The long-term trend for dialysis demand remains unchanged. Even though revenues may take a short-term hit, the recent decline in share prices may suggest an ideal long-term entry point. The company is trading roughly 12% off of its all-time highs set in May.
Strong insider support may provide tangible share price support going forward. As witnessed by Buffett's recent purchases, the news has proven nothing more than an ongoing opportunity for increasing his company's investment in DaVita. Buffett's most recent purchases accounted for about 0.6% of the company's outstanding shares.
3 Reasons Why Not:
The size of the reimbursement cut was at least 3x higher than expected. As a result, it may be harder for DaVita to grow its U.S. business anytime soon even if the reduction is phased in.
The negative impact on the business could lead to additional analyst downgrades. As analysts continue to digest the news, the possibility of future downgrades could lower the current share price further.
DaVita may be forced to consider cost-cutting measures. As a result, this could possibly lead to facility closures and further hamper the impressive growth thus far seen.
As of July 5, DaVita now trades with a $12.12 billion market capitalization. The company holds $16.4 billion in total assets, but over $11.1 billion of this is accounted for in goodwill and other intangible assets. Additionally, the company carries total liabilities of $12 billion. Of this, a little over $8.27 billion is attributed to long-term debt.
Conclusion:
It remains hard to be a bear on DaVita when Warren Buffett is buying, but DaVita is also far from undervalued at its current levels. The company is truly placed in a niche industry experiencing a long-term growth trend. Yet the recent outlook of future Medicare payments should do little to comfort shareholders in the present. From a balance sheet perspective, the company appears highly leveraged. This may prove to be harmful should cash flows take a significant hit.
However, insider support remains strong nonetheless. This in itself could help aid in the company's recovery in terms of a falling share price. It remains yet to be seen if DaVita can sustain its growth going forward, and whether it was that growth which was propping the share price to begin with. Shareholders should continue to remain cautious with DaVita over the next few months.
Disclosure: I have no positions in any stocks mentioned, and no plans to initiate any positions within the next 72 hours. I wrote this article myself, and it expresses my own opinions. I am not receiving compensation for it (other than from Seeking Alpha). I have no business relationship with any company whose stock is mentioned in this article.