Most of the stocks in my portfolio tend to be on the "value" side of the equation. They are predominantly long-term holdings, especially on the income side of my portfolio. I also have small long-term holdings in numerous aggressive small-cap plays in speculative sectors such as biotech, E&P, and small-cap technology. I go into these positions intending to hold them for the foreseeable future. My shorter-term plays tend to consist of bull option call spreads on cyclical plays that I think could shoot higher given the right conditions, but I don't want to hold the equity should those conditions not materialize.
One exception to these strategies is stocks that have sold off but have attractive valuations and some solid longer-term tailwinds. I am comfortable holding these stocks at their current price levels, but I will re-evaluate for disposal should they recover and rise to hit my price target. Their earnings tend to be lumpy and their quarterly volatility and beta is higher than other positions in my "value" portfolio. One stock that I like right now in this vein is The Greenbrier Companies (NYSE:GBX), which has dropped ~15% since missing earnings estimates recently.
Company Overview
The Greenbrier Companies is one of leading manufacturers of railroad freight car and equipment in North America and Europe. It also manufacturers barges in North America and has a railcar leasing and refurbishment business. The majority of its revenues come from railcar manufacturing.
Earnings History and Opportunity
As can be seen from the chart below, the company's quarterly earnings vs. the consensus have been sporadic over the last six quarters. The last time the company had a major miss in earnings was in Q3 2012. The stock dropped from ~$19 a share to around $16 a share on the results. Over the next six months, the stock added more than 50% to its value as it beat consensus the next two quarters due to strong trends in demand for railcars -- especially tank cars. After the company's most recent earnings miss, the stock has dropped to ~$21.50 a share from ~$25 a share.
Click to enlarge images.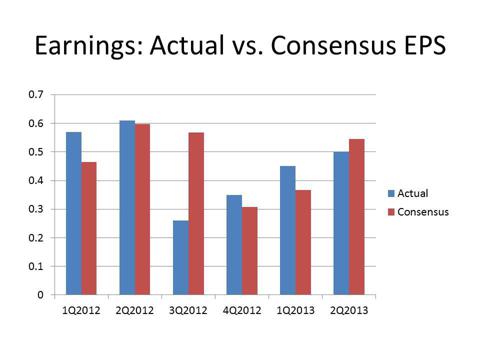 Backlog
One of the most compelling things that Greenbrier has going for it is its increasing and accelerating backlog (see chart). It is also selling higher-priced/higher-margin types of cars, such as its new Multi-Max automotive railcar and tank cars to meet the increasing demand driven by more oil being transported via rail.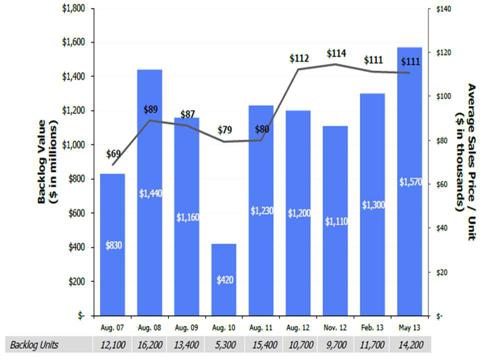 Analyst Commentary
The 11 analysts who cover GBX have a $27 median price target on the shares. Stifel Nicolaus upgraded the shares from Hold to Buy in mid-March. Longbow Research went from Neutral to Buy in mid-April, and tagged GBX with a $29 price target. Stern Agee did the same a day later with a price target of $28 a share, noting the reasons for the upgrade: 1) strong growth in high-margin backlog; 2) improved non-tank car order flow; and 3) GBX's margin improvement initiative. Finally, Jefferies, which has the low price target on GBX, recently upped its price target by $1 a share to $23 a share -- even after the company's recent earnings miss.
Margin Improvement
As previously noted, the richer product mix in the company's backlog should raise margins (40 bps) going forward. It is also closing eight of its 38 wheels, parts and repair facilities, and has other cost initiatives in the works that should increase gross margins by 200 bps to 13.5% by the end of 2014. This seems reasonable given the company achieved this level of gross margins in Q3 2012.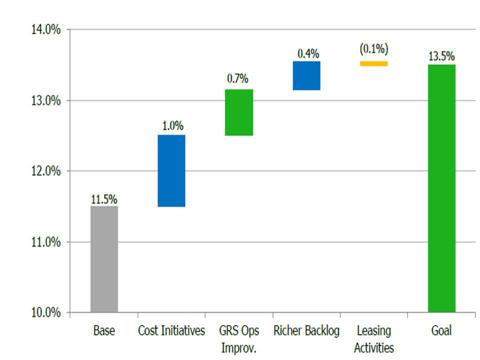 Valuation and Balance Sheet
Revenues are expected to grow in the double digits in the next fiscal year on its expanding delivery schedule. GBX is selling for ~8.6x FY 2014's projected earnings, which is a deep discount to its five-year average (21.1). The company has almost quadrupled operational cash flow since the end of FY 2010. The company has a solid balance sheet, and management is focused on using cash flow to reduce debt further in the quarters ahead.
Summary
Greenbrier is a solid pick after its recent ~15% decline. It has a large and growing backlog of orders and is cheap at under 9x forward earnings. Gross margins look as if they should be on the upswing, and good growth in revenues can be expected in FY 2014 (which commences in August). I would look for the stock to regain a good part of post-earnings decline by the time the company reports again in early November. My end-of-the-year target is for $25 (its level prior to earnings disappointment) to $27 (the median analyst price target) a share by the end of the year. If it does hit this target range, I will re-evaluate holding the position longer at that time.
Disclosure: I have no positions in any stocks mentioned, but may initiate a long position in GBX over the next 72 hours. I wrote this article myself, and it expresses my own opinions. I am not receiving compensation for it (other than from Seeking Alpha). I have no business relationship with any company whose stock is mentioned in this article.