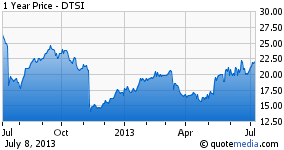 DTS (NASDAQ:DTSI) is a leading provider of premium quality, discrete multi-channel audio for cinema. Today, every major film studio in the United States uses DTS multi-channel digital sound, and virtually all major Hollywood feature films are released with soundtracks in the DTS format. Founded in 1990, DTS introduced its master-quality sound with the release of Steven Spielberg's Jurassic Park. Since then, the company has expanded into the music business. In 2012, DTS acquired SRS Labs, a leader in audio processing and enhancement.
In terms of competition, Dolby Laboratories is DTS's primary competitor. Dolby was founded over 40 years ago and for many years was the only significant provider of audio technologies.
Investment Thesis
DTS is positioned to benefit from the increasing use of network-connected TVs. For example, Samsung's 2013 network-connected TVs will support the delivery and playback of DTS HD audio technologies. Also, later this year and into 2014-2015, DTS will benefit from the next game console cycle. Further, DTS technology is incorporated and being incorporated into an increasing number of smartphone models. Lastly, DTS did deals with HP (NYSE:HPQ), ASUS, Toshiba (OTC:TSHTF), HTC (OTC:HTCCY), LG (NYSE:LPL), Huawei, and Qualcomm (NASDAQ:QCOM). Thus, DTS is well positioned to increase revenue over the next few years.
Next, the ability to stream video content allows consumers to consume more movies and television shows than they would otherwise. Instead of following the schedule set for them by decision makers at the television stations, consumers can decide when and where to consume content. This trend is likely to continue. As the trend continues, consumers will demand higher quality audio from their streaming movies and television shows, which benefits DTS.
With that in mind, I model revenue growing 50 percent to $150M within 3-7 years, 2015-2019. The operating margin should be about 23 percent; the net income margin should be around 15 percent. Net income is forecasted to grow to $22.5M. Assuming a similar multiplier model valuation, DTS could have 50 percent upside within the next 3-7 years. Readers should note that the model's assumptions are conservative and that revenue could grow 100 percent in the next 3-7 years.
Risks To Outlook
A continued decline in optical disc based media consumption.
The inability to penetrate the on-line and mobile content delivery markets.
The inability to maintain a sufficient amount of entertainment content released with DTS audio soundtracks.
A decline in retail prices for consumer electronics products.
The loss of one or more key customers.
Solvency & Liquidity
Does DTS have enough liquid assets to meet its short-term obligations? How about its long-term obligations? To answer these questions, the solvency and liquidity ratios are used by professional investors. Specifically, the current ratio, quick ratio, financial leverage and debt to equity ratio are examined.
DTS is liquid as measured by both the current ratio and quick ratio. In fact, the company may be too liquid, which (given its size) isn't a negative. The financial leverage ratio is low and so is the debt to equity ratio, but DTS took on some debt in 2012. That brought the debt to equity ratio to 0.17; debt is 17 percent of equity.
DTS is liquid and solvent. Thus, DTS has the ability to meet its short-term and long-term obligations.
Valuations
Valuation is a critical component of equity analysis. I use the multiplier model valuations to value common equity shares. The model is employed in a variety of ways; there are comparisons to the five year average valuations. Also, there are comparisons to the industry valuations. Lastly, there are the time series valuations and cross sectional valuations. The combination gives a clearer picture of the relative valuation of the common equity shares.
| | | | |
| --- | --- | --- | --- |
| | DTSI | Industry Avg | DTSI 5Y Avg |
| Price/Earnings | | 38.0 | 31.8 |
| Price/Book | 2.2 | 4.3 | 3.5 |
| Price/Sales | 3.7 | 3.9 | 6.2 |
| Price/Cash Flow | 42.2 | 17.4 | 20.7 |
Relative to its five-year average valuations, DTS is a bit undervalued. On an absolute basis, DTS is fairly valued. Compared to its recent trading history, DTS is undervalued. Also, compared to the industry DTS is undervalued. Thus, DTS is undervalued. Readers should note that cash flow was lower than normal in 2012.
Including the financial performance forecast, DTS could be a great long candidate as it is not currently overvalued and is forecasted to grow 50 percent to 100 percent in the next few years.
Disclosure: I have no positions in any stocks mentioned, and no plans to initiate any positions within the next 72 hours. I wrote this article myself, and it expresses my own opinions. I am not receiving compensation for it (other than from Seeking Alpha). I have no business relationship with any company whose stock is mentioned in this article.