Last week, I had a change of heart about Amarin (NASDAQ:AMRN), a stock I had shorted and was skeptical of in the past. Based on the company's waning valuation, the stock price being crushed in the face of semi-consistent prescription data, and a short trade that profited over 30% - I argued that it was time to cover your short and go long on Amarin.
With Amarin down yet again this morning at the open (currently $5.65), I'm making my outlook on Amarin a buy and hold through the end of 2013. I think the stock bottoming against the steady prescription numbers we continue to be privy to make the company a bargain at this point. I'd be a buyer here.
If you had went long at $5.65, you'd already be up about 9%. Say what you want about my quickly shifting positions on a stock, but it's all about valuation, finding opportunity - and then cashing in.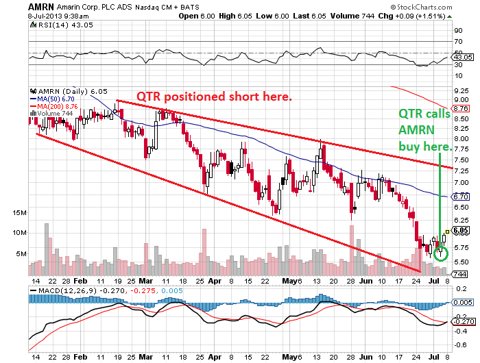 Click to enlarge
(Click to enlarge)
Yesterday, Amarin's Vascepa reported 4380 total prescriptions for the week of 6/28/13, another small nudge upward.
From its website, "Amarin Corporation is a biopharmaceutical company focused on the commercialization and development of therapeutics to improve cardiovascular health. Amarin's product development program leverages its extensive experience in lipid science and the potential therapeutic benefits of polyunsaturated fatty acids. Vascepa (icosapent ethyl) is Amarin's first FDA approved product and is available in the United States by prescription."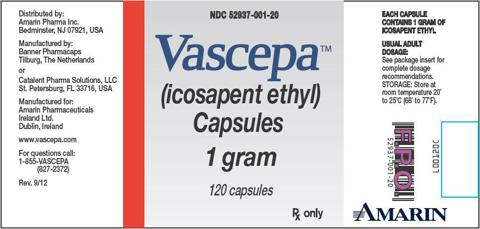 Click to enlarge
(Click to enlarge)
After the drug's approval, the company failed to produce any major pharmaceutical partners, brought on its own sales staff, and is taking a stab at launching Vascepa on its own. In the face of the stock losing a good portion of its value over the past six months, prescription data (provided by Symphony & IMS Health) continues to head in the right direction.
Here is data for total prescriptions, as of the most current data citing 6/28/13.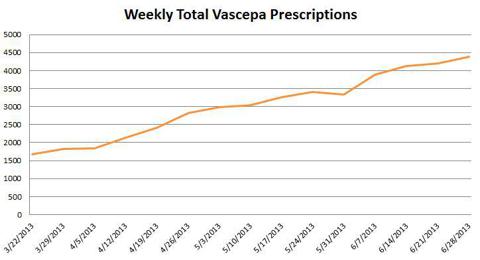 Click to enlarge
(Click to enlarge)
And here's what the numbers behind the chart look like:
| | |
| --- | --- |
| 3/22/2013 | 1669 |
| 3/29/2013 | 1821 |
| 4/5/2013 | 1843 |
| 4/12/2013 | 2134 |
| 4/19/2013 | 2415 |
| 4/26/2013 | 2824 |
| 5/3/2013 | 2989 |
| 5/10/2013 | 3035 |
| 5/17/2013 | 3263 |
| 5/24/2013 | 3401 |
| 5/31/2013 | 3336 |
| 6/7/2013 | 3879 |
| 6/14/2013 | 4129 |
| 6/21/2013 | 4200 |
| 6/28/2013 | 4380 |
The last several weeks data seems to be a concern of some Amarin longs, judging by the sentiment on a couple of blogs and personal discussions that I've had with longs. Apparently, prescriptions aren't growing quick enough or with enough consistency for some longs.
It's been argued by several bloggers with whom I sometimes share a "spirited discussion" that the prescription numbers on a week-to-week basis mean nothing. I don't think that could be further from the truth, as they're a finite data based gauge on how things progress for Amarin's one crucial drug that we are offered between quarterly filings and PRs.
My two bull arguments here are:
1. Prescription Growth is Usually Cyclical
No better place to look than Vascepa's nemesis, Lovaza, for proof of this. When reviewing data for Lovaza's launch, they had consistent pullbacks every couple of months for years through their launch. It's a product of refill cycles (and sometimes short weeks, etc), and seems to be par for the course when launching a new drug.
Also, another great thing about data is the fact that we don't have to look much further than some of the Vascepa data that we have. For the week of 5/31, prescriptions actually regressed a little (3401 to 3336); before again consistently moving forward.
The week of 4/5/13 added a mere 22 prescriptions. The week of 5/3/13 added just 165 scripts.
The important thing to remember this: respective to those two data points, Vascepa scripts have ultimately continued to rise - up 137.66% from 4/5, and up 46% in total from 5/3.
2. Data is Respectable for a Company Without a Partner
So, I'll point out again that you do not need to have a PhD in mathematics to understand the trend that we're witnessing. The data doesn't lie, and it's really simple; prescriptions continue to rise.
I give the company credit for getting this far and remaining consistent with prescription growth without the help of the marketing and sales team of a major drug partner. It's to Amarin's credit to continue to make progress in the face of not having a partner. The stock is getting pummeled because expectations for the rate of prescription growth were high from the get-go; this isn't new territory for Amarin.
Not having a partner will start to move to the foreground a bit more as Amarin heads towards a decision on its ANCHOR indication for Vascepa - potentially opening the drug up to another 40 million patients. Brian L. Wilson did a good job of pointing this out in a previous Seeking Alpha article:
The ANCHOR indication would allow Vascepa to target patients with high triglyceride levels, specifically between 200-500 mg/dL. For now, this seems to be the "meat" of the bullish argument for Amarin due to the sheer number of patients that have triglycerides in this range. It's also important to know that GlaxoSmithKline's (GSK) Lovaza is only approved for the hypertriglyceridemia indication for patients with over 500 mg/dL - equivalent to Vascepa's current indication.

Amarin's CEO Joe Z. admitted that the company definitely doesn't have the resources to market Vascepa for the ANCHOR indication, which implies that we will need to see at least a partnership between Amarin and larger pharmaceutical company - probably before 2014 to see substantial market penetration for ~40 million Americans.
My Sentiments Into This Week
I'm remaining long Amarin at this point. Sunday's data, in my opinion, is a natural product of continued cyclical growth - not any type of trend downward.
As I've said in the past, I still do have my caveats on Amarin that could easily shift me back to a bearish stance on the company:
Prescription data slows dramatically week-over-week (or total prescriptions start to regress in any facet) - I'm going to be keeping an extremely close eye on week over week numbers. It's the lifeblood of the entire company and extremely important that data continues to trend upward.
The company reports a cash burn that is equivalent to last quarter's - they need to get their spending under control now that the launch is no longer in its beginning stages.
Prescription data winds up being a continued major product of discounts, giveaways and samples - we need the data that we're seeing to be as true as possible.
As always, best of luck to all investors.
Disclosure: I have no positions in any stocks mentioned, and no plans to initiate any positions within the next 72 hours. I wrote this article myself, and it expresses my own opinions. I am not receiving compensation for it (other than from Seeking Alpha). I have no business relationship with any company whose stock is mentioned in this article.