Trade: Long Apache (NYSE:APA), Short Brent crude
Current price: $87
Expected price: $122
Time: 1-2 years
Catalysts: recent strategic acquisitions which have huge potential still to be capitalized, room to improve margins, significantly undervalued to peers, trading below 2008 levels on valuation basis, diversified asset base, enormous option on natural gas upside, capex peaking out in 1-2 years, divestitures to reduce debt, recently initiated buy-back program, possible shareholder activism.
| | | | | | |
| --- | --- | --- | --- | --- | --- |
| Price | 82.17 | P/tangible book | 1.07 | Forward P/E | 9.1 |
| Market cap | 33,128 | P/E | 16.69 | P/Sales | 1.88 |
| EV/EBITDA | 3.73 | EV/OCF | 5.34 | EV/FCF | -43.15 |
| Leverage (Debt/EBITDA) | 1.01 | P/OCF | 3.78 | P/FCF | -31.28 |
Under-performance:
While many oil names just touched their 52-week high, Apache recently touched its 52-week low. The stock reached a peak of 130 in mid 2011 and is currently trading in 80s. The fall has been due to significant acquisitions financed via debt and excessive capital spending (capex) on the newly acquired assets, resulting in significantly lower profits, low dividend payments and slower than expected growth. Significant capex outpaced operating cash flow in FY12 resulting in negative free cash flow (FCF). FY12 EPS declined by 56% and recent 1Q13 quarterly EPS declined by 12%. Revenue for the recent quarter (1Q13) declined 10%, on a y-o-y basis.
Additionally, political turmoil in Egypt, where the company generates 20% of its current production, 30% of its current operating cash flow and has 10% of its reserves, is also one of the main reasons for the stock to remain undervalued.
Situation in Egypt:
In February 2011, the former Egyptian president Hosni Mubarak stepped down, and the Egyptian Supreme Council of the Armed Forces took power, announcing that it would remain in power until the presidential and parliamentary elections could be held. In June 2012, Mohamed Morsi of the Muslim Brotherhood's Freedom and Justice Party was elected as Egypt's new president. This new political regime comes with potential threats such as deterioration in the political, economic, and social conditions or changes in laws or regulations in the region, export restrictions, nationalization of APA assets and/or forced renegotiation or modification of existing contracts with the government of Egypt. Losing Egyptian assets would mean a direct 30% hit to APA's operating cash flow. Apache does mention that as a risk in its recent filing. However, in recent month tens of thousands of locals protested demanding Mr. Morsi's removal. Under the Morsi's government the Egyptian economy has been crumbling. Shortages of electricity and fuel have further created anger against the government. On 3rd July 2013, Egyptian military ousted the country's first democratically elected president, Mohamed Morsi of the Muslim Brotherhood, for inviting violence and killing of protesters. The Constitution was suspended and the chief justice of the Supreme Constitutional Court is now the acting president with plans for new parliamentary and presidential elections under an interim government. This has helped bring political and situational stability in the region. This is evident by the fact that the Egypt's stock market surged 7% on 4th July 2013, after Mr Morsi's removal, to a month high. It had fallen notably due to protests and weakening Egyptian economy. The US and Egyptian military are allies with American military providing USD 1.3bn annual aid to Egypt.
The company continues to receive development lease approvals for drilling in Egypt and plans to invest USD 1.1bn in the region in FY13, highlighting that the situation is not as bad as it seems. Management has met with Egyptian officials, kept production steady, and is actively monitoring the situation. As per management, assets are in very remote areas, and hence the drilling isn't affected even while protests engulfed the major cities.
Grown on acquisitions:
The company has grown through acquisitions financing it via debt. The strategy has been to acquire strategic and rich assets at a decent price and then focus on getting value out of them. From 1999 to 2003 APA went on an international acquisition spree to acquire oil rich international assets. From 2009 until present it did the same in the US, focusing on shale plays in the mid-con. During FY10-FY12, APA completed USD 17bn in acquisitions (compared to current book value of USD 30bn), leaving a lot of room for growth in the future. The timing of these acquisitions has been right due to low cost of financing. By acquisitions, the company has grown its tangible book value by 11% CAGR in the last 5 years and 17% CAGR in the last 10 years. Below is the list of acquisitions:
2012 (Canada): Kitimat, BC, partnership with Chevron: In December 2012, entered an agreement with Chevron (NYSE:CVX) to build and operate the Kitimat LNG project. Each will become 50% owner of the proposed Kitimat LNG plant, the Pacific Trail Pipeline, and 644,000 gross undeveloped acres in the Horn River and Liard basins.
2012 (US): Central Anadarko basin acquisition: In April 2012 acquired Cordillera Energy Partners III, LLC (Cordillera), for USD 2.7bn in cash and approximately 6.3 million of APA common stock, increasing the diluted outstanding shares by 4%, from FY12. Cordillera's properties include approximately 312,000 net acres basically doubling APA's position in liquids-rich Anadarko Basin. APA issued USD 5bn fixed-rate long-dated notes in 2012 at an average rate of 3.5% for the acquisition and to pay down maturing debt and commercial paper balances.
2012 (Australia): Yara Pilbara Holdings Pty Limited acquisition: In January 2012, acquired a 49% interest in Yara Pilbara Holdings Pty Limited (YPHPL, formerly Burrup Holdings Limited) for USD 439m. YPHPL is the owner of an ammonia fertilizer plant on the Burrup Peninsula of Western Australia.
2011: North Sea acquisition: In December 2011, acquired Mobil North Sea Limited from Exxon Mobil (NYSE:XOM) for USD 1.25bn, adding to other North Sea assets it acquired from BP (NYSE:BP) a decade ago.
2010: Gulf of Mexico Shelf acquisition: In June 2010, acquired oil and gas assets in the Gulf of Mexico shelf from Devon Energy Corporation (NYSE:DVN) for USD 1.05bn.
2010 (US): Permian acquisition: In August 2010, acquired acreage and infrastructure in the Permian Basin for USD 2.5bn, net of preferential rights, from BP's oil and gas operations.
2010 (Canada): Canadian acquisition: In October 2010, acquired BP's upstream natural gas business in western Alberta and British Columbia for USD 3.25bn.
2010 (Egypt): Egyptian acquisition: In November 2010, acquired BP's assets in Egypt's western desert for USD 650m.
2010: Mariner merger: In November 2010, acquired Mariner Energy, Inc. for stock and cash consideration totaling USD 2.7bn. APA also assumed approximately USD 1.7bn of Mariner's debt with the merger.
Catalysts:
1) Focusing on extracting value from assets acquired: CEO, Steve Farris, mentioned in the 1Q13 earnings call that the company has done enough acquisitions and will now focus on extracting value from them. This would mean high initial capital expenditures on these projects to get them started. APA has an expected capex of USD 10.5bn for FY13. Capex (excluding acquisitions) has increased significantly by 36% in FY10, 44% in FY11, 35% in FY12 and an expected 10% in FY13. Of the USD 10.5bn in FY13, main focus will be onshore North America shale play regions with a dedicated USD 4.6bn capex. USD 2.2bn will be on other projects such as Australian oil developments, Gulf of Mexico deepwater, Wheatstone project, and Kitimat, BC. These significant capex spending would have noteworthy increases in production in the future. Also, with capex peaking in 1-2 years, it would decline in the future boosting free cash flow considerably in years to come. Below are details of the future projects:
i) US shale play: The US contributes 40% of the total production (17% oil, 4% NGL, 18% gas). The Permian, Anadarko and Central Region assets (on-shore U.S. assets related to shale) have huge potential in horizontal drilling with over 88% of the company's resource potential going forward. That's where APA has seen the most growth in recent years with liquid production (oil and natural gas liquids (NGLS)) in the US growing by 16%, 28% and 19% in FY10, FY11 and FY12, respectively. In 1Q13, oil production from the US was up 19% and NGLs' production 121%, on a y-o-y basis. Natural gas production was only up by 4% as the company is keeping gas production flat due to depressed prices. The US is the strong growth region for the company with its huge recently acquired shale plays. As of 1Q13, about 44% of the current production and 50% of the estimated proved reserves are in the US, a very safe region. In FY13, Apache plans to direct USD 4.6bn of total capex (40%) toward North American onshore regions (mostly in the Central and Permian regions). This focused drilling program should help Apache deliver 25% y-o-y growth in North America onshore liquids (oil and NGL) production.
ii) Kitimat, BC: Canada contributes 16% of the total production (2% oil, 1% NGL, 13% gas) and has 19% of the estimated proved reserves. In Western Canada Apache is working with Chevron on developing the Kitimat LNG project to provide an export route for 50 billion cubic feet of gas reserves in that region. This will increase the total production by 3%. In FY12, Chevron paid Apache USD 400m to buy a 50% stake in Kitimat. The Kitimat plant has received all significant environmental approvals and a 20-year export license from the Canadian federal government. Kitimat is one of the closest ports to the Asian markets, especially Japan, where LNG prices are currently at USD 16 per Mcf, 3x as compared to that in Canada.
iii) Australian oil developments: The company has interests in 30 exploration permits, 17 production licenses, and 13 retention leases that cover a total area of 7.9 million gross acres located in offshore Western Australia. Approximately 90% of this acreage is undeveloped contributing 12% of FY12 estimated proved reserves. Australia contributes 9% of total production (4% oil and 5% natural gas). The production in the region will more than double, increasing by 110% over the next 4 years and contributing an additional 10% to the total production, with major projects including Macedon (2013), Balnaves (2014), Coniston (2014) and Julimar/Wheatstone (2016) coming online.
iv) Wheatstone LNG: In Australia APA has a 13% piece of Chevron's giant Wheatstone LNG project, which will come online in 2016. After coming online, the production is expected to be 11 million barrels of oil equivalent (4% of current total production) annually for 20 years. LNG rates in Australia are at USD 8/MCF, more than double that in the US. APA will be the biggest domestic gas supplier in Western Australia by FY13. APA's Australian subsidiaries have been already signing long-term sales and purchase agreements for supplying LNG to Asian companies.
v) Forties Alpha: The start of the Forties Alpha satellite platform should add to Apache's production growth in 2013 (3%-5%) and more than offset the natural field declines continuing in Australia, Canada and Argentina.
vi) Egypt: Egypt is a cash cow for the company as it generates USD 2.7bn operating cash flow of which USD 1.1bn is spent on capex, with remaining USD 1.6bn in free cash flow that is used for other parts of the business. The region provides 20% of total production (13% oil and 8% gas). Average sale price of oil in the region is one of the highest at USD 111 per bbl. APA announced three new discoveries in the Western Desert of Egypt during 1Q13, extending the company's production. The region has 10% of FY12 estimated proved reserves. Even with all the turmoil, the company has continued to receive development lease approvals for drilling in Egypt and plans to invest USD 1.1bn in the region in FY13.
vii) North Sea: North Sea provides 9% of total production (8% oil, 1% gas). The region has one of the highest average sale price for oil (108 per bbl) and natural gas (8.95 per Mcf). APA increased its portfolio in the region by acquiring Mobil North Sea Limited in FY11, which provided the region with additional exploration and development opportunities across numerous fields. This resulted in a y-o-y production increase of 37% in FY12 in the region. The region has 6% of total estimated proved reserves.
2) Reduction in executive pays due to underperformance: Due to significant underperformance of the stock among its peer group, the board has reduced the compensation of CEO, Steve Farris, who is also the chairman, by 18% as compared to previous year and bonus to 150% of the base salary from 200%, as per SEC filings. The shareholders did not pass an advisory vote on compensation of executive officers during the annual meeting on 16 May 2013. Also, the total director compensation was being reduced to USD 300k from USD 350k, with a cut in the equity component of the pay package. Overall, this puts pressure on the management for better performance. I think the board and the CEO are fully aware that activist shareholders can take greater positions anytime and shake things up if the management does a sloppy job with good assets and doesn't create value. We have recently seen a lot of shareholder activism in oil and gas sector such as Hess (NYSE:HES), Transocean (NYSE:RIG) and Chesapeake (NYSE:CHK).
3) Divestitures, reduction of debt and share buybacks: On 9 May 2013, APA reported 1Q13 earnings and announced a plan to divest USD 4bn in assets by year-end 2013. The company recently hired Goldman Sachs to unload shallow water Gulf of Mexico assets. Another likely divestiture could be Argentinean assets. Fortunately oil prices have remained high, so the company should get good value. APA intends to use USD 2bn to reduce debt and another USD 2bn to repurchase stock under a 30 million share repurchase program. With a current market cap of USD 30bn, this is approximately a 7% share buy-back program and puts some floor on the stock price, in case of a fall. Divesting potentially heavy future investment non-core assets, reducing debt and buying back stock would create more value.
4) Recent hedge fund and Insider buying: In 1Q13, quite a few hedge funds were buyers of the stock including T Boone Pickens, Wallace Weitz, Brian Rogers, Third Avenue Management, NWQ Managers, Manning and Napier Advisors, Inc., Diamond Hill Capital, Richard Pzena, George Soros, Louis Bacon, Charles Brandes, Jeff Auxier, Paul Tudor Jones, Jeremy Granthan and Ray Dalio. In Feb, March and April 2013, we saw some insider buying as well.
5) Margins and cost efficiency: APA has lower margins than its peers but that's where it has the opportunity to improve. OCF margin has declined from an average of 55% in the last 6 years to 50% in FY12, due to significant declines in natural gas prices. Also, acquisitions had deviated management focus. However, the acquisition spree has ended and APA is now focusing on costs by reducing drilling days and frac cost by self sourcing and optimizing frac design. With shareholders ousting executives and revamping boards because of poor performance, the pressure to improve margins and be cost efficient is real.
6) Natural gas play with diversified asset base: The company is a less-levered play for the potential upside in the natural gas, due to its diversified asset base both within the U.S. and internationally. If gas prices soar, Apache's top quality on-shore assets could significantly increase profitability. As of FY12, 45% of APA's production was oil and 49% natural gas. That said, 78% of revenues come from oil and only 19% from natural gas. This is due to drastic declines in natural gas prices, which has forced APA to focus on liquids where margins are higher and keep natural gas production flat. APA can boost its production with an increase in natural gas prices, which could have a significant upside on its revenues and bottom line. Also, APA took heavy write-offs on its various natural gas assets last year due to lower prices. Increase in natural gas prices would also increase the value of those assets on balance sheet, growing the book-value. Below points highlight the potential increase in natural gas prices.
i) Natural gas prices have declined by 70% in the last 5 years, to USD 3.9 mmbtu in June 2013 from USD 13.2 mmbtu in June 2008. This has created a huge divergence between price of oil and natural gas. The chart below shows price of natural gas (per barrel of oil equivalent) as a percentage of oil price. On average in FY12, natural gas was 24% of oil price in the US for one barrel of oil equivalent. This means it could be bought at a 76% discount to oil. This energy source will be exploited in the future and price differential will not remain at these levels.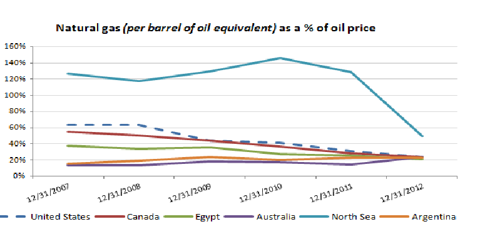 Click to enlarge
ii) Many power plants are opting for the cleaner burning natural gas to replace coal and some of that transition is permanent.
iii) Major manufacturers of chemicals, steel, etc., are increasing their utilization of, or shifting to, cheap natural gas to lower their overall cost structures. In this case as well, some of the transition is permanent.
iv) At present, global natural-gas markets are not integrated. Prices are USD 0.75 Mcf in Saudi Arabia (subsidized by government), USD 3.9 Mcf in the US, around USD 12 Mcf in Europe and as high as USD 16 Mcf in Japan. Over time market forces will narrow this gap. One such way of exploiting this arbitrage is exporting it to Asia. Export will eventually open up reducing the arbitrage and increasing natural gas prices.
v) Compressed natural gas (CNG) vehicles are very common in Asia. As of 2011, worldwide, there were 14.8 million vehicles that run on compressed natural gas (CNG), with approximately 5.7 million in the Asia-Pacific region followed by 4 million vehicles in Latin America. This number has been growing rapidly as CNG is a much cleaner fuel and produces much less pollution, is significantly cheaper than oil (Asian consumers are very sensitive to oil price) and has a lower maintenance cost than hydrocarbon-fuel-powered vehicles. CNG vehicles are encouraged by governments in Asia due to high pollution in these countries.
vi) Export of LNG is already on its way with the US sanctioning two LNG export terminals and another 12 waiting for approval. On 17 May 2013, the US Energy Department announced that it has conditionally authorized Freeport LNG Expansion, L.P. and FLNG Liquefaction, LLC (Freeport) to export domestically produced liquefied natural gas (LNG) to countries that do not have a Free Trade Agreement (FTA) with the United States from the Freeport LNG Terminal on Quintana Island, Texas. Freeport previously received approval to export LNG from its facility to FTA countries in February 2011. In May 2011, Cheniere Energy's Sabine Pass, in Louisiana, was the first LNG terminal to get authorization to export LNG to non-FTA countries. Freeport's and Cheniere's combined capacity would amount to 5.2% of US production. As of 17 April 2013, 12 new LNG export terminals have been proposed in the US to Federal Energy Regulatory Commission (FERC) and there are currently 63 LNG export terminals planned or under construction worldwide.
7) Discount to peers: Apache has proved reserves of 2.9 billion barrels of oil equivalent (BOE) and is currently producing 779,000 BOE per day. This is in line with Anadarko (NYSE:APC), its closest competitor. APC trades at an EV/EBITDA of 7.1x, price to tangible book of 2.1x and a forward P/E of 16.1x as compared to APA's multiples of 3.8x, 1.1x and 9.1x, respectively (see table below). APA's stock price would have to increase approximately by 80% to trade at APC's multiple.
| | | | | | | | | |
| --- | --- | --- | --- | --- | --- | --- | --- | --- |
| Comp Valuation | Ticker | Price | Market cap | P/tangible book | P/OCF | Forward P/E | EV/EBITDA | EV/FCF |
| Apache Corp. | APA | 82.17 | 32,128 | 1.07 | 3.78 | 9.1 | 3.64 | -44.23 |
| Anadarko Petroleum Corp. | APC | 88.38 | 43,360 | 2.1 | 5.32 | 16.1 | 7.14 | 49.3 |
| under/(over) value | | | | 49% | 29% | 43% | 49% | n.a. |
| Devon Energy | DVN | 55.30 | 22,050 | 1.47 | 4.54 | 10.57 | 6.14 | (8.4) |
| under/(over) value | | | | 27% | 17% | 14% | 41% | n.a. |
8) Valuation: Despite taking heavy write-offs on various natural gas assets last year due to lower natural gas prices and increasing its debt to finance acquisitions, Apache's trades at price to tangible book of just 1.1x (tangible book value per share of USD 77). This is historically low, even lower than 2008 levels. Also, on a price to EBITDA (P/EBITDA: 2.64x) and price to OCF (P/OCF: 3.8x) basis it's trading close to or below 2008 levels.
9) Peak in capex: Capex (excluding acquisitions) has doubled from its 5-year average. It has risen from a 5-year average of USD 4.7bn to USD 9.5bn in FY12 and is still growing. As the company is investing significantly in capex to extract value from the recently acquired assets, capital expenditure will peak out in 1-2 years resulting in significant increases in production. Also, reduction in capex in the future will significantly increase free cash flow.
Risks:
i) Supply demand: As per International Energy Agency (IEA) report, for the period 2012-2018, world liquid capacity would grow by 8.4 million barrels per day, significantly faster than demand, which is projected to grow by 6.9 million barrels per day. This could depress liquid prices on the downside.
ii) Revenues heavily dependent on oil: Approximately 78% of APA's total revenues come from oil.
iii) Selling oil at Brent price: Approximately 72% of APA's crude oil production is priced relative to Brent crude and sweet crude from the Gulf Coast, which continue to be priced at a significant premium to West Texas Intermediate (WTI)-based prices.
iv) Transportation: 71% of the oil consumption in the US is from transportation. In the next 3-10 years fuel efficient hybrids, LNG, CNG and electric cars might be more common than we expect and the dynamics of oil industry could change significantly.
v) Environmental concerns: Fracking is relatively young, and probably not all of the environmental and geological consequences are fully understood. As time goes by, it is reasonable to expect more government regulations, which inevitably increases costs and could even put smaller producers out of business.
vi) Egypt: Threats in Egypt include deterioration in the political, economic, and social conditions or changes in laws or regulations in the region, export restrictions, nationalization of APA assets and/or forced renegotiation or modification of existing contracts.
Hedge: For the above first four reasons, it is better to buy the stock with a hedge, downside protection to Brent oil. This makes sense especially now, as Brent is trading at 105, due to risks in Syria and Egypt.
Conclusion: Market is neglecting APA's diversified asset base and attractive long-term production growth in its asset rich shale plays and paying too much attention on Egypt, short-term results and increased capex spending. Recent strategic acquisitions have huge potential still to be capitalized with room to improve margins and an enormous optionality on natural gas upside. The stock is significantly undervalued as compared to its peers and is trading below 2008 levels on valuation basis. Decline in oil price is a concern; by hedging the same one can bet on relative-value and a natural gas upside.
Company description: Apache Corporation, an independent energy company, explores for, develops, and produces natural gas, crude oil, and natural gas liquids. It holds interests in asset bases of 12.3 million gross acres located in the United States; 7 million gross acres in Canada; 9.7 million gross acres in Western Desert, Egypt; 30 exploration permits, 17 production licenses, and 13 retention leases that cover a total area of 7.9 million gross acres in offshore Western Australia; 32 concessions, exploration permits, and other interests covering an area of 4.4 million gross acres located in 4 hydrocarbon basins in Argentina; and various properties located in the United Kingdom, North Sea.
As of 31 December 2012, it had total estimated proved reserves of 1,441 million barrels of crude oil, condensate, and natural gas liquids; and 8.5 trillion cubic feet of natural gas. Combining both, Apache has proved reserves of 2.9 billion barrels of oil equivalent , and the company is currently producing about 779,000 BOE per day. However, including its Permian/Central resources that number goes up to 11.7 billion barrels of oil, four times higher than the current proved reserves. The company was founded in 1954 and is based in Houston, Texas.
Disclosure: Long APA, short Brent oil (via DTO)
Disclaimer: It is very important to read the disclaimer before making any investments based on the above article.
Disclosure: I am long APA. I wrote this article myself, and it expresses my own opinions. I am not receiving compensation for it. I have no business relationship with any company whose stock is mentioned in this article.