On June 7, one month ago, I wrote an article, "BHP Billiton Is A Buy In A Troubled Industry". If you read the article and bought some BPH Billiton (NYSE:BBL) (NYSE:BHP) you paid about $56.90 a share. This morning, July 8, it is trading at about $50.25. This puts it firmly in the territory of oversold stocks, with an RSI of about 27. For an understanding of the Relative Strength Index, see this video.
It is about 6% below its SMA 20, 11% below its SMA 50 and 17% below its SMA 200.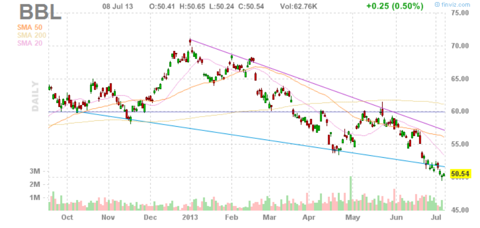 Click to enlarge
(Click to enlarge)
FinViz and Yahoo Finance both report an analyst opinion consensus of 1.0, a strong buy. Morningstar rates it as a 5 star opportunity.
Here is the FAST Graphs Chart and a record of its performance.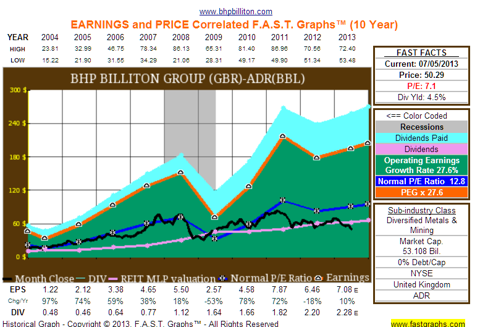 Click to enlarge
(Click to enlarge)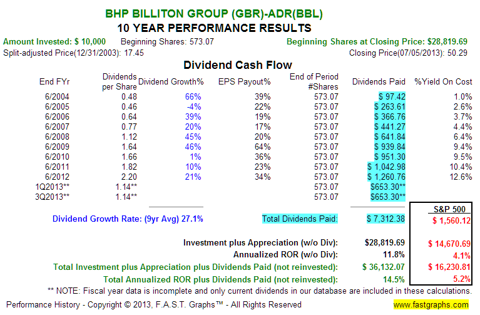 Click to enlarge
(Click to enlarge)
BHP Billiton has a current yield of 4.53% and has a 5-year DGR of 19, according to David Fish's CCC spreadsheet. They have paid increasing dividends for 10 consecutive years and have a current policy to increase their dividend annually through thick and thin. This company, with an S&P credit rating of A, has the financial capability to do that. The long term outlook for this industry leader is excellent.
I last added to my BBL holdings when it was selling for $52.36. Now $2.00 below that, has it hit its bottom? I do not know, but I am sure it presents a buying opportunity today.
Disclosure: I am long BBL. I wrote this article myself, and it expresses my own opinions. I am not receiving compensation for it (other than from Seeking Alpha). I have no business relationship with any company whose stock is mentioned in this article.