Vivus' (NASDAQ:VVUS) anti-obesity drug Qsymia has had weekly prescriptions top the 5,000 mark for the first time (outside of an anomaly the weeks of May 17th and May 24th). Prescription numbers came in at 5,123 (unadjusted) for the week of June 28th. Vivus and Qsymia are still pacing upward with growth, albeit a step at a time.
On a cumulative basis Qsymia has sold 121,798 prescriptions (unadjusted) according to channel check data. If we apply a 30% adjustment to the data we see that total at 158,337 scripts in the 40 weeks since launch.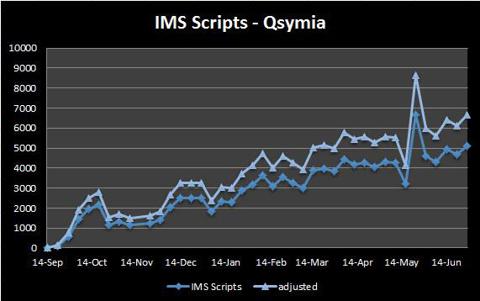 The sales pace of Qsymia has been much more modest than initial expectations. The company hopes that relaxed REMS that now allow Qsymia to be sold in certified pharmacies will quicken the sales pace. The initial announcement by Vivus regarding the relaxed REMS outlined that about 8,000 certified pharmacies across the country can now sell Qsymia. Vivus intends to announce more certified pharmacies as the year progresses.
It took Qsymia about 12 weeks to navigate through the 4,000 weekly script range. What investors want to see is the 5,000's be navigated through in about 6 weeks. Simply stated, the pace needs to improve in order for the drug to have a consideration of commercial success. In contrast, generic phertermine (a drug that has been used for weight loss for years) typically sells 150,000 scripts or more in any given week.
The biggest hurdles that Qsymia faces are not necessarily from its competitor Arena (NASDAQ:ARNA), but rather from insurance companies that are not covering the drug. Is is estimated that two thirds of those that would be potential patients do not have Qsymia covered by insurance. Getting insurance coverage for anti-obesity drugs is a top priority of both Vivus and Arena. It is important for Vivus and Qsymia to show continued growth. It has been 9 months since launch and the drug has not even come close to blockbuster numbers that were once assigned to it.
Disclosure: I am long ARNA. I wrote this article myself, and it expresses my own opinions. I am not receiving compensation for it (other than from Seeking Alpha). I have no business relationship with any company whose stock is mentioned in this article.
Additional disclosure: I have no position in Vivus