Palladium prices surged higher today, trading higher by 2.67% as of this post. Thousands of mineworkers at Anglo American Platinum Ltd., the world's largest producer of the metals, are on strike. The workers went on strike at two mines in South Africa having refused to go underground. South Africa accounts for 73% of the global platinum and approximately 36% of the world's palladium. Union and labor disputes have been ongoing for the last year and until new agreements can be established, this could be extremely bullish. These events have already been factored into the price, so we will need further unrest and/or disputes to see additional upside.
To date, unrest and labor disputes have served as a bullish catalyst, lifting other metals in the complex. All metals appear to be set for a rebound, as this rising tide should lift all boats. This in combination with a technical correction and short covering bounce should get metals shining once again. If investors need additional rationale, bargain hunting and safe-haven demand have caused this beaten down sector to attract buyers.
Now for the trade…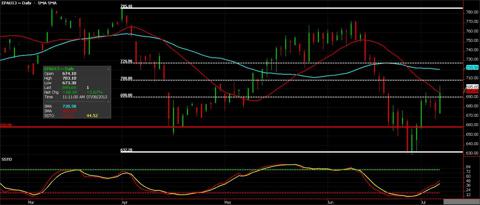 Since putting in a bottom on 6/27 at $629.40 futures have appreciated 10.5% lifting, futures above the 38.2% Fibonacci level and a trade above its 20 day MA (red line) for the first time since 6/13. I feel there is gas in the tank and anticipate a 61.8% retracement, lifting September futures back above $725 or an additional 4.3%. Because palladium is not as followed as some of the other majors, I deem it necessary to mention the contract size; at 100 ounces, every $1 move is a gain/loss of $100 per contract.
As long as futures remain above the horizontal red line in the chart above ($655/660), I remain friendly. Most of the open interest in September call options comes in above $700/ounce, with the most open interest at $750... maybe someone knows more than me, which would not be hard on this metal, as I spend most of my time in this complex in gold or silver.
Risk Disclaimer: This information is not to be construed as an offer to sell or a solicitation or an offer to buy the financial products herein named. Trading futures, options, and Forex involves substantial risk of loss and is not suitable for all investors. Past performance is not necessarily indicative of future results. This report contains research as defined in applicable CFTC regulations. Both RCM Asset Management and the research analyst may have positions in the financial products discussed.
Disclosure: I have no positions in any stocks mentioned, and no plans to initiate any positions within the next 72 hours. I wrote this article myself, and it expresses my own opinions. I am not receiving compensation for it. I have no business relationship with any company whose stock is mentioned in this article.