The number of investment grade preferred stocks selling for a market price below these security's $25 par value is now at 113, up from 22 just three months ago [1].
Preferred stock market prices have been artificially elevated for over two years now by the Federal Reserve's Quantitative Easing (QE) bond-buying program. By scooping up vast quantities of bonds ($85 billion every month), the Fed creates a shortage in the marketplace, pushing up bond prices. Rising bond prices have been inherited by other fixed-income securities (e.g. preferred stocks) as investors seek alternatives.
Preferred stock investors who have paid these elevated prices for their shares have been fearful that the Fed could back out of the bond market unexpectedly, returning prices of fixed-income securities (e.g. bonds, preferred stocks) to their pre-QE levels.
For over two years now, with the market distortion caused by the Fed's QE program there has been no way to know just how quickly these fearful preferred stock shareholders would sell their positions. On May 30, 2013, preferred stock buyers - hoping to take advantage of a down-spike in prices - found out just how jumpy these fearful sellers were.
Reacting to rumors that the Fed was going to use its June 18-19 Federal Open Market Committee (FOMC) meeting to announce a tapering off of its QE program, fearful sellers starting selling, pushing the average market price of high quality preferred stocks down to pre-QE2 levels by June 20.
The fact that the Fed announced no such change in policy did not dampen the fears of these sellers (see "Preferred Stock Prices Return To Pre-QE2 Level, Bargain List Grows For Buyers").
The Preferred Stock Market, Q2 2013
This Preferred Stock Market Snapshot (TM) chart depicts the preferred stock marketplace at the end of Q2 2013 (July 5, 2013) along with two characteristics that are usually high on the list of considerations for risk-averse preferred stock investors - current market price (above and below these securities' $25 par value) and investment risk (as reflected by investment grade versus speculative grade Moody's ratings).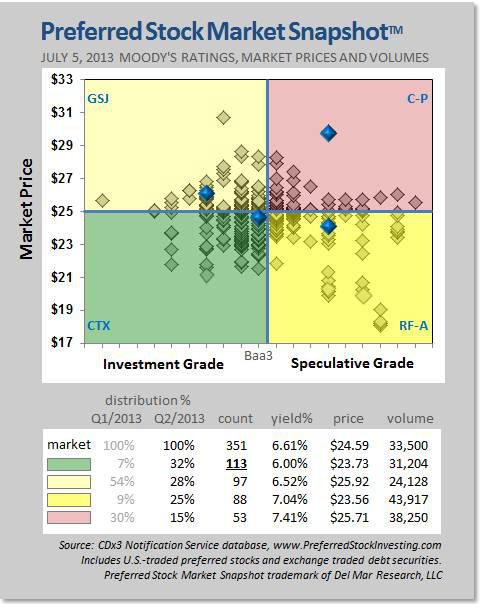 Each diamond represents a preferred stock. An example is highlighted within each of the four quadrants: GSJ from Goldman Sachs (NYSE:GS), CTX from CenturyLink's (NYSE:CTL) Qwest subsidiary, C-P from Citigroup (NYSE:C) and RF-A from Regions Financial (NYSE:RF) are shown with a blue diamond (note that these are intended as examples for each quadrant, not recommendations). GSJ and CTX are both exchange-traded debt securities (see "Preferred Stock Investors: 'Exchange Traded Debt Securities' Offer Same Reward, Lower Risk") while C-P and RF-A are traditional preferred stocks.
The sweet spot of the preferred stock marketplace is depicted in the green lower-left quadrant - investment grade preferreds selling for a market price below their $25 par value.
Preferred stock market trends can be identified by comparing the above ending-Q2 2013 chart with earlier quarterly iterations of this analysis (Q2 2012 | Q3 2012 | Q4 2012 | Q1 2013).
Trend: 113 Investment Grade Candidates Available Under $25
Looking at the table below the chart, the sweet spot now offers 113 candidates, up from 22 such candidates at the end of last quarter. This 500% increase came mostly during June.
You can also see how more attractive prices changed the distribution over the last three months. Where only 7% of preferred stocks were in the sweet spot at the end of Q1, 32% of preferred stocks are now able to qualify.
And look at the average market price of these securities - $23.73 per share, down from $25.67 at the end of last quarter. Lower prices have pushed up the yields being offered by these investment grade securities by over one-half percent in just one quarter. Ending Q2 at 6.00%, the average yield of the preferred stocks in the sweet spot last quarter was a miserly 5.46%.
While not as robust as we would like, this average 6.00% current yield compares very favorably to the 4.27% being offering by investment grade corporate bonds [2] and 1.1% from bank CDs [3] at the end of June.
Issuing companies and their underwriters use current market prices and, therefore, current yields as a key consideration when setting the dividend rate (coupon) to be offered by new issues. After waiting patiently for over two years, preferred stock investors were treated to an increase in dividend income during June from new issues accordingly (see "5 New Preferred Stocks Clear 7%, First Time Since July 2012").
Trend: Slowing Redemptions Produce Net Increase in Candidates to Pick From
While the number of new preferred stock introductions has been high this year (due to companies taking advantage of relatively low rates), issuers have also retired a relatively high number of older issues that were paying higher dividend rates (especially during the first quarter) leaving the net number of candidates trading on U.S. stock exchanges about even.
But during the second quarter the redemption activity that we saw earlier this year started to slow (see "Redemption Gap: Dividends From Redeemable REIT Preferred Stocks Likely To Continue"). This slowdown in preferred stock redemptions has resulted in a net increase in the number of preferred stock candidates available to pick from. The number of preferred stocks that meet the criteria for this quarterly analysis jumped to 351 from 335 at the end of last quarter.
Trend: Increased Liquidity
With fearful sellers dumping their shares and elated buyers jumping in to take advantage, the average number of shares traded per issue more than doubled throughout the quarter.
The average number of shares per preferred stock issue trading on March 27 was 15,111. On July 5 that number had more than doubled to 33,500.
The reaction of fearful sellers and elated buyers to rumors of a Fed rate increase (which did not materialize) has continued to follow the same pattern that we saw in 2004, the last time we had similar conditions (see "Preferred Stock Buyers: Time To Start Paying Attention" for chart).
The net result has been a step toward a more normal marketplace during the second quarter with higher returns available at lower prices for preferred stock investors.
Footnotes
[1] Source for all preferred stock data in this article: CDx3 Notification Service database and Preferred Stock Investing, Fourth Edition (PreferredStockInvesting.com). Of the 948 preferred stocks and exchange-traded debt securities trading on U.S. stock exchanges at the end of June 2013, preferred stocks and exchange-traded debt securities used for this chart include those that:
have a par value of $25.00;
are currently trading on U.S. stock exchanges (excluding the Over-The-Counter exchange);
are rated by Moody's Investors Service;
do not have an announced redemption that is pending;
are paying dividends (issues with deferred or suspended dividends were excluded);
have a fixed dividend rate (preferreds with variable or adjustable dividend rates were excluded);
had a non-zero trading volume on the day that the data was collected (July 5, 2013); and
are not convertible to another type of security.
[2] Corporate bond yield is the average daily yield offered by investment grade corporate bonds during June 2013 (FederalReserve.gov).
[3] Bank CD interest rate is the average APY of the top ten 24-month certificates being offered by U.S. banks on June 30, 2013 (BankRate.com).
Disclosure: I have no positions in any stocks mentioned, and no plans to initiate any positions within the next 72 hours. I wrote this article myself, and it expresses my own opinions. I am not receiving compensation for it (other than from Seeking Alpha). I have no business relationship with any company whose stock is mentioned in this article.
Additional disclosure: Securities identified within this article are for illustration purposes only and are not to be taken as recommendations.