Cypress (NASDAQ:CY) is an original equipment manufacturer (OEM) and developer of digital and mixed-signal integrated circuits (ICS). It has four reporting segments; namely:
Programmable Solutions Division (PSD): This segment offers PSoC devices, TrueTouch, CapSenses, Trackpads, and Ovation optical navigation. PSoC offerings are utilized in MP3 players, laptops, toys, mass storage devices, computers, and household appliances. The end-users of the TrueTouch range of products are smartphones, mobile phones, GPS units, and digital cameras. CapSense products are used in sliders and buttons of devices. The PSD segment accounted for 46% of the company's total revenue in FY2012.
Memory Products Division (MPD): Primarily consists of four static random access memory (SRAM) business units, general-purpose programmable clocks, and process technology licensing. This segment accounted for 43% of the company's total revenue for FY2012.
Data Communication Division (DCD): This segment primarily deals with, or has been established rather, to increase CY's market share in the USB product line. The segment is expected to become one of the potential revenue-churners' segment as it caters to the growing PC, handset, and tablet market. This segment accounted for 10% of the total revenue in FY2012.
Emerging Technology Division (ETD): This segment includes all the wholly owned subsidiaries of CY, i.e., Cypress Envirosystems, AgigA Tech, Inc. and Deca Techologies, Inc. This segment accounted for 1% of total revenue for FY2012.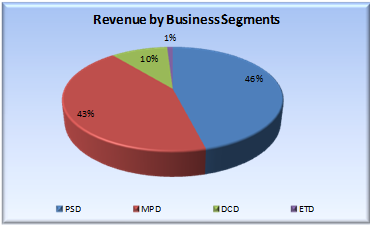 Asia is the largest target market of CY, accounting for 64% of the total revenue generated in FY2012. This was followed by the U.S. and Rest of the World accounting for 13% each of the total revenue in FY2012. Europe accounted for the remaining 10% of the total revenue in FY2012.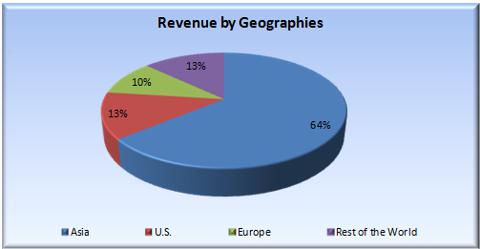 Investment Thesis
Expanding Customer-base: Expected escalation in new customers riding on the success of the TreTouch and CapSense range of products makes the upside case of the company. CY is focused on the low to mid-range handset market, which is fast-growing due to the ballooning demand in the Chinese market. In addition, the eReader segment of the market is also estimated to add to the volumes through the latter half of FY2013. Moreover, the management's guidance is also positive in the PSD market, which strengthens the market's view.
PSoC Design Win: CY's programmable products, consisting of PSoC 1, PSoC 3, PSoC 5 and other derivatives. A revenue stream tracking is started when a customer actively takes interest in a product. Now, the 'design win' stage cannot be determined typically before two-three quarters. Further, an additional two-three quarters are consumed to convert the 'design win' into sales. Following this, PSoC sales can be estimated a year in advance. The design win of PSoC shows significant growth, thus promising substantial sales. Moreover, the transformation of PSoC into longer life cycle products promises a steady flow of sales over a longer period. In the last quarter, the company introduced the PSoC 4 chip with a better programmable digital experience, programmable logic, an ARM core CPU, increased memory, and at a cost, which is lower than PSoC 3 and 5. The gamut of usage and utility is also on a rise for these products. These can even be used in air-conditioners, automobiles' rear-view mirrors, and in systems designed to control climate. These products are expected by management to generate substantial sales by 2014.
CapSense, one of the leaders: CY is one of the leaders in the CapSense technology. This technology allows touch-sensing interface controls that eliminate the need for more expensive buttons. The market share of CY is expected to increase in the CapSense technology sector given the adoption of the technology by an increasing number of original equipment manufacturers. In addition, the company has proactively addressed the issue of shorter product life-cycles by adding rider software to existing PSoCs. This widens the market scope of existing PSoCs also.
Potential TrueTouch: The company's TrueTouch solutions, which also uses the CapSense technology, is a promising product as it has a wide-usage scope in tablets, digital cameras, smartphones, mobile phones, and GPS unites. The company is expecting to enhance its presence in the tablet and smartphone markets with its latest kid on the block. CY target's market for TrueTouch is primarily Chinese devices in the mid-level category, and the design activity is pretty good around it. The company expects design wins with major OEMs, like Huawei's Ascend Mate and ZTE's Nubia Z5. This is expected to account for 15% to 20% of the total revenue in FY2013. TrueTouch products are expected to register significant volume growth in the Chinese market in the near term.
Market Leader in USB Controllers: CY is the market leader in USB controllers, offering a wide range of products, including low speed (1.5Mpbs), full-speed (12 Mpbs), high-speed (480 Mpbs), and super speed (5 Gbps). It shipped over 1 billion devices in 2012. The target markets for these solutions are primarily PCs; however, it is increasingly finding a market with MP3 players, set-top boxes, and mobile handsets. The company has shifted its production to India to take advantage of low costs. This is expected to be more profitable, mitigating price erosion.
Change in manufacturing strategy: Lending flexibility to its manufacturing unit, the company has decided to take advantage of the sprouting foundries in Asia. This is expected to lower costs for the company. In addition, this would free up the internal capacity of CY for leading edge technology.
Concerns
Dynamic Technology Landscape: The target market for PSoC solutions are the tablet, mobile handset, and other devices, which operate on the ever-changing technological landscape. This makes the solutions' life cycle shorter. Thus, CY needs to proactively seek design wins with the customers for the next generation products, leading to pricing pressures. Thus, a shift to lower-end products could erode margins for CY.
Increasing Competition: Players in the telecom, telecom network providers, data communications, and consumer markets pose increasing competition to CY. In addition, regional and global semiconductor manufacturers are also a threat to the company. This could lead to the loss of market share and could also erode profit margins, leading to a price war.
Forex Fluctuations: CY operates in a space that is subjected to the volatility in the foreign exchanges. A considerable share of the company' net sales are generated in foreign land. The company is significantly dependent on its global partners, suppliers, and distributors for smooth functioning. The company is comfortably hedged; however, dependence on U.S. and international markets cannot be ruled out.
Recent Quarter Results
CY registered a decline of 6.7% year over year to $172.7 million in 1Q2013. The net sales recorded were according the guidance of management, $163 - $170 million. The increase could be attributed to increased demand in the PSD segment.
Gross margin for 1Q2013 was down 380bps to 45.8% compared to 49.6% in the period a year ago. The decrease was primarily due to an adverse product mix, increased absorption expenses, and higher inventory reserves associated with the acquisition of Ramtron.
Operating expenses saw a decline of 12.7% to $94.7 million in 1Q2013 compared to $108.5 million in 1Q2012. Operating margin declined 740bps to 16.9% in 1Q2013 from 19.5% in 1Q2012. The decline was primarily due to higher R&D expenses (as a % of sales), offsetting the positive impact of SG&A expenses, which declined as a % of net sales.
The company recorded a net loss of $28.2 million in 1Q2013, up from $19.5 million in 1Q2012. The net loss per share amounted to $0.05.
The company had cash and equivalents balance of $101.6 million at the end of 1Q2013, down from $117.2 million in 4Q2012. Cash from Operations declined to $8.3 million in 1Q2013, compared to $18.7 million in 4Q2012.
CY repurchased its own common stock of 5 million shares and paid dividends to the tune of $15.8 million in 1Q2013.
Management Guidance
The management of CY has issued guidance of revenues in the range of $178.0 - $186.0 million during 2Q2013, an increase of 3% - 8% compared to 1Q2013. Gross margin is expected to remain flat at 51%. Operating expenses are estimated to range between $79.0 million and $80.0 million in 2Q2013. Lastly, the EPS per share is expected to be $0.06 - $0.08 in 2Q2013.
Conclusion
CY expects encouraging financial results in the year riding on the back of seasonality and expected expansion in the Photoshop customer base. Touch and CapSense are expected to gain the maximum with the increasing Photoshop customer base. However, struggling macro environment and increasing prices loom large.
The company registered a decent quarter with narrower losses than expected by Wall Street.
The company is strong in its innovative technology, potential product pipeline, expanding customer base, and other growth efforts. Thus, it is a "buy."
Disclosure: I have no positions in any stocks mentioned, and no plans to initiate any positions within the next 72 hours. I wrote this article myself, and it expresses my own opinions. I am not receiving compensation for it (other than from Seeking Alpha). I have no business relationship with any company whose stock is mentioned in this article.