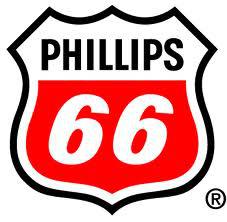 Phillips 66 (NYSE:PSX) recently announced that the new Southern Hills and Sand Hills natural gas liquids ("NGLs") pipelines were opened for service. Phillips 66, Spectra Energy (NYSE:SE), and DCP Midstream each own a one-third interest in the pipelines. This article will explain why these new NGL pipelines are important catalysts for PSX's growing midstream and chemicals businesses going forward.
Back in March, I gave a broad overview of Phillips 66's growing midstream business: Phillips 66's Midstream Business Is Poised For Impressive Growth. Before examining the details of the newly operational pipelines, let's briefly review the corporate structure of DCP Midstream: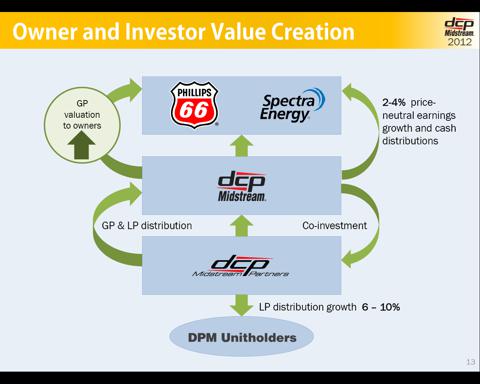 DCP Midstream is a 50-50 joint venture between Phillips 66 and Spectra Energy. The CEOs and CFOs of Phillips 66 and Spectra sit on the DCP Midstream Board of Directors. DCP Midstream provides returns tax advantaged cash distributions to its owners.
DCP Midstream is the nation's #1 NGL producer, the #2 natural gas gatherer and processor, and the #3 NGL pipeline operator. DCP Midstream is the General Partner of DCP Midstream Partners (NYSE:DPM), a publicly traded company.
The Sand Hills Pipeline
The 720-mile Sand Hills NGL Pipeline transports NGLs from the Permian Basin and Eagle Ford Shale to the Gulf Coast. The pipeline provides takeaway service from DCP Midstream and third-party plants to fractionation facilities along the Texas Gulf Coast and the Mont Belvieu, TX market hub. The initial capacity is 200,000 bbl/day. Further capacity increases to 350,000 bbl/d are possible with the installation of additional pump stations.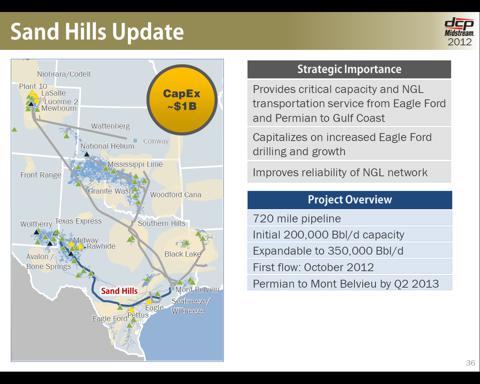 DCP Midstream is the largest producer of NGLs in the Permian Basin and has a processing capacity of 1.3 Bcf/d. In addition, the Rawhide Plant will add 75 million cubic feet per day of processing capacity when it goes into service in the middle of 2013. In the Eagle Ford, DCP Midstream and its master limited partnership, DCP Midstream Partners, have integrated assets that include seven processing plants, which will have processing capacity of 1.2 Bcf/d with the completion of the Goliad Plant in the first quarter of 2014.
The Southern Hills Pipeline
The 800-mile Southern Hills NGL Pipeline provides takeaway service from DCP Midstream and third-party plants in the Midcontinent to fractionation facilities along the Texas Gulf Coast and the Mont Belvieu market hub. The pipeline will have a capacity of 150,000 bbl/d and a total capacity of 175,000 bbl/d after completion of future planned pump stations.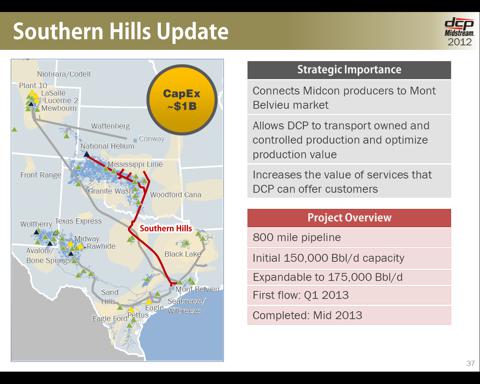 Southern Hills is a critical piece of midstream infrastructure that provides improved market access for growing Midcontinent NGL production. DCP Midstream has a leading position in the Midcontinent as a gatherer and processor with approximately 2 Bcf/d of processing capacity.
Impact Of Pipelines
In a recent DCP Midstream presentation, CEO Tom O'Connor talked about the decision to go forward with the two NGL pipelines back in 2010. Looking back, O'Connor said the team underestimated the opportunities this infrastructure would present. Today, everyone is aware of the huge growth in NGL production in the regions serviced by these pipelines. While NGL pricing has been under pressure, DCP's underlying strategy is to separate the short-term market surpluses from the attractive long-term market fundamentals. Longer term, the outlook for growth in NGL demand to absorb new supplies is good. O'Connor says there is currently over 700,000 bbl/day of incremental ethane cracking capacity in development.
With over $3 billion of projects coming online in the next 12 months, O'Connor said DCP has greater clarity on how it will grow its price neutral earnings at DCP Midstream: it will be at the high end of its 2-4% range per year, providing strong cash distributions to owners PSX and SE while also growing distributions to DPM unitholders by 6% to 10% per year.
In the same presentation, DCP Midstream President Walter Van Kempen discussed NGL economics. Despite recent weakness in ethane and propane prices, DCP's midstream processing economics remain very attractive: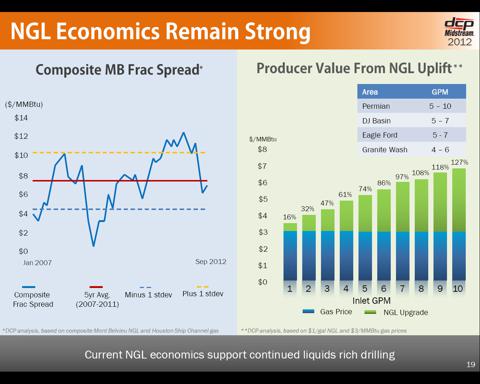 First off, the current frac spread is well within the historical norm and continues to be quite attractive. Secondly, when you look in the liquid rich areas where the gas content is higher than 3 gallons per Mcf ("GPM"), there is a significant value uplift from NGLs. For 3 GPM gas, the NGL value uplift adds about 50% of the gas price to total product value. As you can see on the top of the right hand side of the chart above, in many of the critical areas serviced by the two new pipelines, the liquids content is well north of 3 GPM. This creates a significant and attractive uplift in total product value.
NOTE: for an excellent discussion of natural gas and NGL processing fundamentals, see the article How Rich Is Rich? by Rusty Braziel of RBN Energy.
Van Kempen also points out that more than 20% of crude oil production growth in the Lower 48 during the last 5 years has come from the Permian Basin where DCP is the largest gatherer and processor. DCP believes the Permian will be one of the most prolific oil and gas plays for many years to come. Its strategy is to keep pace with its customers' growth. With its 17 plants and 1.3 Bcf a day super system, supported by over 10 million acres under dedication positions, DCP has the best market position in the Permian Basin.
As for the Eagle Ford, DCP processed about 10 million a day of Eagle Ford gas at the end of 2010. Today its plants are processing 250 million a day of Eagle Ford gas, and expect to exit this year north of 300 million a day. That's a 25-fold increase in just 2 years.

Today, production that feeds these volumes is backed up by almost 900,000 acres from multiple large E&P companies, up from around 500,000 acres in 2011. Van Kempen sees tremendous opportunity for continued growth in the Eagle Ford, which has led to the construction of its new 200 million a day Eagle plant, which it expects to be in service towards the end of the year. It will be DCP's 6th plant in its Eagle Ford super system. A key factor in DCP's Eagle Ford success is the ability to offer integrated NGL takeaway solutions to producers via the Sand Hills NGL pipeline. DCP's overall processing capacity in the South Texas basin is now approximately 1 Bcf per day.
Last is the Mid-Continent region serviced by the Southern Hills pipeline. The Southern Hills pipeline services the area with a special focus on growing liquid rich areas like the Woodford Cana, the Granite Wash, and the Mississippi Lime.
The results speak for themselves. For example, DCP Midstream Partners reported Q1 distributable cash flow of $77 million, up 40% from Q1 of 2012. This is bullish for the 50-50 joint owners of DCP Midstream: Phillips 66 and Spectra Energy.
Impact On Chevron-Phillips Chemical Company

From a Phillips 66 perspective, the company has had a long-standing customer relationship with DCP Midstream from a commercial perspective. Phillips 66, along with Chevron Phillips Chemical Company ("CPChem"), has historically purchased about 30-40% of the NGL feedstock produced by DCP. So the two new NGL pipelines are a very synergistic development for PSX, not only because of the company's one-third ownership stake, but because the pipelines will be a significant source of feedstock for its chemical operations for years to come. And Phillips 66's chemical business is very profitable: in 2012, its combined chemical operations had a ROCE of 31%.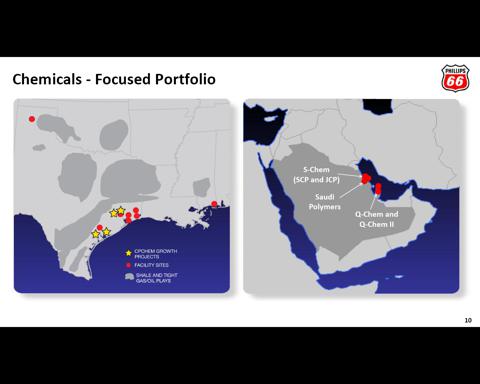 As most of you know, CPChem is a 50-50 joint venture between Phillips 66 and Chevron (NYSE:CVX). At a recent UBS Global Oil & Gas Conference (read the transcript here), PSX Executive VP and CFO Greg Maxwell discussed the company's chemical operations. While CPChem today is the largest non-state-owned producer of petrochemicals in the Middle East (it has five mega projects in Saudi Arabia and Qatar), over 70% of CPChem's capacity is located in the US -- primarily on the Gulf Coast. Geographically, the company is ideally positioned to take advantage of the increased capacity of the two new NGL pipelines. The US Gulf Coast currently affords the best chemicals opportunity in the world due to advantaged low-cost NGL and natural gas feedstock and its extensive logistics, which are even better now that these two new pipelines are operational.
CPChem has several projects underway in the Gulf Coast area, which will increase its US production capacity by 30% by 2017 to 31.5 Blb/year:
Construction of the world's largest 1-hexene alphaolefins plant at Cedar Bayou with expected startup in 2014.
The development of a new world scale ethane cracker and polyethylene facilities on the Gulf Coast. These projects are expected to start up in the early 2017 time frame. The ethylene capacity will be 1.5 million tons. The combined capacity of the two polyethylene facilities will be 1 million tons.
CPChem has also announced the possibility of expanding its normal alphaolefins capacity at Cedar Bayou targeting at least a 20% increase with an expected completion date in 2015.
On a margin-neutral basis, Maxwell said the next five years' EBITDA should be better than the past five years' due to this growth and low-cost feedstock fundamentals. PSX expects its global chemicals margin to grow through the 2017 time frame.
In addition to expanding CPChem operations, Phillips 66 recently announced its own intent to build a new 100,000 barrel-per-day natural gas liquids (NGL) fractionator to be located in Old Ocean, Texas. Phillips 66 CEO Greg Garland said:
"This project would enable us to take advantage of strong existing midstream transportation and storage infrastructure along with demonstrated operations excellence. We see excellent market-facing opportunities to grow the natural gas liquids business, and the chance to supply purity NGLs and liquefied petroleum gas to the petrochemical industry and heating markets."
Summary And Conclusion
Phillips 66's one-third ownership in both the Sand Hills and Southern Hills pipelines, as well as its 50% ownership of DCP Midstream, will provide growing fee-based distributions for the company. In addition, the pipelines' increased NGL delivery capacity is very synergistic to Phillips 66's current and future Gulf Coast chemicals operations. While short-term NGL pricing pressures are expected to continue until increased fractionator capacity comes online (~2 years), current NGL economics remain attractive.
I rate Phillips 66 a short-term HOLD due to the market's digestion of a recent narrowing in the Brent/WTI spread and the expected impact on refining margins: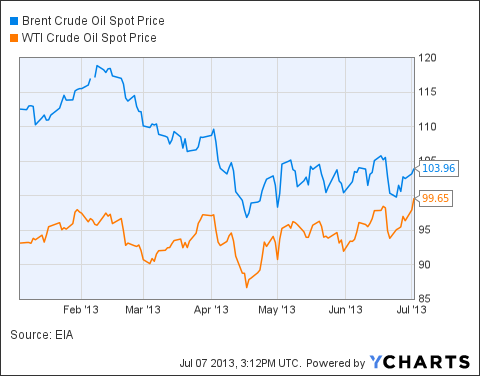 Brent Crude Oil Spot Price data by YCharts
However, I expect Phillips 66 to outperform pure refining stocks due to the company's following advantages:
Growth in its Midstream business due to the new Sand Hills and Southern Hills Pipelines.
The upcoming IPO of its Midstream Phillips 66 Partners' MLP.
Continuing growth in its industry leading and very profitable chemicals business.
Refining outperformance due to its logistical optimization of advantaged feedstock -- PSX is the #1 importer of low-priced Canadian crudes (WCS).
For these reasons, PSX is a long-term BUY.
PSX's Q2 earnings are due out on July 31. The average analyst estimate as of today is $2.22. I expect PSX to beat this estimate.
Credit Suisse currently has an OUTPERFORM rating on PSX with a $73 price target. As of June 29, S&P had a BUY on PSX with a 12-month price target of $72. Investors should consider adding to or initiating a position on PSX on further market weakness prior to the earnings announcement at the end of the month.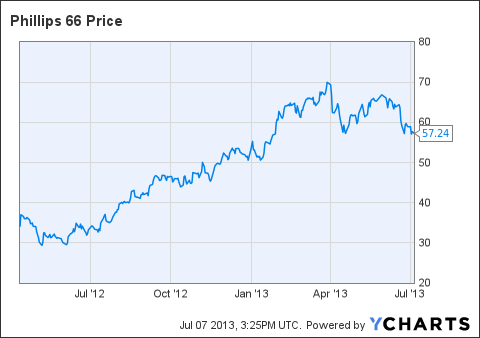 Disclosure: I am long CVX, PSX. I wrote this article myself, and it expresses my own opinions. I am not receiving compensation for it (other than from Seeking Alpha). I have no business relationship with any company whose stock is mentioned in this article.
Additional disclosure: I am an engineer, not a CFA. The information and data presented in this article was obtained from company documents and/or sources believed to be reliable, but has not been independently verified. Therefore, the author cannot guarantee its accuracy. Please do your own research and contact a qualified investment advisor. I am not responsible for investment decisions you make. Thanks for reading and good luck!