Earlier this week Covidien (COV) split off its pharmaceutical business into Mallinckrodt (NYSE:MNK); for every eight shares of Covidien you owned you received one share of Mallinckrodt (Covidien has been left with the medical devices side of the business). This spinoff should be reminiscent to you of a similar scenario at the beginning of the year if you followed Abbott Laboratories (NYSE:ABT). Abbott spun off the pharmaceutical side of their business into Abbvie (NYSE:ABBV) at the beginning of 2013. The Abbott/Abbvie spinoff has proven to be profitable for each of the individual companies thus far, with Abbott rising 9% and Abbvie rising 25% on the year. Let's take a fundamental, financial, and technical look at Covidien to see if it can provide the same kind of upside as Abbott did during its spinoff.
Fundamentals
Covidien currently trades at a trailing 12-month P/E ratio of 15.14, which is fairly priced, but I mainly like to purchase a stock based on where the company is going in the future as opposed to what it has done in the past. On that note, the 1-year forward-looking P/E ratio of 14.32 is pretty close to being fairly priced for the future in terms of the right here, right now. Next year's estimated earnings are $4.07/share. The PEG ratio (1.87), which measures the ratio of the price you're currently paying for the trailing 12-month earnings on the stock while dividing it by the earnings growth of the company for a specified amount of time (I like looking at a 5-year horizon), tells me that Covidien is once again fairly priced based on a 5-year EPS growth rate of 8.11%.
Financials
On a financial basis the things I look for are the dividend payouts, return on assets, equity and investment. Covidien boasts a dividend of 1.78% with a payout ratio of 25.9% while sporting return on assets, equity, and investment values of 8.3%, 17.1% and 13.2% respectively; which are all very respectable values. Though Covidien has been raising its dividend for six consecutive years and has lots of room for dividend growth potential, the dividend might not provide enough shelter for you right now if you feel the market is going to retract a little.
Technicals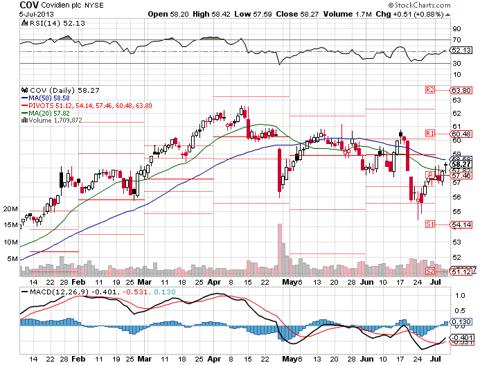 Looking first at the relative strength index chart [RSI] at the top, I see the stock in midway territory with upward trajectory and a value of 52.13; this means the stock is neither overbought nor oversold but it is being bought. To confirm that, I will look at the moving average convergence-divergence (MACD) chart next and see that the black line is above the red line with the divergence bars increasing in height, indicating the stock has upward momentum and is being bought. As for the stock price itself ($58.27), I'm looking for the 20-day moving average to act as support and the 50-day moving average to act as resistance. If the stock can bounce off the 20-day moving average, I can see it going to $60.48, but if it can't get through the 50-day moving average, I see it going down to $54.14 for a risk/reward of -7.09% to 3.79%.
Conclusion
Fundamentally Covidien is fairly valued on all fronts; trailing earnings and forward earnings. The company does not offer what I consider to be good growth prospects either. Financially this is a solid company with excellent room to grow its dividend and although the technicals indicate a bullish pattern I don't think there is much upside to Covidien as of now. I like to look for value, earnings growth, and dividend growth when investing in a company; and in Covidien I only really see it as a dividend growth company for now and for that reason I am going to have to take a pass on it.
Disclosure: I am long COV, ABT, ABBV, MNK. I wrote this article myself, and it expresses my own opinions. I am not receiving compensation for it (other than from Seeking Alpha). I have no business relationship with any company whose stock is mentioned in this article.
Disclaimer: These are only my personal opinions and you should do your own homework. Only you are accountable for what you trade and happy investing!